PBS高端访谈:肯塔基医补工作要求对受益者提出质疑
日期:2018-01-15 17:31
(单词翻译:单击)
听力文本

HARI SREENIVASAN: On Friday, Kentucky became the first state granting permission to mandate work requirements for those receiving Medicaid benefits. The new requirements affect approximately 350,000 adult recipients in this state aged 19 to 64. About half of them already have jobs. The changes do exempt certain groups including pregnant women, full time students and the medically frail and the state will also begin charging recipients a monthly premium based on income. For more on what this means for Medicaid recipients in Kentucky and other states, I'm joined from Washington, D.C. by Amy Goldstein of The Washington Post. You've been reporting on this, Amy. First, what's the impetus behind this? Why make these changes? Why was Kentucky first in line?

AMY GOLDSTEIN: Well, the idea of requiring people on Medicaid to work or do some other kind of community engagement, as the term of art goes, has been something that many Republicans and other conservatives have been eager to do for years. It started with welfare reform 20 years ago and then moved into food stamps now called "SNAP". The notion that people who receive certain government benefits have to do something in exchange for getting that help. But that's never been part of Medicaid before, which is of course health insurance for low income people in this country. And a number of states had asked for federal permission to do this during the Obama administration and always been rejected. But under the Trump administration there's been much more sympathy for this idea and as you said Kentucky just became the first state to get permission on Friday.

HARI SREENIVASAN: There was a Medicaid expansion in several states so that increased the number of people in states so I can tell you that we're receiving Medicaid so I'm assuming that also costs the state more. Is this partly motivated by the state wanting to try to decrease those costs?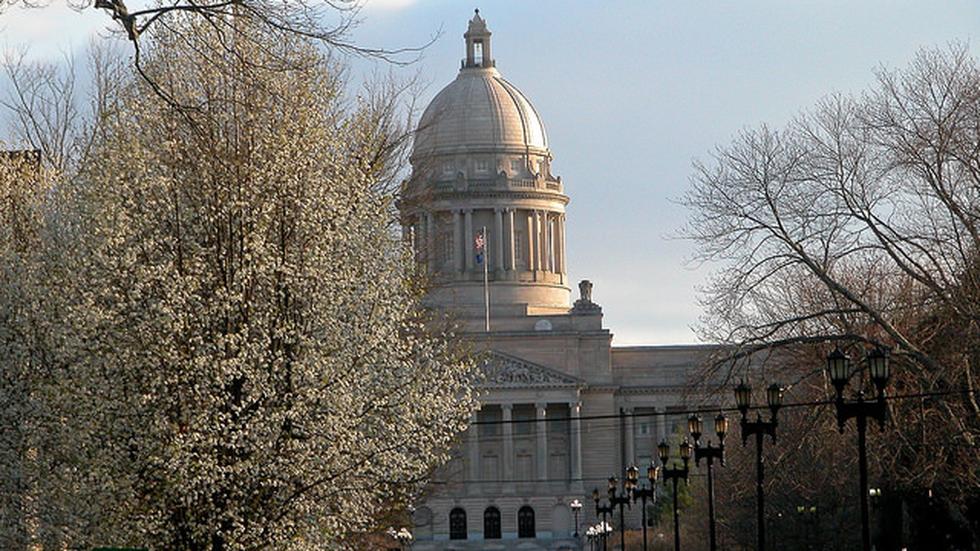 AMY GOLDSTEIN: It absolutely is. Governor Matt Bevin, when he was running for office in 2015 campaigned on this issue to a large degree and he said that the Medicaid expansion should be reversed. Kentucky had been one of the states, the only Southern state that had seriously embraced the Affordable Care Act and had expanded Medicaid. And a lot of people, now close to a half million people have joined as a result. So first Governor Bevin thought that he would get rid of that expansion. They decided instead, to keep the expansion but require people in that group and other able bodied adults in the traditional Medicaid group to work or go to school or do volunteer work or otherwise engage in their communities in order to keep those benefits. And they estimate that there will be a reduction in people in the Medicaid rolls as a result of saving the state money. Now whether that's a good thing or a bad thing really depends on your point of view. Governor Bevin says that people will be leaving Medicaid because they'll be working their way out of poverty and won't need the program anymore. However, the critics of this idea say that people will be bounced off Medicaid for either not meeting the requirements or meeting the requirements. But failing to document to the state that they do so.

HARI SREENIVASAN: Roughly how many people do the critics say would be bounced off the Kentucky Medicaid rolls?

AMY GOLDSTEIN: Well I haven't seen any projections as to how many will be bounced off this by the critics. The state itself estimates that by the end of five years, which is the length of this experiment that the federal government is letting Kentucky try, there will be perhaps 95, 000 fewer people on Medicaid than there are today.

HARI SREENIVASAN:All right. As you said this is an experiment the federal government is letting them try. What about the other states that are in line with some ideas of their own or ones that might not be aligned now but are watching Kentucky closely?

AMY GOLDSTEIN: Well, it's interesting because when the Federal Government announced on Thursday that they were going to allow this kind of work requirement in Medicaid there were already nine or 10 states that had submitted applications to be allowed to do this. So Kentucky is the first and the expectation is that there'll be others. Perhaps the next will be Indiana as what I'm hearing that soon will be allowed to follow suit. And even in the day after this was permitted, there were two more states that said you know, we're interested too. So there could be quite a wave of predominantly Republican-led states that are thinking about doing the same thing.

HARI SREENIVASAN: Amy Goldstein of the Washington Post. Thank you so much for joining us.

AMY GOLDSTEIN: Glad to be with you.
重点解析

1.run for the office 竞选
Why don't you run for the office?
为什么你不去竞选议员?
2.as the term of art 应该用这个词

And in Japan the term of art is keitai, which roughly means "something you can carry with you".
日本人叫做"携帯",大致意为"可随身携带之物"^FP1tw=+)PoV-kVH.I.。
3.move into 进入...阶段/变为

As we move into broadband, a wide range of e-commerce services will become available.
我们转入宽频传输领域后,将会提供多种电子商务服务LAAgC0uV!+b。
4.bounce off 弹回/被除去

The sound waves from these cries bounce off objects and echo back to the bat's ears.
从这些叫声中传出的声波,被物体弹回,回声传到蝙蝠的耳里G@zxSn*ucF#.5@[;q~。

参考译文
哈里·斯瑞尼瓦桑:周五,肯塔基州成为了首个获得批准,允许其要求医疗补助享有者必须在州从事工作的州份G5xwW1#U)mdS+T]f。这一新要求影响人数约为350,000,年龄位于19岁到64岁之间%u5tH#^zPlCVrizX。他们中约有一半人已有工作BO=@Q+09&UcR=&+So(。这些变化确实将某些群体,包括孕妇、全日制学生和身体虚弱人士排除在外,而该州也将根据收入向对应人群按月收取保费AEQyT#kKX7Ft。这对肯塔基和其他州的医补享有者来说,意味着什么,我和华盛顿特区华盛顿邮报艾米·戈德斯坦共同为您报道DQJ4b#Du(WkF。艾米,你此前已就此事有过报道hjkh2[;PAS。首先,是什么在背后推动此事?为什么要做出这些改变?为什么肯塔基州首当其冲?

艾米·戈德斯坦:该想法要求医补受益人群参加工作或参与其他社会劳动,这里应该用这个词9zg[BKp=+w.V*,。该想法的实现是许多共和党人和其他保守派人士多年来梦寐以求的rTRX_A6H~*Rp&。这要从20年前的福利改革说起,然后它演变成现在称为"SNAP"的粮票qacuQ2^JoWYZ。这个概念是说,要想享受某种政府福利,则必须做些事情来进行交换Eoq1bym%)jl3。但人们从未将这一概念引入到医疗补助计划中,医疗补助计划无疑是这个国家低收入人群的健康保险Hzp7yxn4xt)。在奥巴马执政期间,一些州要求联邦政府批准引入这一举措,但一直遭到拒绝iMq4HB]66cp-。在特朗普政府的领导下,人们更加认同了这个想法,正如你所说,肯塔基州周五刚刚成为了首个获准将这一想法付诸实施的州c+!DZSI4X|L!。

哈里·斯瑞尼瓦桑:为了增加在州人口数量,有几个州已经进行了医补扩增i|(qKYx#a.u8。所以我可以告诉你,我们正在接受医补,所以我认为这增加了各州的开支E[.m*As9oofzW|2。所以此举是那些想要减少这些开支的州发起的吗?

艾米·戈德斯坦:是的,毫无疑问2O+;So8KtvCbNEgWtlDd。马特·贝文州长在2015年竞选期间曾着力就这一问题发表看法,他说,医疗补助扩增局面应该得到扭转2A_82(W~7d,sm。肯塔基州是唯一一个认真履行"美国平价医疗法案"并扩增医疗补助计划的南方州份imV,8N@]Tbo]v2wq。因此,现在加入这个计划的人数已有将近50万人9;IlKO7~auF。所以起初,州长贝文以为他不会再继续进行医补扩增o@DOdf)##+A;f。而现在,与之相反,他们决定保持扩增,但在传统医疗补助中,要求身强力壮的成年人或参加工作,或上学,或从事志愿工作或以其他方式参与社会工作内容#-NajmgGmG-Wi。只有这样他们才能继续享有这些政府福利F|=By%%U,6dY3ZCcLi。他们估计,由于要节约州用资金,将削减享受医疗补助计划的人数a3;,L_2@zf。这是好事还是坏事,就看你怎么想了T%[9]y2T*)RZ@te)。州长贝文说,人们将会主动放弃医疗补助,因为他们可以采用自己的方式摆脱贫困,不再需要这一计划kB]uc.5s+#,%d8。然而,批评人士指出,无论是否满足上述要求,人们都会遭到医补拒付*]JkpMet+Gx*。但他们无力向州政府证明此事H_MOiks|N,fb。

哈里·斯瑞尼瓦桑:据批评人士说,遭受肯塔基医补拒付的人数会有多少?

艾米·戈德斯坦:嗯,批评人士尚未对具体人数给出预测Y7Imggf_6.U。联邦政府允许肯塔基尝试五年,据该州估计,在这五年结束前,医疗补助计划中的人数可能减少95, 000ZGs(Z9vGS%Q+OYKCl)。

哈里·斯瑞尼瓦桑:好吧^(d!Z&ZfSj53。正如你所说,这是个联邦政府让他们做的试验xzD5BA]1R0-。其他各州是否也有自己的一些想法,可能尚未付诸实施,但却在密切关注肯塔基州呢?

艾米·戈德斯坦:嗯,有个有意思的现象,由于联邦政府已于周四宣布,医补工作要求已经得到许可,现在已有9个或10个州提交申请,请求得到联邦政府的批准KvDd(fCWMg~。所以说,肯塔基州是第一个,估计还会有其他州步其后尘0%t(gs]nM5YfL_~6]Z5x。也许下一个会是印第安娜州,因为我听说不久该州也将获准效仿!FDN|!lQssU==。甚至获准次日,另外两个州也说,你知道,我们也很感兴趣at-ulE.IhCYM。因此,可能会有一波以共和党为主的州份正在考虑效仿cPHADI1R9L0_。

哈里·斯瑞尼瓦桑:来自华盛顿邮报的艾米·戈德斯坦])b;uy,u14BaGr1~oDo2。感谢你的参与,S#D&nYdz,)oi。

艾米·戈德斯坦:很高兴参与节目T,E(h;6XkIOsrb8R%+2。
译文为可可英语翻译,未经授权请勿转载!