PBS高端访谈:巴西总统在里约奥运开幕前三月遭弹劾
日期:2016-05-13 13:19
(单词翻译:单击)
HARI SREENIVASAN: Months of political turmoil in Brazil reached a divisive climax early today, as Dilma Rousseff, president of South America's largest nation, found herself on the losing end of a vote in Brazil's Senate that could ultimately remove her from office.

Dilma Rousseff emerged from the presidential palace in Brasilia this morning to throngs of cheering, flag-waving supporters. She greeted the crowd, and declared her defiance.

DILMA ROUSSEFF, Suspended President, Brazil (through interpreter): This process is a coup, because it's an impeachment without a crime. I didn't commit a crime of responsibility. I am being the target, a victim of a great injustice.

HARI SREENIVASAN: Rousseff's impassioned speech came just hours after Brazil's Senate voted 55-22 to remove her from office, at least temporarily. Her critics included another former president who was impeached in 1992.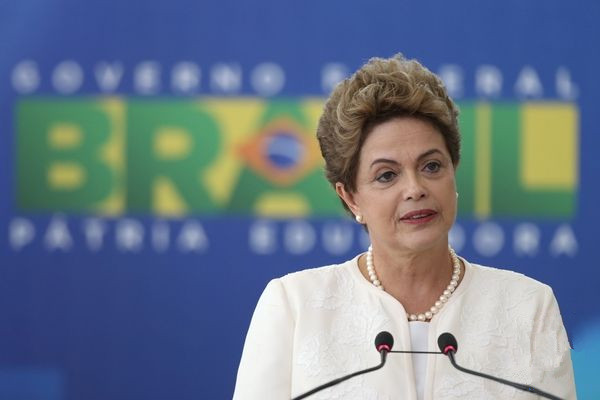 FERNANDO COLLOR DE MELLO, Senator, Christian Labor Party (through interpreter): We arrived at the peak of a crisis. We have arrived at the ruin of a government, at the ruin of a country. The greatest crime of responsibility is in the irresponsibility and disregard of politics, the irresponsibility for the deterioration of the economy of a country.

HARI SREENIVASAN: Supporters of Rousseff, including Brazil's attorney general, branded the move a historic injustice.

JOSE EDUARDO CARDOZO, Attorney General, Brazil (through interpreter): An honest and innocent woman, right at this moment, IS being condemned. A judicial presence is being used to oust a legitimately elected president. An innocent person is being condemned.

HARI SREENIVASAN: Outside, pro-Rousseff demonstrators briefly clashed with police. But in cities across the country, there were fireworks celebrating the vote. The divisions were evident everywhere.

MAN (through interpreter): I used to like Dilma a lot, but at this moment I think Brazil should be congratulated, and I am sure things will get much better.

WOMAN (through interpreter): It is very saddening to know that an honest woman will lose the presidency and was judged by criminals.

HARI SREENIVASAN: The drive to take down Rousseff began last year as anger spread over an extensive corruption scandal at Petrobras, Brazil's state-owned oil company. Rousseff herself was never implicated in the corruption. Instead, she was charged with manipulating government accounts to cover up the country's deficit. She insisted her decisions were entirely legal.

DILMA ROUSSEFF (through interpreter): I carried out those actions. These actions have been taken by all the presidents of the republic who have been in office.

HARI SREENIVASAN: Even so, the impeachment process morphed into a referendum on Rousseff's entire presidency, as the worst downturn in decades laid waste to the country's economy.

Simon Romero is the Brazil bureau chief for The New York Times.

SIMON ROMERO, The New York Times: There was a booming economy back in the previous decade. It was an emerging powerhouse on the global stage. But Brazil's own recession has just become so severe and the wounds to the economy are to be self-inflicted by the policies that Dilma Rousseff was championing just a few years ago, that really her government just became unsustainable in that sense.

HARI SREENIVASAN: Rousseff was elected president in 2010, the first woman to hold the office. She'd once belonged to a Marxist guerrilla group and was tortured during years of a military dictatorship. But she endured, and ultimately became chief of staff in the administration of popular leftist President Luiz Inacio Lula da Silva, during which 30 million people were brought out of poverty. Rousseff was his handpicked successor.

Now the Senate has 180 days to hold a trial, and decide whether to make her removal permanent. She insisted today she's far from finished.

DILMA ROUSSEFF (through interpreter): We will remain united, mobilized, and peaceful. We are those that know how to fight the daily fight.

HARI SREENIVASAN: For now, the 75-year-old vice president, Michel Temer, is acting president. He's promised to cut spending and privatize many state-controlled sectors, but he's also been implicated in the Petrobras scandal.

SIMON ROMERO: The most recent poll by one of the country's biggest polling companies put his approval ratings in the single digits, and only 2 percent of the respondents in that poll said that they would vote for him for president. So he's really starting with low expectations at this point.

HARI SREENIVASAN: All of this as Brazil is struggling with the Zika virus. And in just under three months, Rio de Janeiro will host the Olympic Games.