PBS高端访谈:饱受厄玛摧残的安圭拉人称需要更多英国的援助
日期:2017-09-15 10:20
(单词翻译:单击)
JUDY WOODRUFF: Now to the Northern Caribbean, where island dwellers have spent a week amid smashed ruins, with no power and reports of fighting over food. The president of France visited St. Barts today, after spending the night on a cot on St. Martin.

British foreign secretary Boris Johnson was on Anguilla, and so was Alex Thomson, of Independent Television News.

ALEX THOMSON, ITN: A lot of criticism, Foreign Secretary, that the British have been tardy in their response, compared to the French just over there in St. Martin. What do you say?

BORIS JOHNSON, Foreign Secretary, United Kingdom: Well, I don't obviously agree with that, because I think if you look at the facts, we have had RAF on the spot, on time.

ALEX THOMSON: But a week gone by and still no substantial aid has come into this place.

BORIS JOHNSON: I can tell you that you have got, on the streets of Anguilla, of the British Virgin Islands, and the Turks and Caicos Islands, you have U.K. armed services personnel. You have got British police officers.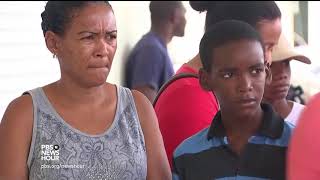 ALEX THOMSON: But they want food, Foreign Secretary. They want water, and they're not getting it.

BORIS JOHNSON: That very plane I have just arrived on is laden with aid.

ALEX THOMSON: Except that very plane wasn't laden with food or water aid. We checked. It was laden with British military personnel, their necessary rations and water, aid, of course, in the wide sense, but not the specifics we put to the foreign secretary.

Anguillans say they need fuel, water, electricity, food. And it's true the Red Cross has been distributing food parcels for some days. The Anguillan Red Cross has been handing out food to islanders here since the day after the hurricane, and that's impressive.

But the fact is, as fast as the food goes in, they're giving it out. And for these people behind me, these islanders, they're waiting from the early morning when this place opens for distribution, several hours later, at noon.

RC VAN HODGE, Anguilla Red Cross: The Anguilla Red Cross, we lost our roof for the offices. We lost our roof for the — for our relief supplies, government relief supplies. The building was torn apart. So in terms of regrouping and getting things together and getting things organized, it was a huge effort.

ALEX THOMSON: You get one ration a day, and everyone we spoke to said it's not nearly enough.

WOMAN: I came back, and this is what they gave me for a family of five? Now I can just go home and we eat this in no time. And then I'm hearing that we have help, everything is done, everything is OK.

So, in my — I cannot see where everything is OK.

MAN: The island needs help. We need help from Britain. If Britain says that they are responsible for Anguilla and Anguillans, they need to stand up to their word.

ALEX THOMSON: It's the Anguillans who so far have done an extraordinary job in terms of clear-up, and will continue to shoulder the burden. British marines are making a difference though, lifting and shifting rubble at the hospital this morning, royal engineers royally engineering a new roof, part of what is now Britain's biggest overseas military deployment since Libya seven years ago.

But the criticism of too little, too late is persistent here, from the street up to the political establishment.