PBS高端访谈:特朗普大谈玩弄女性视频曝光引争议
日期:2016-10-08 10:57
(单词翻译:单击)
JUDY WOODRUFF: But, first: The twists and turns keep coming in the race for the White House, just two days before Donald Trump and Hillary Clinton meet in their second presidential debate.

John Yang reports.

JOHN YANG: Late today, a new storm around Donald Trump.

DONALD TRUMP (R), Presidential Nominee: Hello. How are you? Hi.

JOHN YANG: The Washington Post released a 2005 videotape in which Trump is heard talking in vulgar terms about trying and failing to seduce a woman.

DONALD TRUMP: When you're a star, they let you do it. You can do anything.

MAN: Whatever you want.

DONALD TRUMP: Grab them by the (EXPLETIVE DELETED).

DONALD TRUMP: You can do anything.

JOHN YANG: It comes as Hillary Clinton has been blasting Trump for his treatment of women, and Trump has been threatening to make an issue out of Bill Clinton's infidelities.

In a statement, Trump apologized and said the tape was "locker room banter, a private conversation. Bill Clinton has said far worse to me on the golf course. Not even close."

Campaigning in Las Vegas, Democratic running mate Tim Kaine reacted to the tape.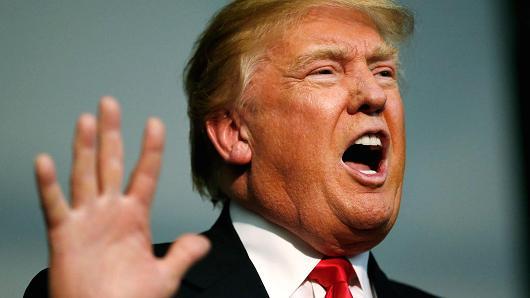 SEN. TIM KAINE (D), Vice Presidential Nominee: It's just — I mean, it makes me sick to my stomach. I don't like to even say the words that he's used in the past when he calls women pigs, dogs and — I should be surprised and shocked. I'm sad to say that I'm not.

JOHN YANG: Earlier, Trump fired a new broadside on a signature issue, immigration, as he met with a Border Patrol unit that endorsed him. He charged agents are being told, in effect, to look the other way as Election Day approaches.

DONALD TRUMP: They're letting people pour into the country, so they can go and vote.

MAN: They want to hurry up and fast-track them, so they can go ahead and be able to vote for these elections.

DONALD TRUMP: And these are the professionals. These are the people that are on the border. You hear a thing like that, it's — it's a disgrace.

JOHN YANG: Running mate Mike Pence vowed that he and Trump will end illegal immigration once and for all.

Even with current controversies swirling around him, Trump weighed in on an old one, a racially charged 1989 rape case. Five teenagers, all minorities, were convicted of assaulting a white banker in Central Park, exonerated by DNA evidence and then paid $41 million in a settlement with New York City.

But Trump told CNN: "They admitted they were guilty. The fact that that case was settled with so much evidence against them is outrageous."

Clinton was off the trail today preparing for Sunday's debate.

The campaigns are also watching the impact of Hurricane Matthew. Florida Governor Rick Scott, a Republican who is backing Trump, rejected a Clinton campaign request to extend voter registration beyond next Tuesday's deadline.

In addition, there could be troubles with the millions of mail-in ballots that went out this week, just as hundreds of thousands of voters in that toss-up state were told to evacuate.

Meanwhile, President Obama took advantage of a fund-raising trip to Chicago to cast his vote. Despite prodding from reporters, he wouldn't violate the sanctity of his secret ballot, but the expression on his face left little doubt who he voted for.

For the "PBS NewsHour," I'm John Yang.