PBS高端访谈:奥巴马期望首次访问越南能推进人权发展
日期:2016-05-23 12:11
(单词翻译:单击)
ALISON STEWART: For more on President Obama's Asia trip, Washington Post reporter David Nakamura joins me now by Skype from Hanoi.

David, everyone wants something from this visit. What does the U.S. want from Vietnam? What does Vietnam want from the U.S.?

DAVID NAKAMURA, The Washington Post: Well, I think you're going to see President Obama really spend his two days here, both in Hanoi and Ho Chi Minh City, sort of the touting the warming of relations.

You know, this is something that is happening both on the economic side, with a new trade deal that is in play here between the two countries, and also on the security side. And the main driving reason for this is not just the warming relations between these two countries, but the specter of China and its influence in this region.

You know, President Obama has talked a lot about shifting U.S. policy a little bit away from the Middle East, even away from Europe to some degree, and center it on Asia, which is a fast-growing area. But there's a lot of competition with China on security in the South China Sea.

And I think you're going to see Vietnam wanting a little bit reassurance from the United States, both on potential lifting of an arms embargo that has been in place since the end of the Vietnam War, but also economic investment.

And the president is touting this big 12-nation Asian trade deal, so he's going to spend time here talking about the merits, both for U.S. companies, for U.S. workers, and — because we know, on the campaign trail, there's a lot of angst about trade with Donald Trump and also on the Democratic side.

So, you're going to see the president talking a lot about all of these things.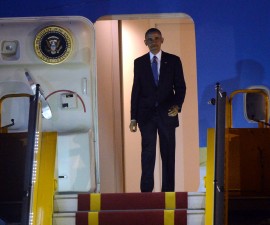 ALISON STEWART: Let's unpack that a little bit.

You wrote about American companies who are manufacturing quite a bit in Vietnam. Tell us a little bit more about that.

DAVID NAKAMURA: Yes. Well, it's interesting.

The trend is already global. Even before this trade deal, which has been assigned by all these countries, but it has not been approved by the U.S. Congress, the trend is already showing that a lot of companies, including in the U.S., are moving their manufacturing from China, which had been booming for a number of years, as everybody knows, to Vietnam, based on lower wages and more reliable labor chains.

And what is interesting is, the president is saying, look, this is already a trend that is under way. A lot of U.S. manufacturing had been offshore in China, just moving now to Vietnam. We want to be in play in Vietnam.

And U.S. companies are responding to some degree, saying, yes, this makes sense, that a trade deal would lower tariffs on athletic shoes and other kind of apparel and textiles.

And these are all things that are already made overseas, so why not get in with Vietnam? Vietnam's economy is poised to sort of move on this. This trade deal could do that. And then that could lower prices, ultimately, for U.S. consumers, if it's easier to make these, if the tariffs are lower.

The problem is that a lot of unions and labor organizations in the United States are saying, look, we have already been decimated by this kind of offshoring of manufacturing. This is going to make it worse.

And so you have people on both sides saying, there's benefits, not just for the U.S., but even for Vietnam. And the U.S. is saying it's a way to draw Vietnam closer, both, as we talked about, with China, but also raise potential labor and environmental standards in Vietnam and other country as part of this deal.

ALISON STEWART: Let's talk about the arms embargo.

If the arms embargo is lifted, what guarantee does the United States have that Vietnam will address human rights abuses, for example?

DAVID NAKAMURA: Well, there's no great guarantees.

I think the question is both on the arms embargo, as was in the trade deal — the trade deal, they got a separate agreement with Vietnam, specifying very specific measures they would take to protect labor and workers.

On human rights, of course, with free speech and political dissidents, Vietnam has shown some efforts. I think they freed a political prisoner on the eve of the president coming here. But there's — the U.S. wants to see a lot more. And there's a lot of pressure in the United States for the president not to lift this embargo among human rights groups that do want to see more.

But I think you saw some of the president's aides come here last week to sort of see whether Vietnam was ready. They already lifted part of this embargo two years ago, based on maritime security, because of some of the concerns about what is happening with the Chinese navy.

But there's now a question whether to lift this broader embargo. I think what you might see is some potential lifting, if they do make that announcement, something that will take time — over time to sort of see how Vietnam makes progress on human rights. And, if they don't, maybe they will slow sales or they won't sell certain types of weapons.

I think most experts are saying, even if they announce a lifting of the embargo, it could take several years for sort of the more advanced weapons systems or defensive weapons to be actually exchanged.

And that would give the U.S., not only this administration, but a successor, time to sort of judge whether Vietnam has moved enough.

ALISON STEWART: David Nakamura from The Washington Post, thanks for reporting.

DAVID NAKAMURA: Sure. Thank you.