PBS高端访谈:默克尔开放的移民政策在最近的袭击中接受挑战
日期:2016-01-14 13:24
(单词翻译:单击)
JUDY WOODRUFF: A series of New Year's Eve sexual assaults in Germany by asylum seekers and migrants is leading to protests and to new legislation that would expel immigrants who commit serious crimes.

And, as special correspondent Malcolm Brabant reports from Cologne, the attacks may now be threatening the political future of German Chancellor Angela Merkel.

MALCOLM BRABANT: Where once there was apparent harmony, now there is discord.

Germany's open-door policy, which has attracted more refugees and migrants than any other European country, has reached a crossroads after more than 500 women alleged that they were attacked, mainly by men of North African or Arabic appearance, close to Cologne's cathedral.

Divisions in society are now deeply exposed. These hecklers are taunting "PEGIDA," which, in German, stands for Patriotic Europeans Opposed to the Islamization of the West. The crowd was whipped up by Tommy Robinson, the leader of the British chapter.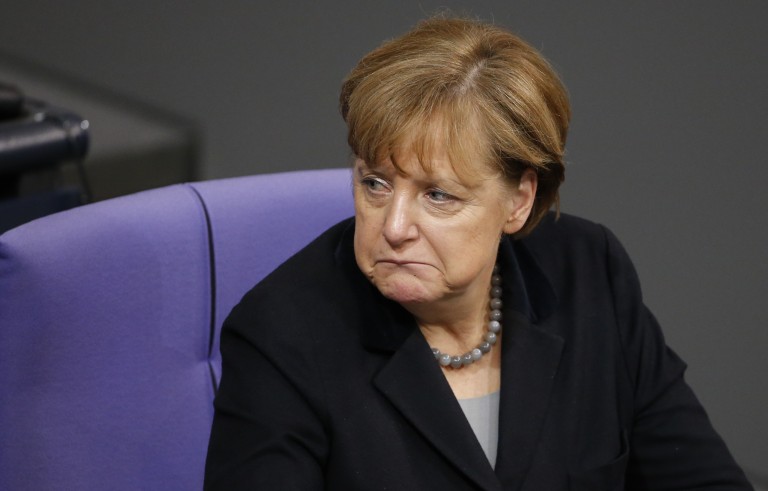 TOMMY ROBINSON, Leader, PEGIDA UK: The city of Cologne and the German people will never forgive Ms. Merkel for exposing their women to the barbarity and the violence from Muslims who follow the Prophet Mohammed.

MALCOLM BRABANT: "Kick them out," chanted the crowd.

TOMMY ROBINSON: They're at war with your country, they're at war with my country, they're at war with the whole of Europe.

MALCOLM BRABANT: One of the main speakers was Michael Diendorf.

MICHAEL DIENDORF, PEGIDA Duisburg (through interpreter): We are blindly sacrificing our security, our freedom and the future of our children for a childless wannabe mother who goes by the name of Merkel.

MALCOLM BRABANT: It isn't just ethnic Germans who are angry about the attacks. Speaking on behalf of outraged immigrants is a Syrian rapper from the city of Aleppo called Murder Eyez.

ABDUL RAHMAN, Rapper, "Murder Eyez": How dare you? I live in Germany since two years and in Cologne since two months. It's the most amazing place over here and the most amazing and friendly people, who works day and night to pay taxes to give you food, shelter, education and medical care.

It's simple. Like, if you want to be like this, go back to your country, because, if you are here, you are a guest. You must — not you should — you must respect the law, the street, the people, everything, because those people are helping you and supporting you.

MALCOLM BRABANT: Political scientist Tilman Mayer is one of Germany's leading migration experts, and he believes Chancellor Merkel's unwavering commitment to mass immigration could lead to her downfall.

TILMAN MAYER, University of Bonn: We have one million new migrants here, and that is probably enough for Germany. But the chancellor has the problem that she wouldn't say it's enough. I think it's possible that the chancellor would fall after the next elections, which we will have in a few states.

MALCOLM BRABANT: Leading public condemnation of the attacks, Chancellor Merkel has recognized the need to make it easier to deport criminals, and at this gathering she acknowledged public disquiet.

CHANCELLOR ANGELA MERKEL, Germany (through interpreter): We are vulnerable, as we see, because we do not yet have the order, the control that we would like to have. We have to intensify the fight against the causes that make people flee, and then we will be able to noticeably reduce the number of refugees.

MALCOLM BRABANT: Chancellor Angela Merkel's popularity is plummeting. And one of the reasons for that is that she's refusing to put a cap on the number of migrants that can enter Germany. According to the latest opinion polls, her approval ratings have gone down from 75 percent in April last year to 58 percent now.

And what happened here, in this scruffy asylum center in the town of Recklinghausen, is perhaps going to put more pressure on her. One of the former residents of this shelter was shot dead in Paris after he tried to attack a police station with a meat cleaver and wearing a fake suicide vest.

The man, who had six different aliases, was granted residential status by Germany and was reportedly known to the intelligence service after painting the Islamic State flag on his wall. The case has underpinned worries in towns like Recklinghausen about the identities of those entering Germany.

But at the town hall, the mayor, Christoph Tesche, a member of Chancellor Merkel's Christian Democratic Union, reiterated the party line.

MAYOR CHRISTOPH TESCHE, Recklinghausen, Germany (through interpreter): We are counting on European solidarity. It cannot and must not be the case that the majority of refugees end up in Germany. They have to be distributed evenly across Europe. That's what the European Union is there for, to help shoulder the burden in such times of crisis.

MALCOLM BRABANT: These are challenging times for Syrian Mohammed Ghunaim, who is making the most of his new start by learning the language and volunteering for the German Red Cross.

At the twice weekly international cafe in a small northwestern town, Natascha Pieper personifies what Germany calls its welcoming culture.

We met Mohammed in Greece four months ago.

MOHAMMED GHUNAIM, Syrian Refugee (through interpreter): They have the right to close their borders or open, because it's their country.

Personally, I'm not worried about myself, because I know myself. I'm a good man, and I try to make it in the legal way and just walking on the German rules. But I'm worried for the other refugees. Maybe there is a lot of tough things happen for them.

NATASCHA PIEPER, Refugee Advocate: We can sustain even two million refugees in Germany, because we have the possibility. We're a strong country. We have good people here with good ideas. We have a strong economy, and actually that economy needs those people.

MALCOLM BRABANT: These are the loudest voices on the street. The right is gaining support.

"We don't want Muslim Salafist pigs," they chant.

These demonstrators believe they are not being heard by the government. Their cry? "We are the people." After police broke up this demonstration, right-wingers beat up a number of foreigners. In Leipzig, there was also violence after a PEGIDA demonstration. And in the latest development, federal authorities have charged three men and one woman with forming a right-wing terror group, accusing them of planning to bomb a refugee center.

Newspaper editor Peter Pauls:

PETER PAULS, Editor, Kolner Stadt Anzeiger: I think the major issue is not the political surface that we are looking on. It is what is going on in the population. We have to be afraid that a split goes through the Germany society.

MALCOLM BRABANT: As the powerhouse of Europe, Germany will continue to be the Holy Grail for refugees and migrants. But just as an increasing number of Germans are losing faith with Angela Merkel, whom they call the mother of the nation, resistance within the European Union towards Germany's immigration stand is intensifying.

If Germany fails to stem this historic migrant flow, Europe's divisions could become deeper. What happened in this city is a significant milestone.

For the PBS NewsHour, I'm Malcolm Brabant in Cologne.