PBS高端访谈:东欧的移民危机引发了政治动荡
日期:2016-03-11 13:16
(单词翻译:单击)
HARI SREENIVASAN: As thousands of migrants and refugees sit stranded in Greece, former communist countries are leading the drive for Europe to seal its external borders. Their tough stance, along with a refusal to accept any refugees, has divided and potentially destabilized Europe. One of the most influential countries is Poland, where protesters are now taking to the streets.

Malcolm Brabant reports.

MALCOLM BRABANT: This was an energetic display of disdain by opponents of Poland's government regarded in Western Europe as increasingly authoritarian.

At the biggest protests since Poland joined the E.U., activist Maria Kahlua complained that the ultra-conservative administration was helping to destabilize Europe.

MARIA KAHLUA, Committee to Defend Democracy: Their policy is very narrow-minded. It seems that they entered the European Union. They took a lot of support, financial, and not only financial. And now they try not to give back anything, which is really not fair, you know?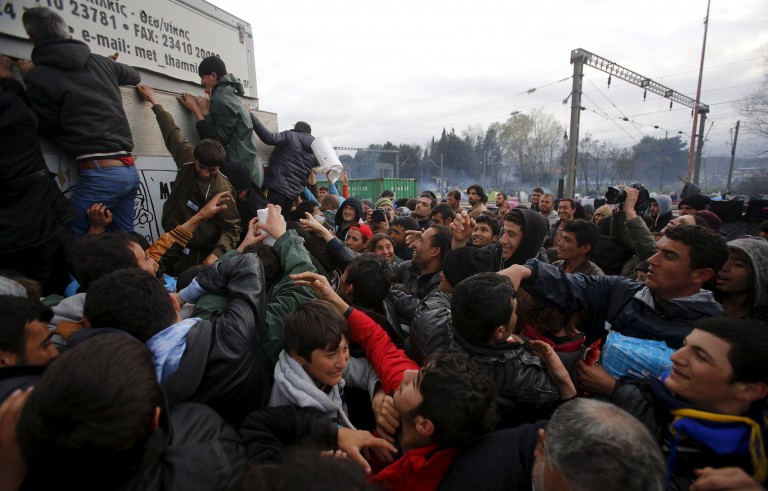 MALCOLM BRABANT: Along with other former Soviet Bloc nations, Poland joined the E.U. as part of the union's eastward expansion in 2004.

For George W. Bush's administration, Poland symbolized new Europe. Since then, the country has become the largest recipient of E.U. development funds. Its transport infrastructure, like this new bullet train, has transformed what was a previously backward nation.

But along with other former communist countries, Poland has adopted a hard-line approach over sealing Europe's external borders and refusing to share the union's migrant burden.

MARIA KAHLUA: If we believe in solidarity, we believe in European Union as not only a banker that opens a big account, and we can take big money from them, then we should also think about the crisis that is going on here and we should support refugees.

MALCOLM BRABANT: Right now, with more than 100,000 migrants having entered Europe in the first two months of the year, the E.U.'s foundations are being rocked to the core.

Greece, which is least equipped to handle the flow, is in danger of being cut off from the rest of Europe and transformed into a giant refugee camp as migrants find more and more obstacles in their way as they try to reach the north.

And Europe's greatest achievement, its border-free Schengen zone, is on the verge of disintegrating.

Jacek Kucharczyk is a leading foreign affairs analyst monitoring the activities of the former communist states, known collectively as the Visegrad Group.

JACEK KUCHARCZYK, Institute of Public Affairs: Visegrad countries would be very happy to see Greece being sealed off from the rest of the E.U., because that would seem to them as the solution of their problems.

MALCOLM BRABANT: After appearing on one of Poland's main political programs, Jacek Sasin, a senior parliamentarian with the main governing party, defended its policies.

JACEK SASIN, Law and Justice Party (through interpreter): The Visegrad Group is acting to protect the European Union. We don't want to divide Europe by inner borders and border controls, but we want to enforce the external borders of the E.U. This is, by the way, what the E.U. Commission wants. The goal here is to do it efficiently.

MALCOLM BRABANT: Religion plays a key part in Poland's resistance to refugees. This is a profoundly Roman Catholic country; 95 percent of the 38 million people are Catholics.

Ever since the Holocaust, Poland has been populated almost entirely by white Christians. And one of the country's ultra-right parties wants to keep it that way by building a wall on Poland's eastern plank if necessary.

Lawmaker Marek Jakubiak:

MAREK JAKUBIAK, Kukiz 15 Party (through interpreter): In their political correctness, Germans led by Angela Merkel made an ill-considered invitation to millions of Muslims. They invited Muslims to Christian countries. These are two different worlds.

MALCOLM BRABANT: But Islam has had a small presence in Poland for 600 years. Community leader Adham Mohamed Abd El Aal believes the current Polish attitude toward migrants will suffer.

ADHAM MOHAMED ABD EL AAL, Community Leader: Half of the Chicago is Poles. Half of Great Britain now, we have millions of Poles. They needed to live in a better way, so they left. Today, somebody needs them and needs to come here. They will understand sooner or later.

MALCOLM BRABANT: "Ode to Joy," the European anthem, ended the rally in Gdansk, spiritual home of the Polish solidarity movement, which inspired the defeat of communism.

The European Union's chief, former Polish Prime Minister Donald Tusk, has warned E.U. countries not to take unilateral action over the refugee crisis. But his homeland doesn't appear to be listening.

For the "PBS NewsHour," I'm Malcolm Brabant in Poland.

HARI SREENIVASAN: You can find all of Malcolm Brabant's reporting for us on the refugee crisis and its fallout on our Web site, PBS.org/NewsHour.