PBS高端访谈:这样的审判会如何影响其他类似弗雷迪·格雷的案件
日期:2015-12-17 12:03
(单词翻译:单击)
GWEN IFILL: Now to Baltimore and the no-decision in the trial of officer William Porter, for the death of Freddie Gray.

The jury deliberated 15 hours over three days, but it deadlocked on manslaughter and other charges. Gray's death in custody touched off violent protests last April. After news of the mistrial today, protesters gathered in downtown Baltimore.

And Mayor Stephanie Rawlings-Blake appealed for calm.

MAYOR STEPHANIE RAWLINGS-BLAKE, Baltimore: Twelve Baltimore city residents answered the solemn call to serve. They listened to the evidence presented and they rendered a decision. If some choose to protest, they must peacefully demonstrate. That is their right. But I also want to be very, very clear about any potential disturbances in our city. We are prepared to respond.

GWEN IFILL: William Porter was the first of six officers to go on trial in the case. In a statement, Freddie Gray's stepfather expressed confidence in the proceedings, and he also urged calm.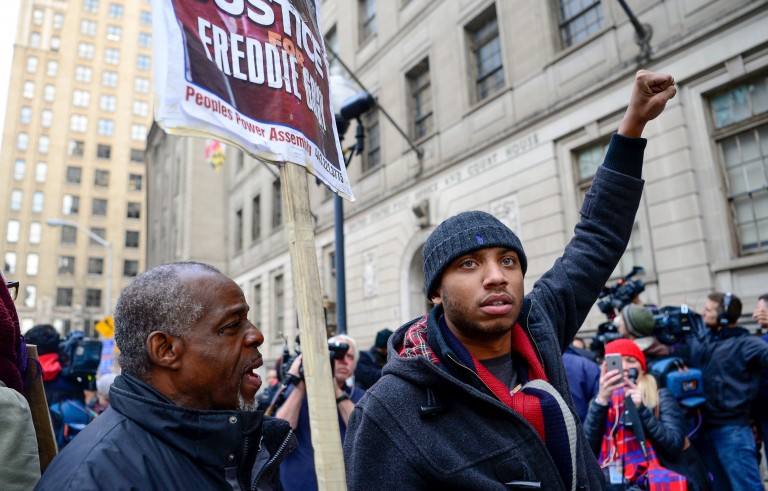 RICHARD SHIPLEY, Freddie Gray's Stepfather: We want to thank this hardworking jury for their service to the public, their quest for justice, and their personal sacrifice for their time and effort. We are not at all upset with them. Neither should the public be upset. They did the best they could.

GWEN IFILL: NewsHour's William Brangham has been in Baltimore throughout the day today. I spoke with him a short time ago. He's outside the courthouse.

William, thank you for joining us.

I know you have spent the day in Baltimore. What has been the immediate reaction to the news of the hung jury?

WILLIAM BRANGHAM: Well, when the word came out outside the courthouse today, it was like a ripple went through the crowd. And there were only about a few dozen protesters that were out here. They had been waiting here all day.

And they were visibly upset. People started chanting "Black lives matter, put the racist cops in jail, no justice, no peace." I mean, there was a lot of visceral, visceral anger and disappointment that there was no verdict reached today.

GWEN IFILL: So, William, is there any reason that has been given — reasons for this mistrial?

WILLIAM BRANGHAM: No, it's not clear why the jury couldn't come to a final decision.

And it's important to remember, in this particular case, unlike a lot of other police killing cases that we have seen in recent months, there is not obvious evidence. There is no dash-cam video to show exactly what happened to Freddie Gray when he went into the back of that van and came out after multiple stops around the city of Baltimore in this near fatal state.

So, those other cases were clearer-cut. You could see a police officer shooting a young man. In this case, the evidence is just not as crystal-clear. But, that said, we still don't know exactly why the jury couldn't come to a final decision.

GWEN IFILL: Now, as we mentioned, this was the first of six trials for six officers involved in that — the events of that day. Is there a sense that this mistrial will endanger the other prosecutions?

WILLIAM BRANGHAM: Well, there is the possibility that that's the case.

I mean, obviously, officer Porter, the gentleman who was on trial tonight, he was being relied on to testify in some subsequent cases of the other officers involved. We heard from the lawyer for the Gray family tonight, and they seem to think that they would — they were still very confident that the prosecution will be able to go forward, that the other police officers will be able to be brought to justice.

And they refer to this simply as a bump in the road, not anything calamitous for the case itself.

GWEN IFILL: And did the lawyer for the Gray family join with the mayor and the police chief in calling for calm, because this obviously was a trigger last time?

WILLIAM BRANGHAM: Absolutely.

We heard that from them. We heard that from a lot of people here today, because everybody remembers what happened back in April right after Freddie Gray's funeral, when the city literally came apart at the seams. Buildings were on fire. People were venting very visceral, obvious anger at what they saw had happened to that young man.

And so I think people are very worried that that might happen here if these subsequent cases don't come to a verdict that the community thinks is legitimate.

GWEN IFILL: And a final question, William. Can officer Porter be tried again for the same alleged crime?

WILLIAM BRANGHAM: Yes, my understanding is that this — if he were to be tried again — and we're going to hear from attorney Marilyn Mosby tomorrow, we believe — she will decide whether she wants to appeal this and try to re-prosecute him.

But there's no sense of double jeopardy. If they appeal and they can bring a second case against him, I believe that will be able to go forward. But we will know more about that tomorrow.

GWEN IFILL: All right, William Brangham for us tonight in Baltimore, thank you.