PBS高端访谈:奥巴马在年终新闻发布会上谈普京及网络攻击
日期:2016-12-19 11:01
(单词翻译:单击)
JUDY WOODRUFF: President Obama strongly suggested today that Russian President Vladimir Putin was at the heart of the computer hacks on the Democratic Party. And he defended his administration's restrained response in his year-end news conference.

PRESIDENT BARACK OBAMA: Hello, everybody.

JUDY WOODRUFF: As expected, the issue of alleged Russian hacking of the U.S. election dominated President Obama's last news conference of the year. It came one day after President-elect Trump tweeted, "If Russia or some other entity was asking, why did the White House wait so long to act? Why did they only complain after Hillary lost?"

Asked about that, Mr. Obama pointed out that the White House had told the public about Russia's role, and that he personally had told Vladimir Putin to, quote, "cut it out," but added:

PRESIDENT BARACK OBAMA: How we approach an appropriate response that increases costs for them for behavior like this in the future, but does not create problems for us is something that's worth taking the time to think about and figure out. And that's exactly what we've done.

JUDY WOODRUFF: All this comes just days after reports emerged that intelligence officials concluded Russian President Vladimir Putin was directly involved in efforts to influence last month's election in favor of Mr. Trump.

PRESIDENT BARACK OBAMA: Not much happens in Russia without Vladimir Putin. I will confirm that this happened at the highest levels of the Russian government, and I will let you make that determination as to whether there are high level Russian officials who go off rogue and decide to tamper with the U.S. election process without Vladimir Putin knowing about it.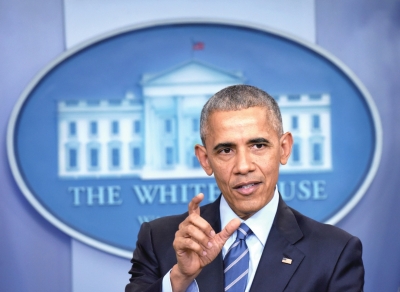 JUDY WOODRUFF: Former Democratic presidential candidate Hillary Clinton told supporters last night the hack was the result of Putin's, quote, "personal beef" with her and contributed to her stunning loss. The Kremlin denied the accusations today, saying the U.S. has yet to provide any proof of Russian involvement.

Back at the White House, President Obama was careful when he was asked about President- elect Trump's perceived close relationship with Russia.

PRESIDENT BARACK OBAMA: He was very complimentary of Mr. Putin personally. Now, that wasn't news. The president-elect during the campaign said so. And some folks who had made a career out of being anti-Russian didn't say anything it. Over a third of Republican voters approve of Vladimir Putin, the former head of KGB. Ronald Reagan would roll over in his grave.

JUDY WOODRUFF: Turning to Syria, the president spoke of the fall of Aleppo and the ongoing humanitarian crisis there. He rejected criticism the administration failed to do enough to stop the civil war.

PRESIDENT BARACK OBAMA: I cannot claim that we've been successful. And so, that's something that — as is true with a lot of issues and problems around the world — I have to go to bed with every night. But I continue to believe that it was the right approach given what realistically we could get done, absent a decision, as I said, to go into in a much more significant way.

JUDY WOODRUFF: And as for Hillary Clinton's loss and the future of the Democratic Party, the president said she was treated unfairly, but he had a thinly veiled criticism of her campaign:

PRESIDENT BARACK OBAMA: I can maybe give counsel and advice to the Democratic Party. And the thing that we have to spend most time on — because it's the thing we have the most control over — is how do we make sure that we are showing up in places where I think Democratic policies are needed, where they are helping, where they are making a difference, but where people feel as if they're not being heard and where Democrats are characterized as coastal, liberal, latte-sipping, you know, politically correct out-of-touch folks? We have to be in those communities, OK?

Thank you, everybody. Mele Kalikimaka.

JUDY WOODRUFF: Mr. Obama now heads to Hawaii to spend the holidays with the first family.