PBS高端访谈:在评论希拉里及持枪权之后 特朗普开始采取守势
日期:2016-08-11 10:19
(单词翻译:单击)
JUDY WOODRUFF: The presidential contest found Donald Trump trying to move on again from something he said a day earlier. Hillary Clinton, meanwhile, looked to capitalize on the furor.

Correspondent Lisa Desjardins has our report.

LISA DESJARDINS: Amid talk of campaign resets, Donald Trump changed scenes today, trading his usual large rally for, first, a small roundtable of coal executives and workers in Southwestern Virginia, and, later, a speech on jobs, especially mining jobs.

DONALD TRUMP (R), Presidential Nominee: The mines will be gone. The mines will be gone if she gets elected.

LISA DESJARDINS: That was Trump on offense. But he's also on defense over these words from yesterday about Hillary Clinton and gun rights.

DONALD TRUMP: If she gets to pick her judges, nothing you can do, folks, although the Second Amendment people, maybe there is. I don't know.

LISA DESJARDINS: Trump told FOX News he meant political action, not violence.

DONALD TRUMP: Nobody in that room thought anything other than what you just said. There can be no other interpretation. Even reporters have told me. I mean, give me break. But the dishonest people — what it is, there is a tremendous power behind the Second Amendment. It's a political power. And there are few things so powerful, I have to say, in terms of politics.

LISA DESJARDINS: Others charged Trump was indeed inciting violence. Even House Speaker Paul Ryan, celebrating his own primary victory last night, suggested the nominee explain.

REP. PAUL RYAN, Speaker of the House: I heard about the Second Amendment quote. It sounds like just a joke gone bad. I hope he clears it up very quickly. You should never joke about something like that.

LISA DESJARDINS: Hillary Clinton, in Des Moines, Iowa, slammed her opponent.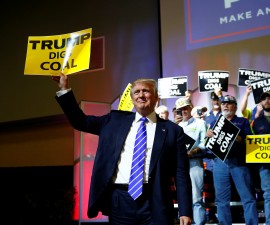 HILLARY CLINTON (D), Presidential Nominee: Words matter, my friends. Yesterday, we witnessed the latest in a long line of casual comments from Donald Trump that cross the line. Every single one of these incidents shows us that Donald Trump simply doesn't have the temperament to be president and commander in chief of the United States.

LISA DESJARDINS: This as the Clinton campaign unveiled new Republican endorsements today, and publicly launched a new official push called Together for America to win over more Republicans and independents, all that as a new Reuters survey shows more Republican voters may be up for grabs. About one-fifth of registered Republicans said they want Trump to drop his presidential bid entirely.

It's led to a new line from the Democratic nominee.

HILLARY CLINTON: I am humbled and moved by the Republicans who are willing to stand up and say that Donald Trump doesn't represent their values.

LISA DESJARDINS: But she too faced criticism over newly released e-mails from her time as secretary of state. They show staffers for the Clinton Foundation worked to gain favors and help for donors with some of her staff at the State Department. Trump blasted his opponent over the issue.

DONALD TRUMP: It's called pay-for-play. And some of these were really, really bad, and illegal. If it's true, it's illegal. You pay if you're getting things.

LISA DESJARDINS: With three months left in the election, the candidates are hitting hard and looking especially to big states. Tomorrow, Trump heads south to Florida; Clinton goes north to Michigan.

For the "PBS NewsHour," I'm Lisa Desjardins.