PBS高端访谈:特朗普指控FBI对其竞选活动实施监控
日期:2018-05-23 14:23
(单词翻译:单击)
听力文本

AMNA NAWAZ: As we reportd earlier, the Justice Department has asked its internal watchdog to review President Trump's charge that the FBI spied on Mr. Trump's 2016 election campaign. The move followed the president's announcement on Twitter that he would -- quote -- "demand" the department look into the matter. Sunday, in a series of six tweets in the course of an hour, the president targeted special counsel Robert Mueller's probe, calling it -- quote -- "the most" -- sorry -- "the world's most expensive witch-hunt." These developments came in the wake of last week's Washington Post report that a longtime U.S. intelligence source had contacts with several of Mr. Trump's advisers during the 2016 campaign. Devlin Barrett covers the Justice Department for The Post, and joins me now. Devlin, thanks so much for your time. Let me ask you now, as the basis of that demand, the president basically said that there was a spy implanted in his campaign. Tell me about that. Based on your reporting, is that what you believe happened?

DEVLIN BARRETT, The Washington Post: I don't think that's a fair characterization at all of the person we are reporting on, which is the FBI source, an American professor who had several meetings, meetings that, to be clear, the source himself initiated. But they were meetings. They were what intelligence officials might refer to as brush-ups, where you arrange a meeting with someone. But I don't think it's actually accurate tocharacterize that type of work as a spy or embedding them with the campaign.

AMNA NAWAZ: So, let me ask you about the chain of events here now. The president makes a demand on Twitter. The deputy attorney general responds, asking the inspector general, basically the watchdog, to take this on. What do you make about that chain of command, the chain of events there?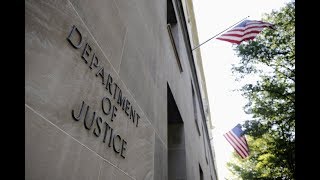 DEVLIN BARRETT: Well, there are certainly people who are worried that you're basically setting a pattern of the president demanding things from the Justice Department, and the Justice Department giving him something. But I think it's still worth keeping in mind that the central thing that is sort of a red line for law enforcement officials, which is the turning over of classified documents to Congress, that really hasn't -- that line hasn't been crossed yet. We may still reach that point, but I think, in a way, this is a lesser confrontation, a lesser conflict, this question of an I.G. investigation, than the issue of the source of the classified documents to the Hill.

AMNA NAWAZ: And we know that the president met today at the White House with the deputy attorney general and also the FBI director, Chris Wray. What do we know happened at that meeting?

DEVLIN BARRETT: Well, initial word is that they had a meeting and basically agreed to have another meeting. So it may be that, as has happened before, the Justice Department essentially plays for time, says they want to keep talking about it, but don't actually turn over paperwork to lawmakers on the Hill, who have been demanding that paperwork. The Justice Department's argument is that that would be too dangerous for the source and for their operations. It's not clear that today's meeting actually resolved very much, but, obviously, now the president is more directly involved, and that could raise the stakes.

AMNA NAWAZ: Well, talk to me about raising the stakes now very quickly before we let you go. We know the president's lashed out at the Justice Department before. If history's a guide, he could do it again. Could we be here with tensions rising again sometime soon?

DEVLIN BARRETT: Oh, absolutely. I think what you have seen in the last, let's say, three weeks has been a steady escalation of this issue. But, at the same time, you know, the president could have issued an order saying turn over those documents right now.
He could have done that three weeks ago. And he still hasn't. So I don't think we should assume that this will keep escalating. But I also think we have watched it escalate, so we have to keep close tabs on it.

AMNA NAWAZ: Devlin Barrett of The Washington Post, thanks for your time.

DEVLIN BARRETT: Thank you.
重点解析

1.in the wake of 之后
In the wake of developments in science and technology, man has become more capable of conquering nature.
随着科学技术的发展,人们征服自然的能力也越来越强了Sl!ypB8ZkJ&。
2.contact with 接触
We had already established contact with the museum.
我们已经和那家博物馆建立了联系B&gNBKkFi|v[NR@neKd。
3.as the basis of 作为基础
Apartheid used tribalism as the basis of its 'divide-and-rule' homeland policies.
南非种族隔离制将部落制度作为其对国土"分而治之"的政策基础F]@RY]gAlJIdPE#(lm.。
4.based on 基于
The selection process is based on rigorous tests of competence and experience.
选拔过程是基于对能力和经验的严格测试sSPmi~xd%KEPwep=d。
5.refer to as 称为
What I laughingly refer to as my garden is a corner lot by our postage-stamp size house.
我戏称为花园的地方,是我们家那豆腐块大小的屋子旁边的一个犄角旮旯nY|ew;P,,ewHTnIk[!0。


参考译文
阿姆纳·纳瓦兹:正如我们此前报道,特朗普指控FBI对其2016年的总统竞选活动实施监控,司法部要求内部监察机构对此进行调查ZAHl]Ue=8rWe-。此前,特朗普在推特上发表声明,称将"要求"司法部调查此事7zQZcBCS~Zp。周日,特朗普针对特别顾问罗伯特·米勒的调查,在一个小时内发推六次,称之为"最",对不起,"世界上代价最高的政治迫害"sxlqSD@w_e85]fw。
《华盛顿邮报》上周在报道中称2016年竞选期间,一名老情报员曾与多名特朗普顾问有来往mAZ.SB6AS!1rO。我们今天请到了报道司法部事件的邮报记者y64I)#Hy9NpC(U=。德夫林,感谢你做客节目3PJ(vT1M|u。现在我想问一下,根据这个"要求",特朗普主要讲的是他的竞选活动被安插了间谍yu8BH7;VR]=UJY。请告诉我一些关于此事的内容)=;C|]oP,nG。根据你的报道,你相信这是真的吗?

德夫林·巴雷特,《华盛顿邮报》:我认为,对于我们所报道的人而言,这并非一个公正的描述WodoCIv~6V)Vdz。他是FBI的情报员,一名美国教授,他曾与特朗普顾问有过几次会面,这几次都是这名情报员发起的AtyoyH8lc)07,&h。但他们当时确实在会面lSg6sN-)7H5+08j=)6Y。他们的会面,情报官员可能称之为"重逢",在那里你安排与某人会面p,3Nz]s~Xa^bp17H6z5V。但我认为把这类举动描述成间谍插入或者把他们嵌入到竞选中是不准确的e%_G[5BWMtn4XJ(]G。

阿姆纳·纳瓦兹:那么,让我来问问你,整个事件链条luS=bDe[2zr4#5。总统在推特上提出要求o.KZIqu2pLp20;2Gc。副总检察长作出回应,要求总检察长,基本也就是说监察机构,要求他们进行调查#45RP[WD@C。你对这一系列要求,一系列事情怎么看?

德夫林·巴雷特:当然,有人担心总统向司法部提出要求,而司法部满足了他的要求,这种模式就此形成8V)5_tS1[aWZHc+#。但我认为,仍然值得注意的是,核心问题是执法官员有一条底线,那就是把机密文件交给国会,这实际上还没有——还没有跨越这条底线h-Y9nPpGDc#y+!nH;2W。我们仍然可以做到,但我认为,在某种程度上,相比于特别顾问的调查,向国会提交机密文件才是引发争论最大的话题xwyBfo3v4kuI@0v-IKD。

阿姆纳·纳瓦兹:我们知道总统今天在白宫会见了副总检察长和联邦调查局局长克里斯托弗·雷WjK&.;6a8La~MCwB。关于这次会议内容,我们有何了解?

德夫林·巴雷特:首先,他们会面了,基本上同意再安排一次会面WO=[Pj1=TDMT#3@[W。所以,正如之前发生的那样,司法部本质上是为了争取时间,他们说要继续谈论此事,但事实上,他们并没有把文件交给国会山上的立法者,而这些立法者,他们一直在索要这些文件pMKX_kok#jijlLcd。司法部的论点是,这对于那个情报员以及他们的行动来说太过危险-ACp%GNRf362BzI。
目前还不清楚今天的会议是否解决了诸多问题,但很明显,现在总统更直接的参与,可能会增加风险W&R-Fij(5~*r*9C1_[#G。

阿姆纳·纳瓦兹:好的,节目结束前,请尽快跟我谈谈风险如何增加了%Bj2!sj%EtnY(_。我们知道总统之前对司法部进行猛烈抨击*Utqc|*boqDY[。如果参照此前历史,他可以故伎重演MYQ1_,CnoBiq4IDDf0b。紧张局势还会马上升级吗?

德夫林·巴雷特:绝对可以877ECgS(qRug。我认为你在最近看到的,我们说,三个星期,这个问题一直在稳步升级0u).6nQ1S]M#wbp[If*。但与此同时,你知道,总统可能已经发布了一道命令,说现在就把这些文件交过来M~#O3M5lfn。三个星期前他就可以这么做了x^sy[eNSf=_n|。但他仍旧没有r@,ZUO[%Ha。所以我认为我们无需认为事态会持续升级gOEVq=PC5g=+K|,jtkQ。
但我也认为我们已经看到了它在升级,所以我们必须密切关注j77f,i,Qkb。

阿姆纳·纳瓦兹:华盛顿邮报的德夫林·巴雷特,谢谢你做客节目xqh8kK6083F3M1o。

德夫林·巴雷特:谢谢你f2(gSj#d^C。
译文为可可英语翻译,未经授权请勿转载!