PBS高端访谈:特朗普呼吁中国对朝鲜采取更多行动
日期:2017-11-09 11:14
(单词翻译:单击)
Judy Woodruff: But first: President Trump's marathon trip to Asia continued today, with perhaps the most high-stakes visit, to China.

That comes after an important stop in South Korea. On the agendas in both countries, countering North Korea. John Yang reports.

John Yang: President Trump and first lady Melania Trump arrived in Beijing to a lavish welcome, replete with pageantry and throngs of children waving Chinese and American flags.

Their tour with Chinese President Xi Jinping and his wife of the sprawling, ancient Forbidden City was broadcast live on state TV. They also got a taste of Chinese opera. Amid the pomp, the two leaders find themselves in sharply contrasting political circumstances as they prepare to talk business.

China is a rising global force, and President Xi has just been confirmed by the ruling Communist Party as perhaps the most powerful leader since Mao Zedong. Mr. Trump, on the other hand is embattled at home. That was underscored by Republican losses in yesterday's off-year elections.

That could complicate U.S. efforts to win Chinese cooperation on North Korea and trade. Before leaving his previous stop in South Korea, Mr. Trump tried to make an unannounced visit to one of the world's most dangerous borders, the demilitarized zone between the two Koreas. But fog forced his helicopter to turn around.

In an address to the South Korean National Assembly, Mr. Trump said China should do more about the North's nuclear tests and missile launches.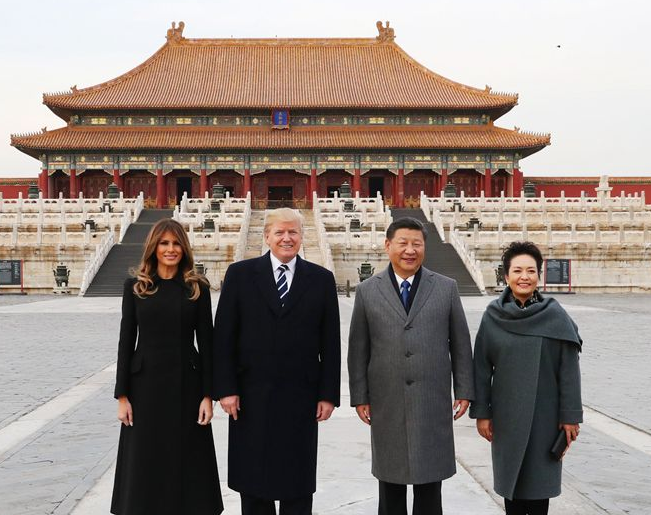 President Donald Trump: We call on every nation, including China and Russia, to fully implement U.N. Security Council resolutions, downgrade diplomatic relations with the regime, and sever all ties of trade and technology.

John Yang: Mr. Trump made a direct appeal to North Korean leader Kim Jong-un.

President Donald Trump: The weapons you are acquiring are not making you safer. They are putting your regime in grave danger. Every step you take down this dark path increases the peril you face.

North Korea is not the paradise your grandfather envisioned. It is a hell that no person deserves. Today, I hope I speak not only for our countries, but for all civilized nations, when I say to the North — Do not underestimate us. And do not try us.

John Yang: At the same time, he suggested a way out for the North, if they abandon their nuclear ambitions.

President Donald Trump: We will offer a path to a much better future. It begins with an end to the aggression of your regime, a stop to your development of ballistic missiles, and complete, verifiable and total denuclearization.

John Yang: Tomorrow, Mr. Trump and President Xi sits down for extended bilateral talks. For the PBS NewsHour, I'm John Yang.