PBS高端访谈:洛杉矶是怎么让无家可归的老兵数量减少为零的?
日期:2015-12-28 11:48
(单词翻译:单击)
JOHN CARLOS FREY: 57-year old Lendell Seay proudly shows off his tidy one bedroom apartment, which overlooks the 5 Freeway in East Los Angeles. The unit's bathroom is so big he keeps his bike in it, and there's plenty of room for his collection of hats, many of which tout his military service.

LENDELL SEAY: My primary job was in motor T, transportation

JOHN CARLOS FREY: Seay served in the marines for more than 21 years, including Desert Storm in Iraq, before retiring in 1998. But despite his successful military career, after his fiancé passed away from a stroke in 2004, Seay found himself in a downward spiral.

LYNDELL SEAY: And– that's when the drinkin' and everything really, really kicked in.

JOHN CARLOS FREY: For you?

LYNDELL SEAY: Yes. and I just– just fell apart and lost everything.

JOHN CARLOS FREY: So you found yourself where?

LYNDELL SEAY: I found myself in the– in the streets around Culver City and Santa Monica.

JOHN CARLOS FREY: From one day to the next, you were homeless?

LYNDELL SEAY: Yes.

JOHN CARLOS FREY: Before he moved into this apartment in October of 2014, Seay had been homeless, off and on, for a decade.

LENDELL SEAY: Everything that I– made was– mostly spent drinkin'

JOHN CARLOS FREY: Famously, sunny Los Angeles has long been known as the homeless capital of America, from beachy communities like Santa Monica and Venice to skid row downtown. There are about 45,000 homeless people in L.A. County, about 4,000 of whom are veterans.

The number of homeless vets in the city of LA has fallen by about one-third since 2009. And last year the city joined an ambitious national effort already underway to completely end veteran homelessness by the end of this year.

L.A.'s commitment coincided with an event in July 2014 attended by First Lady Michelle Obama, who has championed veterans initiatives for the Obama Administration.

MICHELLE OBAMA: And make no mistake it is an aggressive goal. But we have seen time and time again that if you break these numbers down then this problem becomes eminently solvable.

MAYOR GARCETTI: I don't think anybody's had the confidence that we'd ever be able to make a dent in homelessness. We've just come to accept that we manage homelessness, that we try to make it less bad, but we never make it better.

JOHN CARLOS FREY: Los Angeles Mayor Eric Garcetti is a former navy reservist himself. He says the city's effort to end homelessness among veterans is different than how things used to be in LA.

MAYOR ERIC GARCETTI: Our policy was very lazy. "I just do housing," "I just feed them," "I'm a free health clinic," and and it admirably– dealt with the crisis of people potentially dying on our streets, but it never turned their lives around permanently. That's what's changed now.

JOHN CARLOS FREY: The first step of this new model is a permanent house, funded mostly at government expense, with services then added around the resident. It's called permanent supportive housing.

And that's what Lendell Seay found himself in.

Seay lives in this complex that houses only formerly homeless veterans. While there is no firm program that he has to follow, he has access to support services, including onsite case managers, mental health counseling, substance abuse treatment, and even a community garden.

Officials in L.A. point to research showing nearly 90 percent of chronically homeless people remained housed after five years using this model.

For Seay, who has been sober for more than 2 years, it's more than he had hoped for.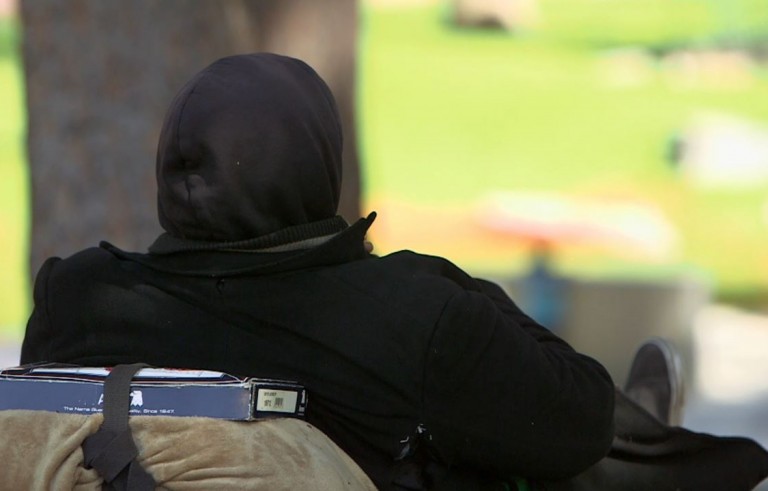 LENDELL SEAY: It feel good. Sometimes, I walk around the apartment and no TV or nothin' on and just singin' for no reason at all.

And then I catch myself doin' it and I start to laugh and I say, "You must be goin' crazy now." But I'm just happy, it feel–

JOHN CARLOS FREY: A good crazy.

LYNDELL SEAY: It feel good.

JOHN CARLOS FREY: There is no time limit on staying in the apartment.

Residents generally pay 30% of their income in rent – for Seay that's $470 from his pension. The rest is subsidized with a federal voucher specifically for homeless veterans. Since 2008, nearly 80,000 of these vouchers for homeless vets have been awarded around the country.

CHRISTINE MARGIOTTA: I'll sign it, thank you.

JOHN CARLOS FREY: Christine Margiotta runs Home For Good for The United Way of Greater Los Angeles, which has coordinated the efforts of hundreds of service providers working to help homeless vets. She says housing for the homeless – including veterans – is less expensive than trying to care for people on the street, which costs nearly $1 billion dollars annually in L.A.

CHRISTINE MARGIOTTA: Because that person is using the emergency rooms for their primary health care. They may be cycling in and out of jail or prison. They're really suffering out on our streets. What we know is that permanent supportive housing is actually 40% cheaper than leaving someone on the streets and– and, in our minds, doing nothing.

JOHN CARLOS FREY: But despite the progress made, there's no shortage of homeless people, including veterans, on the streets of Los Angeles. Early one morning this past March, we went to skid row in Downtown L.A. with outreach workers from US Vets, a non-profit veteran support group. There we met Benjamin Barraza Jr.

JOHN CARLOS FREY: Can I ask you how long you've been on the streets?

BEN BARRAZA: How long? Right now, it's– it's– since I've been– out of prison? Two years ago.

JOHN CARLOS FREY: You've been on the street for two years?

BEN BARRAZA: Yeah.

JOHN CARLOS FREY: Barraza is an Army veteran who served from 1971 to 1974. But he told us that he'd also spent time in prison. Since he's been out, he's been staying in skid row shelters. He showed us the few essentials items that he keeps with him.

BEN BARRAZA: I got it all here, man. You know, this is my little kit, you know. you gotta keep clean, smell clean, you know.

JOHN CARLOS FREY: Despite qualifying for a federal housing voucher, when we met him Barraza had not been able to find a permanent house. For him and many others on the street, finding an affordable apartment or placement in a facility with services isn't easy.

JOHN CARLOS FREY: Is it frustrating?

BEN BARRAZA: Oh man, it's– it's– it's– gives me– right now, I'm– gettin' a headache right now, just thinking about it.

JOHN CARLOS FREY: All the things you have to deal with just to get a place.

BEN BARRAZA: Well, because I can't even get around. I mean, I'm obese. I put weight on, you know, when I was in prison my mother died on me.

JOHN CARLOS FREY: Wow, I'm so sorry.

BEN BARRAZA: You know– I caught hepatitis C.

JOHN CARLOS FREY: Even with the focus of the Federal Government and local officials on veteran homelessness, Barraza and thousands of other tough cases are still on L.A. streets.

JOHN CARLOS FREY: I was on the street this morning.

MAYOR ERIC GARCETTI: Uh-huh.

JOHN CARLOS FREY: And we ran into some veterans.

MAYOR ERIC GARCETTI: Yeah.

JOHN CARLOS FREY: From my eyes, it looks like an impossible task.

MAYOR ERIC GARCETTI: Yeah.

JOHN CARLOS FREY: These are people who are in dire straits. How do you deal with that population?

MAYOR ERIC GARCETTI: The more you go into the population, the tougher it is to achieve that goal. Because towards the end, it is the people who are the most service-resistant who most– deeply experience mental health challenges when people have PTSD, substance abuse issues, which often intermingle with each other. Some will take more time, but I'm confident we can make sure that each one of them has a pathway off our streets.

JOHN CARLOS FREY: The State of Connecticut, as well as some cities, including Phoenix, Salt Lake City, New Orleans, and Houston have said they've been able to house their entire populations of chronically homeless vets with permanent supportive housing.

But Los Angeles will not be able to reach that goal by the end of the year.

Data released in May showed that there was actually a small increase in the number of homeless vets in the City of Los Angeles since 2013. And in August Mayor Garcetti backed away from his pledge to house all homeless vets by the end of the year.

In a statement to PBS NewsHour Weekend, the Mayor's Office said in part, "We are housing more than 192 veterans every month, but, every day 4 to 5 veterans are falling into homelessness, making it difficult to catch up… We hope to reach functional zero for veteran homelessness by July 2016."

In September, Mayor Garcetti allocated an additional $13 million dollars in city funds to expand subsidies for homeless people. And in November the L.A. City Council declared a "shelter crisis" which provides expanded access to temporary shelters as the weather gets colder and with the onset of the rainy 'el-Niño' season.

The City Council also pledged to spend $100 million on helping L.A.'s tens of thousands of homeless, but it's not clear where or when the money will be available.