PBS高端访谈:ISIS炸弹袭击巴格达是对伊拉克军方的新挑战
日期:2016-05-18 10:57
(单词翻译:单击)
HARI SREENIVASAN: Another day of extreme violence hit Baghdad today, as at least 77 people were killed and 140 wounded in a series of bombings across the city.

William Brangham has our report.

WILLIAM BRANGHAM: The capital city's largely Shiite neighborhoods were ground zero for this latest carnage. The worst killing came in the Shaab district, where a roadside bomb detonated at a crowded marketplace.

When people rushed to help those victims, a suicide bomber then attacked.

WATHIQ HASHIM, Eyewitness (through interpreter): An explosion took place here, killing a woman, her brother and her niece. Some other people who came to shop were either killed or wounded. What crime have innocent people committed?

WILLIAM BRANGHAM: It was much the same in the sprawling Sadr City district. A car bomb left mangled, burned-out vehicles at an outdoor market, while a suicide bomber targeted a nearby eating place.

HABOOB ALI, Eyewitness (through interpreter): This is the second blast in Sadr city. One is here and the other blast was outside a restaurant. We are fed up with this violence. The city has been the scene of daily explosions.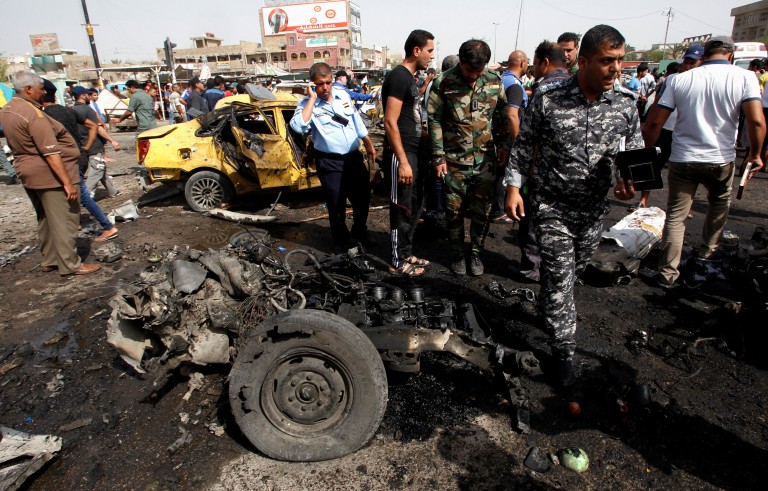 WILLIAM BRANGHAM: In all, bombs ripped through four different locations across Baghdad today, Shaab and Habibiya in the north, as well as nearby Sadr City, and the Dora neighborhood on the southern side. They're the latest in a surge of attacks in and near Baghdad that have claimed more than 200 lives in the last week alone.

Iraqi officials say ISIS militants are responsible and that they're using the bombings to try to compensate for ground they have lost on the battlefield.

And American officials echo that belief.

MARK TONER, State Department Spokesman: The United States strongly condemns the barbaric terrorist attacks in Iraq today that deliberately and specifically targeted civilians.

WILLIAM BRANGHAM: In Washington, State Department spokesman Mark Toner says it's clear the battle is far from over against ISIS, known in Arabic as Da'esh.

MARK TONER: These attacks are the latest reminder of the danger that this group continues to pose to all Iraqis, and the importance of Iraqi leaders from all communities to continue to work together, so that progress against Da'esh can continue to be made.

WILLIAM BRANGHAM: In all, the Iraqi government estimates that ISIS still controls 14 percent of the nation's territory. That's down from 40 percent back in 2014, when the militants made a lightning advance.

But as Iraqi forces gain ground in the north and west, backed by U.S. airstrikes, the new violence around Baghdad has put added strain on those forces. It could open the possibility that Iraqi army units are pulled from the front line fighting ISIS to help secure the capital.

Any such move could undercut Iraq's ability to fight ISIS in the north, especially as the Iraqi military pursues its new offensive to retake Mosul, the nation's second largest city.

For the "PBS NewsHour," I'm William Brangham.