PBS高端访谈:大选前一周 FBI仍在调查希拉里的私人邮件服务器
日期:2016-11-01 11:24
(单词翻译:单击)
JUDY WOODRUFF: For Donald Trump and Hillary Clinton, it's the start of the last full week of presidential campaigning. And with just eight days to go until Election Day, the contest has been injected with new uncertainty.

John Yang begins our coverage.

JOHN YANG: With Election Day just around the corner, the hot topic on the campaign today was something that's dogged the Democratic nominee for nearly two years, her use of a private e-mail server as secretary of state.

HILLARY CLINTON (D), Presidential Nominee: Now they apparently they want to look at e-mails of one of my staffers, and, by all means, they should look at them. And I am sure they will reach the same conclusion they did when they looked at my e-mails for the last year: There is no case here!

DONALD TRUMP (R), Presidential Nominee: Hillary is not the victim. The American people are the victim of this corrupt system in every way. And this is your one chance right now, November 8, to change it.

JOHN YANG: The FBI is scouring hundreds of thousands of newly discovered e-mails to see if any of them are relevant to its investigation of how she handled classified information.

The e-mails were discovered on the computer of Anthony Weiner, the disgraced former congressman from New York who's under investigation for allegedly sending sexual messages to a 15-year-old girl. He's the estranged husband of Huma Abedin, one of Clinton's closest aides, who was conspicuously absent today from Clinton's campaign plane.

Meanwhile, criticism continues to build over FBI Director James Comey's decision to tell Congress of the new e-mails before they were evaluated.

Former Attorney General Eric Holder wrote in today's Washington Post that: "While Comey is a man of integrity and honor, he committed a serious error with potentially severe implications."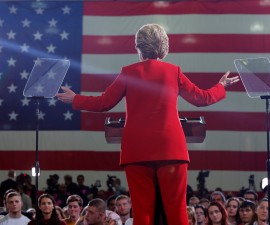 JOSH EARNEST, White House Press Secretary: Director Comey is a man of integrity. He's a man of principle.

JOHN YANG: The issue also dominated the day's White House news briefing.

JOSH EARNEST: The president doesn't believe that Director Comey is intentionally trying to influence the outcome of an election. I'm just not going to be in a position to, frankly, either defend or criticize decisions that he's made with regard to what to communicate in public.

JOHN YANG: Meanwhile, CNN said it had cut ties with Donna Brazile, interim chair of the Democratic National Committee. That followed today's WikiLeaks release of another batch of hacked Clinton campaign e-mails. One of them was from Brazile, then a CNN analyst, the day before the network hosted a debate between Clinton and Bernie Sanders in Flint, Michigan.

She told campaign officials the details of one of the questions Clinton was asked at the event about the city's tainted water crisis. It's the second time hacked e-mails showed Brazile tipping the Clinton camp to debate questions. CNN said it is completely uncomfortable with her interactions with the campaign while a network analyst.

Today, the candidates were in key battleground states. Clinton was in Ohio, where polls show a tight race. Trump was next door in Michigan, trying to gain ground in a state that hasn't voted for a Republican presidential candidate since 1988, and where current polls show him behind.

For the "PBS NewsHour," I'm John Yang.