PBS高端访谈:特朗普在巴黎也躲不开与俄罗斯有关的问题
日期:2017-07-14 10:02
(单词翻译:单击)
JUDY WOODRUFF: President Trump arrived in Paris today for talks with French President Emmanuel Macron, with the aim of strengthening the alliance between the two countries.

But the visit was at least partly overshadowed by questions that continues to dog President Trump, whether his presidential campaign coordinated with the Russian government.

John Yang has our report.

JOHN YANG: Even amid the splendor of Paris, President Trump could not escape the firestorm over his son's meeting with a Russian lawyer. At a news conference with French President Emmanuel Macron, Mr. Trump defended Donald Trump Jr. as a wonderful young man who did nothing wrong.

PRESIDENT DONALD TRUMP: I think, from a practical standpoint, most people would have taken that meeting. It's called opposition research, or even research into your opponent.

I have had many people — I have only been in politics for two years, but I have had many people call up, oh, gee, we have information on this factor or this person or, frankly, Hillary.

That's very standard in politics.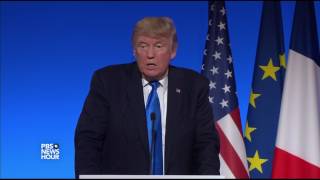 JOHN YANG: The president said the Russian lawyer, Natalia Veselnitskaya, had visited Congress and he suggested her U.S. visa had been approved by Obama Attorney General Loretta Lynch, not the State Department.

Late today, Lynch said she had nothing to do with it.

On Air Force One on the way to Paris, Mr. Trump told reporters that the Russia investigation was only helping him. "It's making Trump stronger, because my people and the people that support me, who are incredible people, those people are angry because they feel it's being unfair and a witch-hunt."

At the news conference, a French reporter asked the president about his often-repeated campaign anecdote about a friend who had told Mr. Trump that the threat of Islamic terrorism had ruined Paris.

PRESIDENT DONALD TRUMP: I see him like a month ago. How was Paris this summer? What? I don't go to Paris. Are you kidding me? It's no longer Paris.

JOHN YANG: Today, he turned it around to flatter his host.

PRESIDENT DONALD TRUMP: You know what? It's going to be just fine, because you have a great president. You have somebody who's going to run this country right. So, I really have a feeling that you're going have a very, very peaceful and beautiful Paris. And I'm coming back. You better do a good job, please. Otherwise, you're going to make me look very bad.

JOHN YANG: The two leaders said they discussed Syria and the fight against terrorism. Mr. Macron said Mr. Trump's decision to withdraw from the Paris climate accord wouldn't affect their relationship.

Bloomberg News White House correspondent Toluse Olorunnipa is covering the trip.

TOLUSE OLORUNNIPA, Bloomberg News: They see the world in very different ways, but they have come to realize that they can benefit from having a positive relationship with one another, and that's what we saw on display today.

JOHN YANG: Indeed, the body language today was a marked difference from their first awkward encounter in May, and was capped tonight with dinner at the Eiffel Tower.

After watching Bastille Day celebrations in Paris tomorrow, Mr. Trump heads back to the United States, and more repercussions from his son's Russia meeting. Senate Judiciary Committee Chairman Chuck Grassley said he wants Donald Trump Jr. to testify in open session as soon as next week.

For the PBS NewsHour, I'm John Yang.