PBS高端访谈:回顾2015年的战争与和平
日期:2015-12-24 11:32
(单词翻译:单击)
JUDY WOODRUFF: But, first, as the year comes to an end, we thought it would be a good idea to take stock and look back at America's diplomatic accomplishments and setbacks of 2015.

It was another bloody year across the Middle East, in Afghanistan and on the African continent. The Syrian civil war entered its fourth year, and, in September, Russia intervened to support Syria's President Bashar al-Assad with airstrikes that mostly hit rebels backed by the U.S. and its allies.

Meanwhile, Iraqi government troops joined with Kurdish forces, and with U.S. ground and air support, began to beat back Islamic State fighters. As the year ended, the Iraqis were moving to recapture Ramadi.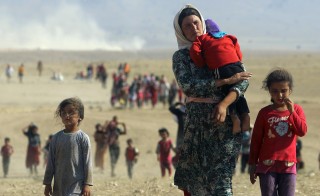 But ISIS did hold on to much of its territory in Syria. And that helped send a flood of refugees and migrants from Syria into Europe, along with tens of thousands from Africa and Asia. Tensions over migrants crescendoed when terrorists went on a rampage in Paris, killing 130 and wounding hundreds more.

Elsewhere, the fighting in Eastern Ukraine between Russian-backed separatists and the government subsided to some extent after a cease-fire agreement was reached in Minsk, Belarus. But, in Asia, tensions rose between China and the United States and countries in the region, as Beijing built up artificial islands, complete with military runways.

Still, there were major diplomatic agreements reached in 2015 as well. Iran agreed to curtail its nuclear program in exchange for the lifting of economic sanctions. The United States and Cuba reopened embassies in each other's capitals and reestablished diplomatic relations. Twelve Pacific Rim countries concluded the Trans-Pacific Partnership trade agreement, which lowers tariffs; 195 countries struck a landmark climate deal in Paris. It aims to cut manmade emissions and slow global warming.

And just last week, the U.N. Security Council approved a framework for trying to end the Syrian civil war.