PBS高端访谈:特朗普希望与共和党全国委员会达成联合筹款协议
日期:2016-05-11 11:23
(单词翻译:单击)
JUDY WOODRUFF: The presidential primary season is winding toward a close with two of the final states taking their turns tonight.

West Virginia has 29 Democratic delegates to offer. Overall, Hillary Clinton needs just 155 more to lock up the party's nomination. Republicans have races today in both West Virginia and Nebraska, even though the outcomes are now just a formality.

It was West Virginians' turn to head to the polls today, but the candidates were elsewhere. Donald Trump, a near lock to be the Republican nominee, was in New York, reportedly working to join forces with the Republican National Committee on fund-raising. But he still faces hurdles winning support from party leaders.

House Speaker Paul Ryan has so far refused an endorsement. He's scheduled to meet with Trump on Thursday.

Ryan spoke this afternoon in an online interview with The Wall Street Journal: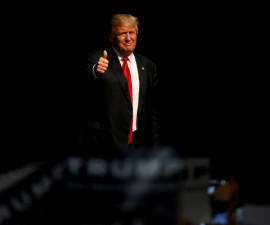 REP. PAUL RYAN (R-WI), Speaker of the House: The point I have been making is, we shouldn't just pretend that our party is unified, when we know it is not.

And so I think what we want to do is sit down together and talk about how we can unify the Republican Party, so that we can be at full strength in the fall, because if we just pretend we're unified, without actually unifying, then we will be at half-strength in the fall, and that won't go well for us.

JUDY WOODRUFF: Trump's former rival Ted Cruz also declined today to say if he'd back the presumptive nominee. The Texas senator's name is still on the ballot in Nebraska, but he played down the chance that a victory there might prompt him to reenter the race.

SEN. TED CRUZ (R), Former Republican Presidential: Listen, we have suspended the campaign. We have suspended the campaign because I can see no viable path to victory. Of course, if that changed, we would reconsider things. But let's be clear. We are not going to win Nebraska today. There should be no mystery, no excitement in that.

We have withdrawn from the campaign and it's in the hands of the voters. If circumstances change, we will always assess changed circumstances.

JUDY WOODRUFF: On the Democratic side, Hillary Clinton stumped in Kentucky, next door to West Virginia. She called for paying child care workers more, while curbing child care costs for families.

HILLARY CLINTON (D), Democratic Presidential Candidate: I don't think any family should have to pay more than 10 percent of their income for child care. That ought to be just a rule, and you ought to get help if you're getting too close to that or going above that. So, we need to start thinking about family issues as investment issues, investments in the future, investment in our children.

JUDY WOODRUFF: Clinton's rival, Bernie Sanders, pressed ahead with his underdog campaign in a California city still suffering from the housing market meltdown in 2008.

SEN. BERNIE SANDERS (VT-I), Democratic Presidential Candidate: When you have this grotesque level of income and wealth inequality, when you have a situation where, over the last 25 years, trillions of dollars have left the hands of working families and have gone into the top one-tenth of 1 percent, don't tell me we don't have the resources to rebuild Stockton, California.

JUDY WOODRUFF: California's delegate-rich contest, almost at the end of the Democrats' primary calendar, is set for June 7.

Sanders has vowed to take his campaign all the way to the Democratic Convention in Philadelphia in late July.