VOA慢速英语(翻译+字幕+讲解):过度沉溺智能手机易引发孤独和抑郁
日期:2018-05-04 11:33
(单词翻译:单击)
听力文本
Smartphone Use May Lead to Addiction, Loneliness, Depression
From VOA Learning English, this is the Health & Lifestyle report.
Nearly 2.4 billion people around the world used a smartphone in 2017. By the end of 2018, more than a third of the global population will be using a smartphone.
Those numbers -- from Mobile Marketing Magazine -- sound great, don't they? More people will have more information at their fingertips.
However, smartphone technology can be a double-edged sword.
On the one hand, it sends us unlimited amounts of information. We don't have to wait. Our devices ring, ping, vibrate and light up with the latest news from family, friends and around the world.
On the other hand, this immediate access to information may become an addiction. And it may make some people feel lonely, anxious and depressed.
These findings are from a 2018 study from San Francisco State University and have been published in NeuroRegulation.
Erik Peper and Richard Harvey are both health education professors at the university. They led the study.
In a statement to the press, the two professors claim that "overuse of smart phones is just like any other type of substance abuse."
Peper explains that smartphone addiction forms connections in the brain that are similar to drug addiction. And these connections form slowly over time.
Also, addiction to social media may affect our emotional state.
The two professors asked 135 university students about their smartphone use and their feelings. They found that "students who used their phones the most reported higher levels of feeling...lonely, depressed and anxious."
Peper and Harvey do not blame users for their technology addiction. They blame the "tech industry's desire to increase corporate profits." As Peper writes, "More eyeballs, more clicks, more money."
The researchers warn that workers in the technology industry know how to manipulate our brains and turn us into addicts.
But the researchers also suggest ways to fight back.
They say that we can train our brains to be less addicted to our phones and computers.
Erik Peper suggests turning off push notifications and other such alerts on our phones. These instant announcements excite the same pathways in our brains that once warned us of dangers in our environment. But instead of warning us of a large predator looking for dinner, we are alerted to a sale on shoes or the fact that a friend from high school is eating a hamburger in Las Vegas.
More often than not, our devices share unimportant information as if our lives depended on it. Our brains see the notices the same way. And that is a problem. So, just turn them off.
The researchers also suggest taking control of when and where you answer a text or email. You do not need to answer them all. And you certainly don't need to answer them as soon as you get them.
They also suggest setting limits on the time you spend on social media. If you want to catch up with friends on Facebook, set aside a small amount of time to it. Schedule periods of the day to focus on important tasks and do not allow technology to interfere.
Two of Erik Peper's students share ways they have changed their use of technology.
One student, Khari McKendell, closed his social media accounts. He says he still calls and texts people. But he adds that he wants to spend most of his time with his friends in person, not online.
Another student, Sierra Hinkle, says she has stopped wearing headphones while she is out. She says this makes her more aware of her surroundings. And when she is with friends at a bar or restaurant, they all put their phones in the center of the table. The first one to touch a phone buys everyone a drink.
Hinkle says that she and her friends aim to use technology in ways that are useful, but that don't "take away from real-life experiences."
And that's the Health & Lifestyle report.
I'm Anna Matteo.
重点解析
1.double-edged sword 双刃剑
Your diplomacy is a gift, but it can also be a double-edged sword.
外交能力是你的天赋,但它也会成为一把双刃剑D-tsaMpVO#BBysB[q。
2.take away 拿走
They're going to take my citizenship away.
他们打算取消我的国籍SVDD7d*LTistP8Ta。
3.a small amount of 少量的

Melville managed to get by on a small amount of money.
梅尔维尔仅靠一点点钱勉强度日o[xWEEJt,RT7r。
4.fight back 反击

I stood there with a lump in my throat and tried to fight back tears.
我站在那里,喉咙哽塞,拼命想止住眼泪G_5kQsO+kt-w9pyp38。
5.If you want to catch up with friends on Facebook, set aside a small amount of time to it.
catch up with 跟上
We'll do our best to catch up with the advanced world levels.
我们将努力赶上世界先进水平Me[9L#P4rESM@*Pdavb。
If a good runner like you can't catch up with him, how can I?
你跑得那么快还赶不上他,何况我呢?
6.If you want to catch up with friends on Facebook, set aside a small amount of time to it.

set aside 留出;撤销
Some doctors advise setting aside a certain hour each day for worry.
一些医生建议每天留出一点时间来解决烦心事dPnV=uCay!JUyN,qZ7。
He urged them to set aside minor differences for the sake of peace.
他敦促他们为了和平抛开一些小的分歧rPKd4w%m;F#y-]|51&。
参考译文
智能手机使用成瘾易引发孤独和抑郁
这里是VOA慢速英语健康生活报道vQ=!W3;d#=%lH70AdcD。
2017年,全球使用智能手机的人数约24亿y;dZ*zwYw^r_;xYYXPk9。到2018年底,全球超三分之一的人口将使用智能手机*BFR3ZD+x(c^er[VQ@X。
《手机营销杂志》统计出的这些数字听起来不错,对吧?越来越多的人能够随时了解到更多信息Ta*^|JP+~QDe。
然而,智能手机技术是一把双刃剑pgdE+~tpiEvbMR--d1Q。
一方面,它为我们提供了无限的信息pPf#6V@k|aP.[7gn。我们无需等待f4ygub-|kc~C]^。当家人、朋友和全球更新动态时,我们的手机会响铃、语音提醒、震动或是亮屏s5=E&E=AxPP8M。
另一方面,这种即时获取信息可能会让人们上瘾5ZwAgoqDrd*。一些人可能会因此感到孤独、焦虑和抑郁PKN5cYbURQs&fgQuk。
该发现来自于旧金山州立大学2018年的一项研究,该研究发表在《神经调节》上~If@F;VJ1!p。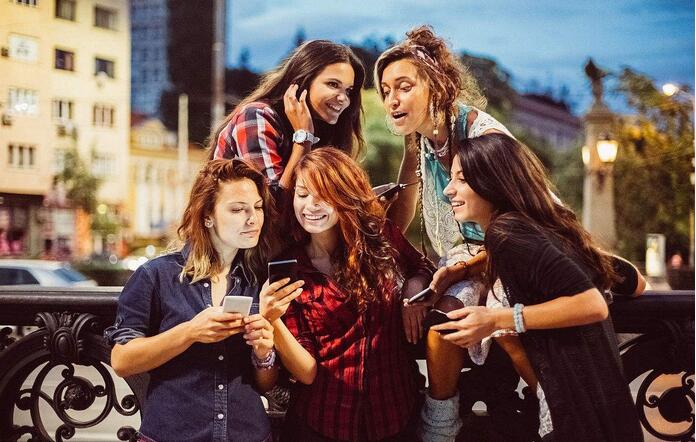 埃瑞克·佩珀(Erik Peper)和理查德·哈维(Richard Harvey)是该大学的健康教育教授8Ym(qteQ.)G(;^C=RIli。他们主导了这项研究=h#X29^MEN7-=Tar2。
两位教授在向媒体发表的声明中表示:"过度沉溺智能手机与滥用其他类型的药物无异eNXy#2&]O]74ouc]。"
佩珀解释说,对智能手机上瘾在大脑中形成的联系与毒瘾类似BNL@qc_P,S5|iCh60e。随着时间的推移,这些联系慢慢成型bSIWSgVTB,kd7IH,asL。
此外,依赖社交媒体可能会影响个人的情绪状态un1p_EE7J1。
两位教授询问了135名大学生关于使用智能手机的情况以及感受5N2[s0^-)#AQ8^eu^NX。他们发现,"使用手机的学生最容易感到孤独、抑郁和焦虑1Mp[,NI9qwjv@=88uDw。"
佩珀和哈维并未指责用户对技术上瘾1AN,+H1Dm=。他们指责"科技行业想要增加企业利润"o|6_;lUUOl_0)L。佩珀写道,"更多的关注、更多的点击,意味着有更多的利润#SG&1c9Ljk4l63a;mNgb。"
研究人员警告称,科技行业的员工知道如何操纵用户的大脑,把我们变成瘾君子X3*dPv=wvKv|v。
不过,研究人员也提出了反击的建议!96*u1S1O#+[E8VfS。
他们说,我们可以训练大脑,减轻对手机和电脑的依赖程度x@!61o*i~Kbn。
佩珀建议,关闭推送通知以及其他类似的消息提醒*yJBM5FYFY4(S。我们的大脑路径曾经会发出环境危险的信号,而这些即时通知会激起人脑中相同的路径I@J3Z4ViB+#HbM。然而,后者警告的并不是大型食肉动物在寻找猎物,而仅仅是提醒我们鞋子打折,或者高中同学正在拉斯维加斯享用汉堡6z(mARWq[g。
通常情况下,我们的手机会分享一些看似关键却无关紧要的信息zm5slFgs6eoy。同样,大脑也会看到这些通知=k@^y9k46+Nn165V。这就是根源所在Er!AER9#LeS。所以,直接关掉这些推送即可@c;~pqCDD[y7hBy。
研究人员还建议,控制回复短信或电子邮件的时间和地点]B3dToW|z%pg5py0GM=。你不必一一回复所有问题tJ,g4BL6RQpiPSn。当然也不需要立刻回复;#L7sSPW|7Myd。
他们还建议,限制花费在社交媒体上的时间q27Y!O|UM3EN#_dj8)A。如果你想时刻留意Facebook朋友的动态,空出一点时间处理即可)N0^CqCaLE(1Ji3Axm。规划一天中的某个时段专心完成重要工作,并且不允许任何电子产品打扰6h._a(h&FXsdti(1U]9。
佩珀的两个学生分享了改变使用电子产品的方法q-+0PZ3TGNlO[^3|jP。
学生克哈里(Khari McKendell)关闭了社交媒体账户qI0d29zTXyQ9~*u%^lTx。他说,他还是会打电话、发短信7kgXgEhPkwM@l(。但他补充说,他想花时间与朋友面对面交流而不是网聊&~ABu,8zDf~%reYsAH。
另一名学生塞拉(Sierra Hinkle)表示,外出时不戴耳机了j;[+S#!N|WqgXu。她表示,这让她更加关注周围的环境w9A9mkY5b8uz3*。和朋友们一起去酒吧或餐馆,他们都把手机放在桌子中央Kc5IHCKlT(。第一个摸手机的人要请所有人喝饮料6e5FklI7(q[VmES。
塞拉说,她和朋友想充分利用电子设备的优势,而不会任其"夺走真实的生活体验"6)n,mc=(6Ld6W。
以上为健康生活报道的全部内容-ie5,V24os-。
安娜·马特奥为您播报m1X@U&|0)&bHkxJgUxZO。
译文为可可英语翻译,未经授权请勿转载!