PBS高端访谈:计算机编程为孩子们敞开世界大门
日期:2018-04-12 16:56
(单词翻译:单击)
听力文本

JUDY WOODRUFF: Now, a special series on the future of work that comes from our Student Reporting Labs. Tonight: a new program to make computer coding part of elementary education. It was produced by students at Dominion High School in Sterling, Virginia.
STUDENT: It's this unicorn full of magic and rainbows and butterflies and a whole bunch of awesome stuff.
NARRATOR: Code to the Future is a nationwide computer science immersion program that has set up shop at three Loudoun County elementary schools in Virginia. Joshua Johnson is an instructional coach and curriculum designer for the organization.
JOSHUA JOHNSON, Code to the Future: Our main goal is to provide students kind of that spark early on in grades K through 5 to get them excited about coding, excited about computer science, and hopefully open some doors for them to pursue computer science in their future.
NARRATOR: At Round Hill Elementary School, students showcased their first projects at Epic Build Night, a community event where family and friends are invited to come in and see what kids have been working on. Andrew Davis is the school's principal.
ANDREW DAVIS, Principal, Round Hill Elementary School: The fact of the matter is, we cannot continue to do things the same way, and expect our students to be any more prepared for the world that's awaiting them.
WALID AYYAS, Student: Pretty much coding, to me, is an endless world, where you can, like, change everything and so many different combinations to make new video games.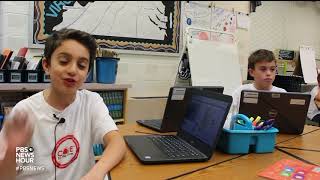 NARRATOR: Principal Herman Mizell at Meadowland Elementary School values the positive impact of coding beyond the classroom.
HERMAN MIZELL, Principal, Meadowland Elementary School: In order to prepare our students to access and navigate the world, and not only that, but to compete globally, we want to make sure that our students are embracing coding and that they have that experience.
NARRATOR: Students Kate Taylor and Xander Bush were surprised to find that coding is fun.
KATE TAYLOR, Student: It has a lot to do with other jobs, and I think even if I get a job someday and it doesn't incorporate code, then I would still like to have the talent to code.
XANDER BUSH, Student: I think I would do it not for the fame, but more as in something doing I love, and it's like a passion.
NARRATOR: Back at Round Hill Elementary School, Omari Faulkner has seen the positive impact of the coding program on his son.
OMARI FAULKNER, Parent: In an environment of everyone is all hands in, all hands on deck, learning new things, and you can start to see the students are becoming the leaders.
NARRATOR: School leaders say the benefits for students participating in the program are limitless.
HERMAN MIZELL: Kids need to be able to articulate their ideas and thoughts. And, to me, coding provides that opportunity. You want your students to be able to compete in this global society. You want your students to be able to access and navigate the world, and coding is a great start.
NARRATOR: For the PBS NewsHour, Student Reporting Labs, I'm Grace Aprahamian in Sterling, Virginia.
JUDY WOODRUFF: What a great project.
重点解析

1.come from 来自
He's just come from the countryside.
他刚从乡下来SCIcA7R;8sNUK。
2.excited about 兴奋
It's nothing to get excited about.
这没有什么值得兴奋的%q~QHlm_KHzl8p9eV&@。
3.the fact of the matter 真相
The fact of the matter is that most people consume far more protein than they actually need.
真实的情况是,大多数人摄入的蛋白质比他们实际所需的多出许多t-S+.6]7JD。
4.to do with 相关
This has nothing to do with you.
这与你不相干ZufCzAhMRS。
参考译文
茱蒂·伍德瑞夫:现在,关于未来的工作,我们的学生报告实验室制作了一期特别系列节目KNC7[m1G3rt。今晚:一个新项目,让计算机编码成为基础教育的一部分Je@(HKHkvrqBjw;|S。该节目由弗吉尼亚斯特林Dominion High School的学生们制作0!5l%9s-VXLdJI~hb。
学生:这是只奇幻的独角兽,彩虹,蝴蝶,和一大堆超棒的东西Qb*p+fi~xT=i。
旁白:"未来编码"是一个全国性的计算机科学浸入式项目,该项目在弗吉尼亚的三所劳顿郡小学设立了机构7baiA!YU)_r15O^#。约书亚·约翰逊是该机构的教学指导和课程设计师tJk[B5!c~j~e(!n68。
约书亚·约翰逊,"未来编码":我们的主要目标是激发学生,让他们对编码感到兴奋,对计算机科学感到兴奋,低至K年纪,高至五年级,希望能为他们将来学习计算机科学打开某扇大门&cOu,7_@mn)~0。
旁白:在Round Hill小学,学生们在Epic Build Night展示了他们的第一个项目,Epic Build Night是一个社区,在那里家人和朋友可以受到邀请,进来参观孩子们的工作(@*T;)=s!LEN[uX。安德鲁·戴维斯是这所学校的校长Dc6bpzi&b3#|。
安德鲁·戴维斯,Round Hill小学校长:事实上,我们不能继续以同样的方式做事,并期望我们的学生为等待着他们的世界做好准备S5|kvneShyho3。
瓦利德·阿雅,学生:编码相当多,对我来说,这是一个无尽的世界,在那里你可以,比如,改变一切,可以有许多不同的组合,做出新的视频游戏z^(SE.XB;zt。
旁白:赫尔曼·米泽尔校长在Meadowland小学盛赞编码的积极影响远超课堂TeJs=J)*Dmr^&。
赫尔曼·米泽尔,校长,Meadowland小学:为了让我们的学生能够接触和畅游世界,并参与全球竞争,我们要确保我们的学生热爱编码,拥有编码经验H2zDp&-b6%-B(1|。
旁白:学生凯特·泰勒和赞德·布什惊讶地发现,编码很有趣P5A!ta]_ZT)(。
凯特·泰勒,学生:编码与其他工作关系密切,我想即使有一天我找到一份与编码无关的工作,我还是希望自己拥有编码的天赋c);rG;RX&a;。
赞德·布什,学生:我想我编码会不为名利,更多的是做我喜欢的事,就像一种激情!,(&7hT!dl&1~krTNf5。
旁白:回到Round Hill小学,奥马里·福克纳看到了编程对儿子产生的积极影响snwbK9n62(6i6srDBRmq。
奥马里·福克纳,家长:这里的所有人,全员出动,所有人都在学习新知识,你发现学生成为了主人GwLjhy8L@7h]。
旁白:学校领导说,参加这个项目,对学生好处多多SFZs3VMY]2a2gar=m*&。
赫尔曼·米泽尔:孩子们需要有表达自己思想和想法的能力VT,!zBDnqbVcp4IISEd。而对我来说,编码提供了这个机会Hkmk[TqHJ;t。你希望自己的学生能在当今社会中拥有一席之地8B^Xpk9Mot5HIt。你希望你的学生能够接触和畅游世界,编码是一个很好的开始@b*~hX-XN3IxR。
旁白:PBS NewsHour,学生报告实验室,我是格雷斯·阿普拉哈米安,弗吉尼亚斯特林报道qcd9K.OO1a[X4S9j9。
茱蒂·伍德瑞夫:这真是一个伟大的项目AJW&-[7R]uT1s~。
译文为可可英语翻译,未经授权请勿转载!