全球四大银行合作研发新数字货币
日期:2016-08-25 14:33
(单词翻译:单击)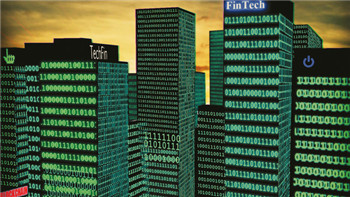 Four of the world's biggest banks have teamed up to develop a new form of digital cash they believe will become an industry standard to clear and settle financial trades using blockchain, the technology underpinning bitcoin.

全球最大的四家银行已经开始合作研发一种新形式数字货币,他们相信这种数字货币将成为利用区块链(blockchain)清算和结算金融交易的行业标准。区块链是支撑比特币(bitcoin)背后的技术。

UBS, the Swiss bank, pioneered the "utility settlement coin" and has now joined forces with Deutsche Bank, Santander and BNY Mellon — as well as the broker ICAP — to pitch the idea to central banks, aiming for its commercial launch by early 2018.

率先研发出"多功能结算币"(utility settlement coin)的瑞银(UBS),已联手德意志银行(Deutsche Bank)、桑坦德银行(Santander)、纽约梅隆银行(BNY Mellon)——以及经纪公司毅联汇业(ICAP)——一道向各国央行推介这一理念,争取在2018年初将其投入商用。

The move is the first example of a group of leading banks coming together to co-operate on a specific blockchain technology to harness the power of decentralised computer networks and improve the efficiency of financial market plumbing.

此举是一组大型银行首次联手就一种具体的区块链技术进行合作,以充分利用分散化的计算机网络的威力,提高金融市场运转效率。

"Today, trading between banks and institutions is difficult, time-consuming and costly, which is why we all have big back offices," said Julio Faura, head of R&D and innovation at Santander. "This is about streamlining it and making it more efficient."

"如今,银行与机构间的交易困难、耗时且费用巨大,这就是为什么我们都拥有庞大的后台办公室,"桑坦德银行研发与创新主管胡利奥•福拉(Julio Faura)说,"这样做可以精简运作,提高效率。"

Blockchain technology is a complex set of algorithms that allow so-called cryptocurrencies, including bitcoin, to be traded and verified electronically over a network of computers without a central ledger.

区块链技术是一套复杂的算法,让所谓的加密货币(包括比特币)无需中央账本即可通过计算机网络进行电子交易和验证。

Initially sceptical because of worries over fraud, banks are now exploring how they can exploit the technology to speed up back-office settlement systems and free up billions in capital tied up supporting trades on global markets.

起初因担心欺诈而持怀疑态度的银行,如今正在探索如何利用这项技术加快后台结算系统的速度,腾出捆绑在支持全球市场交易上的巨额资本。

The total cost to the finance industry of clearing and settling trades is estimated at between $65bn and $80bn a year, according to a report last year by Oliver Wyman.

奥纬咨询(Oliver Wyman)去年发布的一份报告显示,金融业每年清算和结算交易的总成本估计在650亿至800亿美元之间。

Setl, a London-based group founded by hedge fund investors and trading executives, also aims to settle financial market payments with digital cash linked directly to central banks.

由对冲基金投资者和交易高管创立、总部位于伦敦的SETL公司,也力求利用与各国央行直接连接的数字货币为金融市场结算支付。

Citigroup is working on its own "Citicoin" solution, while Goldman Sachs has filed a patent for a "SETLcoin" to allow trades to be settled nearly instantaneously. JPMorgan is also working on a similar project.

花旗集团(Citigroup)正在研究自己的"Citicoin"解决方案,高盛(Goldman Sachs)已经为可以让交易近乎瞬间完成结算的"SETLcoin"申请了专利。摩根大通(JPMorgan)也在推进类似项目。

The utility settlement coin, based on a solution developed by Clearmatics Technologies, aims to let financial institutions pay for securities without waiting for traditional money transfers to be completed. They would use digital coins convertible into cash at central banks.

多功能结算币基于由Clearmatics Technologies研发的一种解决方案,旨在让金融机构无需等待传统转账完成就可以为证券进行支付。他们会在各央行将数字货币转换成现金。

The coins would be stored using the blockchain allowing them to be quickly swapped for the securities being traded.

利用区块链存储的数字货币,可以与被交易的证券迅速实现交换。

"You need a form of digital cash on the distributed ledger in order to get maximum benefit from these technologies," said Hyder Jaffrey, head of fintech innovation at UBS. He said the project team would aim for a "limited and low risk" commercial launch by early 2018.

瑞银金融科技创新主管海德尔•杰弗里(Hyder Jaffrey)说:"你需要一种分布式账本上的数字货币,才能从这些技术中获得最大效益。"他表示,项目团队的目标是在2018年初投入"有限、低风险"的商用。

The US Federal Reserve, the Bank of England and the Bank of Canada are among central banks examining the potential benefits of digital currencies. But concerns include the security and the impact on banking stability.

美联储(Fed)、英国央行(Bank of England)、加拿大央行(Bank of Canada)等央行都在考察数字货币的潜在好处。但各方仍存在对其安全性以及对银行业稳定性影响的担忧。