诗歌翻译:曹丕-《谈生》英文译文
日期:2020-11-13 06:50
(单词翻译:单击)
魏文帝曹丕(187年—226年6月29日),字子桓,沛国谯县(今安徽亳州)人。 三国时期著名的政治家、文学家,曹魏开国皇帝(220年-226年在位)。魏武帝曹操次子,与正室卞夫人的嫡长子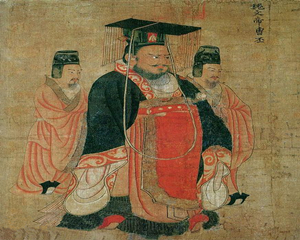 曹丕·《谈生》
谈生者,年四十,无妇。常感激读《诗经》。夜半,有女子可年十五六,姿颜服饰,天下无双,来就生为夫妇,乃言:"我与人不同,勿以火照我也。三年之后,方可照。"为夫妻,生一儿,已二岁;不能忍,夜伺其寝后,盗照视之。其腰以上生肉如人,腰下但有枯骨。她。妇觉,遂言曰:"君负我。我垂生矣,何不能忍一岁而竟相照也?"生辞谢,涕泣不可复止。云:"与君虽大义永离,然顾念我儿。若贫不能自偕活者,暂随我去,方遗君物。"生随之去,入华堂,室宇器物非凡。以一珠袍与之,曰:"可以自给。"裂取生衣裾,留之而去。
后,生持袍诣睢阳王家,买之,得钱千万。王识之,曰:"是我女袍,此必发墓。"乃取考之。生具以实对。王犹不信,乃视女冢;冢完如故。发视之,果棺盖下得衣裾。呼其儿,正类王女。王乃信之。即召谈生,复赐遗衣,以为主婿。表其儿以为侍中。
The Prince of Suiyang's Daughter
Cao Pi
A scholar named Tan was still unmarried at forty, which distressed him deeply. One night he was studying the Book of Songs at midnight when a girl of about sixteen came in. Her beauty and splendor had no equal on earth, and she offered to be his wife. She warned him, though: "I am no ordinary women, so for three years you must not look at me by torchlight."
They married and had a son, and when the boy was two years old, Tan could contain his curiosity no longer. While his wife lay asleep he stealthily held a torch over her. From the waist up she was flesh like anyone else, but from the waist down she was nothing but dry bones! Just then his wife woke up.
"You have wronged me, husband!" she cried, "I was soon to have become a mortal woman. Why couldn't you wait for one more year instead of holding that torch over me?"
Tan made abject apologies.
"Now we must part forever," she said in tears. "You must take good care of my son. If you are too poor to support yourself, come with me now and I shall give you a present."
He followed her into a splendid hall—a rare building richly furnished—where she gave him a robe made of petals.
"You can live on this," she told him.
And she tore a strip from his gown to leave there.
Later Tan sold the robe to the prince of Suiyang for ten million coins. As soon as the prince set eyes on it, he said: "that was my daughter's robe. This fellow must be a grave-robber."
He had Tan tried, and refused to believe him when Tan described what had happened. But upon going to inspect the grave, they found it unbroken. And when they opened it, under the coffin lid they discovered the strip of Tan's garment. They perceived that his son resembled the princess too. So at last the prince as convinced. Summoning Tan, he returned him the robe and made him his son-in-law, while the child was recommended for a post in the palace guard.
更多精品翻译素材,敬请关注可可英语。