CCTV9:Top leaders: China, Greece to enhance cooper
日期:2008-06-25 16:30
(单词翻译:单击)
Top leaders: China, Greece to enhance cooperation

Source: CCTV.com | 06-25-2008 08:23
Top legislator Wu Bangguo and Premier Wen Jiabao have also met with Greek President Karolos Papoulias.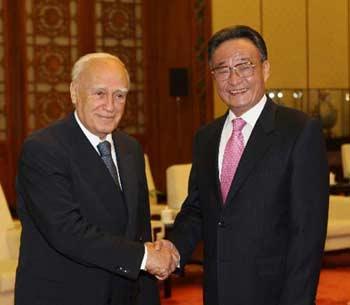 Wu Bangguo (R), National People's Congress (NPC) Standing
Committee chairman, shakes hands with visiting Greek President
Karolos Papoulias in Beijing Tuesday, June 24, 2008.
(Xinhua Photo)

Wu Bangguo, chairman of the NPC Standing Committee, says he hopes the parliaments of China and Greece will work closely to promote the friendly relationship and cooperation between the two countries.
Papoulias says he hopes both sides will enhance cooperation and adhere to understandings reached between heads of state.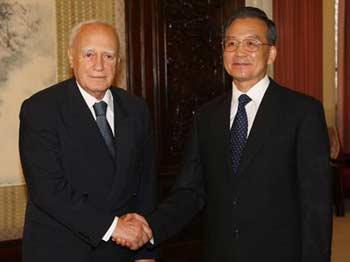 Chinese Premier Wen Jiabao (R) meets with visiting Greek
President Karolos Papoulias at the Great Hall of the People
in Beijing, capital of China, June 24, 2008.(Xinhua Photo)

Premier Wen Jiabao thanked Greece for its help following the Wenchuan earthquake and its support for the Beijing Olympics. Wen Jiabao called for the expansion of trade and economic cooperation especially in shipping, logistics, tourism, telecommunications and cooperation between companies.
The Greek president highly praised China's preparations for the Olympics and said he believes the Games will be a complete success.