了不起的壮举! 世卫组织宣布中国已消除疟疾
日期:2021-07-01 20:33
(单词翻译:单击)
Following a 70-year effort, China has been awarded a malaria-free certification from WHO – a notable feat for a country that reported 30 million cases of the disease annually in the 1940s.

经过70年的努力,中国正式获得世界卫生组织消除疟疾认证,这对于一个在上世纪40年代每年有3000万人感染疟疾的国家来说是一项了不起的壮举。

Congratulating the people of China on ridding the country of malaria, the Director-General Dr. Tedros Adhanom Ghebreyesus has said that "Their success was hard-earned and came only after decades of targeted and sustained action ".

世卫组织总干事谭德塞向中国消除疟疾表示祝贺。谭德塞博士说:"中国的成功来之不易,这主要得益于中国数十年持续精准防控。"

China is the first country in the WHO Western Pacific Region to be awarded a malaria-free certification in more than 3 decades. Other countries in the region that have achieved this status include Australia (1981), Singapore (1982) and Brunei Darussalam (1987).

中国是世界卫生组织西太平洋地区三十多年来首个获得消除疟疾认证的国家。该区域其他获此认证的国家包括澳大利亚(1981年获认证)、新加坡(1982年获认证)和文莱达鲁萨兰国(1987年获认证)。

"China's tireless effort to achieve this important milestone demonstrates how strong political commitment and strengthening national health systems can result in eliminating a disease that once was a major public health problem," said Dr. Takeshi Kasai, Regional Director, WHO Western Pacific Regional Office. "China's achievement takes us one step closer towards the vision of a malaria-free Western Pacific Region," he added.

世界卫生组织西太平洋区域主任葛西健博士表示:"中国为实现这一重要里程碑所作的不懈努力表明,强有力的政治承诺、加强国家卫生系统,可以战胜疟疾这一公共卫生大挑战。中国的成就使西太平洋地区朝消除疟疾的目标更近了一步。"

Beginning in the 1950s, health authorities in China worked to locate and stop the spread of malaria by providing preventive antimalarial medicines for people at risk of the disease as well as treatment for those who had fallen ill. The country also made a major effort to reduce mosquito breeding grounds and stepped up the use of insecticide spraying in homes in some areas.

从上世纪50年代开始,中国卫生部门通过为有疟疾风险的人群提供预防性抗疟疾药物以及为患者提供治疗来定位和阻断疟疾的传播。中国还大力减少蚊虫滋生的温床,并在部分地区的居民家中增加杀虫剂的使用。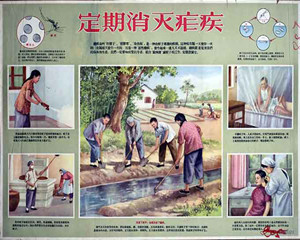 In 1967, the Chinese government launched the "523 Project" – a nation-wide research program aimed at finding new treatments for malaria. This effort, involving more than 500 scientists from 60 institutions, led to the discovery in the 1970s of artemisinin – the core compound of artemisinin-based combination therapies (ACTs), the most effective antimalarial drugs available today.

1967年,中国政府启动了"523项目",这个全国性的研究项目旨在发现防治疟疾的新药物。在来自60个研究机构的500多名科学家的努力下,终于在上世纪70年代发现了青蒿素,青蒿素联合疗法是当前最有效的抗疟药物。

In the 1980s, China was one of the first countries in the world to extensively test the use of insecticide-treated nets (ITNs) for the prevention of malaria, well before nets were recommended by WHO for malaria control.

上世纪80年代,早在世卫组织建议使用蚊帐控制疟疾之前,中国就是世界上最早广泛使用药浸蚊帐预防疟疾的国家之一。

By 1988, more than 2.4 million nets had been distributed nation-wide. The use of such nets led to substantial reductions in malaria incidence in the areas where they were deployed.

1988年,中国在全国范围内分发了240多万顶蚊帐。这种蚊帐的使用大大降低了配置地区的疟疾发病率。

By the end of 1990, the number of malaria cases in China had plummeted to 117, 000, and deaths were reduced by 95%. With support from the Global Fund to Fight AIDS, Tuberculosis and Malaria, beginning in 2003, China stepped up training, staffing, laboratory equipment, medicines and mosquito control, an effort that led to a further reduction in cases; within 10 years, the number of cases had fallen to about 5000 annually.

到1990年年底,中国的疟疾病例数骤降至11.7万例,死亡人数减少了95%。2003年起,在"抗击艾滋病、结核病和疟疾全球基金"的支持下,中国加强了培训、人员配备、实验室设备、药物和蚊虫控制措施,此举导致病例数进一步减少。不到十年,中国的疟疾病例数就降至每年5000例左右。

In recent years, the country further reduced its malaria caseload through a strict adherence to the timelines of the "1-3-7" strategy. The "1" signifies the one-day deadline for health facilities to report a malaria diagnosis; by the end of day 3, health authorities are required to confirm a case and determine the risk of spread; and, within 7 days, appropriate measures must be taken to prevent further spread of the disease.

近年来,中国严格遵循"1-3-7"工作模式,即1天内进行病例报告,3天内完成病例复核和流调,7天内开展疫点调查和处置,进一步减少了疟疾病例数。

In 2020, after reporting 4 consecutive years of zero indigenous cases, China applied for an official WHO certification of malaria elimination. Members of the independent Malaria Elimination Certification Panel travelled to China in May 2021 to verify the country's malaria-free status as well as its program to prevent re-establishment of the disease.

中国自2017年以来已连续4年无本地原发感染疟疾病例报告,并于去年正式向世卫组织申请国家消除疟疾认证。独立的消除疟疾认证小组成员于2021年5月前往中国,以核实中国的无疟疾状态及其防止疟疾再次发生的规划。

Globally, 40 countries and territories have been granted a malaria-free certification from WHO including most recently, El Salvador (2021), Algeria (2019), Argentina (2019), Paraguay (2018) and Uzbekistan (2018).

全球共有40个国家和地区获得世卫组织消除疟疾认证,近期获认证的包括萨尔瓦多(2021年)、阿尔及利亚(2019年)、阿根廷(2019年)、巴拉圭(2018年)和乌兹别克斯坦(2018年)。