日本迎1200年来最早樱花季
日期:2021-04-09 08:30
(单词翻译:单击)
Think of Japan in the spring, and the image that comes to mind is likely the country's famous cherry blossoms, also known as "sakura" -- white and pink flowers, bursting across cities and mountains, petals covering the ground.

想起春天的日本,映入脑海的应该是日本著名的樱花。白色和粉色的花朵盛开在城市和山间,地面上铺满了花瓣。

The flowers, which experience a "peak bloom" that only lasts a few days, have been revered in Japan for more than a thousand years. Crowds celebrate with viewing parties, flocking to the most popular locations to take photos and have picnics underneath the branches.

盛花期只有几天的樱花一千多年来在日本备受推崇。人们举办赏花会来庆祝,蜂拥到热门景点拍照,在樱花树下野餐。

But this year, cherry blossom season has come and gone in the blink of an eye, in one of the earliest blooms on record -- and scientists warn it's a symptom of the larger climate crisis threatening ecosystems everywhere.

但是今年,樱花季眨眼之间来了又去,花期前所未有地早。科学家警告说,这预示着更大规模威胁各地生态系统的气候危机即将到来。

Yasuyuki Aono, a researcher at Osaka Prefecture University, has gathered records from Kyoto back to 812 AD from historical documents and diaries. In the central city of Kyoto, cherry blossoms peaked on March 26, the earliest in more than 1,200 years, Aono said.

大阪府立大学的研究员青野靖之收集了京都从公元812年至今的历史文献和日志。青野指出,京都市中心的樱花在3月26日达到全盛,这是1200多年来最早的一次。

And in the capital Tokyo, cherry blossoms reached full bloom on March 22, the second-earliest date on record.

在日本首都东京,樱花在3月22日达到了全盛,这是有记录以来第二早的盛花期。

"As global temperatures warm, the last spring frosts are occurring earlier and flowering is occurring sooner," said Dr. Lewis Ziska from Columbia University's Environmental Health Sciences.

哥伦比亚大学环境健康科学系的路易斯·齐思卡博士说:"随着全球气温变暖,春天最后一次霜冻时间提前,花开得也更早了。"

The peak bloom dates shift every year, depending on numerous factors including weather and rainfall, but have shown a general trend of moving earlier and earlier. In Kyoto, the peak date hovered around mid-April for centuries, according to Aono's data, but began moving into early April during the 1800s. The date has only dipped into late March a handful of times in recorded history.

樱花花期每年都不同,取决于天气、雨水等诸多因素,但是总体趋势是越来越早。根据青野的数据,京都过去几百年的盛花期都是在四月中旬,但是19世纪开始变成四月初。根据记载,历史上只有几次在三月末进入盛花期。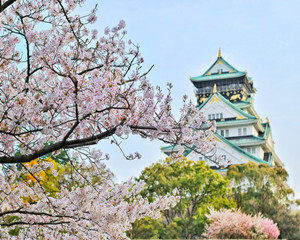 "Sakura blooms are very temperature sensitive," said Aono. "Flowering and full bloom could be earlier or later depending on the temperature alone," he said. "The temperature was low in the 1820s, but it has risen by about 3.5 degrees Celsius to this day."

青野说:"樱花对气温十分敏感。光是气温变化就可以提早或推迟花期。19世纪20年代气温较低,但自那以后气温已经上升了约3.5摄氏度。"

This year's seasons in particular influenced the blossom dates, he added. The winter was very cold, but the spring came fast and unusually warm, so "the buds are completely awake after enough rest."

他补充道,今年的春季对花期影响尤其大。冬天非常寒冷,但是春天很快就来了,而且异常温暖,因此"花骨朵在足够的休息后完全觉醒了"。

Their early bloom, however, is just the tip of the iceberg of a worldwide phenomenon that could destabilize natural systems and countries' economies, said Amos Tai, assistant professor of earth science at the Chinese University of Hong Kong.

香港中文大学地球科学系的助理教授阿摩司·塔伊说,樱花早开只是一个世界级现象的冰山一角。这一现象将会动摇自然系统,危害国家经济。

There are two sources of increased heat, which is the main factor making the flowers bloom earlier: urbanization and climate change. With increased urbanization, cities tend to get warmer than the surrounding rural area, in what is called the heat island effect. But a bigger reason is climate change, which has caused rising temperatures across the region and the world.

导致樱花早开的主要因素是来自城市化和气候变化两大源头的高温。随着城市化水平提高,城市的温度通常比周边乡村地区更高,这就是所谓的热岛效应。但是更大的原因是导致该地区和全球气温升高的气候变化。

And these earlier dates aren't just a matter of tourists scrambling to catch peak bloom before the petals all fall -- it could have a lasting impact on entire ecosystems, and threaten the survival of many species.

樱花提早盛开不止让游客难以在花谢之前一睹盛景,而且还会对整个生态系统产生持久的影响,并威胁到许多物种的生存。

Different plants and insects may respond to the rise in heat at different paces, throwing their life cycles out of sync. Whereas they once timed their growth simultaneously each spring, now flowers may bloom before insects are ready, and vice versa -- meaning "the insects may not find enough food to eat from the plants, and the plants don't have enough pollinators (to reproduce)," Tai said.

不同的植物和昆虫可能以不同的节奏来应对温度的升高,导致它们的生命周期不再同步。过去它们每年春季的成长是同步的,而现在也许昆虫还未准备好,花就开了,反之亦然。塔伊说,这意味着"昆虫可能无法从植物获取足够的食物,而植物可能没有足够的传粉昆虫(来繁殖后代)"。

"Ecosystems are not accustomed to these kinds of large fluctuations, it causes them a lot of stress," he said. "Productivity may be reduced, and ecosystems may even collapse in the future."

塔伊表示:"生态系统不习惯这种大起大落,会产生很大压力。生产力可能会降低,未来生态系统甚至可能崩溃。"

This year's change in flowering dates isn't limited to just Japan; the cherry blossoms that adorn the Tidal Basin in Washington, DC, have also bloomed early. According to the National Park Service, the peak bloom date of the Washington cherry blossoms has advanced forward by nearly a week from April 5th to March 31.

今年樱花花期的变化不只局限于日本,华盛顿特区潮汐湖畔的樱花也早早地开了。据美国国家公园管理局报告,华盛顿樱花的盛花期比往年提早了近一周,从4月5日提前到了3月31日。

And the effects of climate change aren't just limited to cherry blossoms. The same phenomenon is already happening to many crops and economically valuable plants, Tai said -- posing big problems for food security and farmers' livelihoods. Food supplies in some of the most vulnerable regions in the world are being directly affected by droughts, crop failures and locust swarms.

此外,气候变化的影响也不只局限于樱花。塔伊指出,同样的现象也已经发生在许多农作物和经济作物上,这给粮食安全和农民生计造成了难题。世界上食物供应最困难的一些地区正直接受到干旱、农作物歉收和蝗灾的影响。

"Agriculture now is more like a gamble, because climate change is randomizing the things happening in our ecological systems." Tai added.

塔伊补充道:"农业现在更像是赌博,因为气候变化增加了生态系统中万事万物的随机性。"