2014年李克强政府工作报告(四)中英对照
日期:2014-03-14 17:07
(单词翻译:单击)
(四)促进农业现代化和农村改革发展。
4. Advancing agricultural modernization and rural reform and development
农业是扩内需调结构的重要领域,更是安天下稳民心的产业。要坚持把解决好"三农"问题放在全部工作的重中之重,以保障国家粮食安全和促进农民增收为核心,推进农业现代化。坚守耕地红线,提高耕地质量,增强农业综合生产能力,确保谷物基本自给、口粮绝对安全,把13亿中国人的饭碗牢牢端在自己手中。
Agriculture is important for expanding domestic demand and making structural adjustment, and it is a sector vital for ensuring China's stability and maintaining public confidence. We must make doing a good job in our work relating to agriculture, rural areas, and farmers the nwnber one priority in all our endeavors and accelerate agricultural modernization in order to ensure China's food security and increase farmers' incomes. We will make sure that China's cultivated land area does not fall below the red line of 120 million hectares. We will improve tile quality of cultivated land, increase overall agricultural production capacity, and guarantee our basic self-sufficiency of cereal grains and absolute grain security. In this way, we will have full control over the food supply of China's 1.3 billion people.
强化农业支持保护政策。提高小麦、稻谷最低收购价格,继续执行玉米、油菜籽、食糖临时收储政策。探索建立农产品目标价格制度,市场价格过低时对生产者进行补贴,过高时对低收入消费者进行补贴。农业新增补贴向粮食等重要农产品、新型农业经营主体、主产区倾斜。增加对粮油猪等生产大县的奖励补助,扶持牛羊肉生产。发挥深松整地对增产的促进作用,今年启动1亿亩试点。统筹整合涉农资金。不管财力多么紧张,都要确保农业投入只增不减。
We will strengthen policies for supporting and protecting agriculture. We will raise tile minimum purchase prices of wheat and rice,. and continue to implement tile policy on purchasing and stockpiling corn, canola seeds and sugar on an ad hoc basis. We will consider tile introduction of a system of guaranteed base prices for agricultural products, under which subsidies will be given to producers when market prices are too low and to low-income consumers when market prices are too high. Increases in agricultural subsidies will be mainly provided to support the production of grain and other major agricultural products, new types of agricultural. businesses and major agricultural regions. More rewards and subsidies will be given to major counties that produce grain, canola seed or hogs, and support will also be provided for beef and mutton production. We will improve the subsoil of farmland to promote the increase in agricultural output, and carry out a trial this year on 6.67 million hectares of farmland. Funds for agricultural development will be merged and allocated in a coordinated way. Even though our financial resources are strained, we must ensure that spending on agriculture always increases.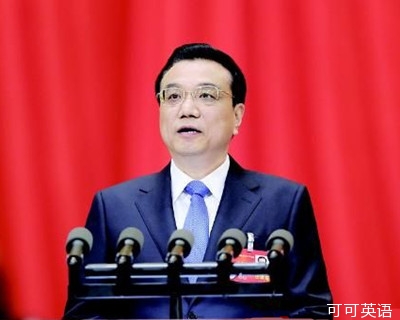 夯实农业农村发展基础。国家集中力量建设一批重大水利工程,今年拟安排中央预算内水利投资700多亿元,支持引水调水、骨干水源、江河湖泊治理、高效节水灌溉等重点项目。各地要加强中小型水利项目建设,解决好用水"最后一公里"问题。加快建成一批旱涝保收高标准农田,抓紧培育一批重要优良品种,研发推广一批新型高效农业机械。完善农村水电路气信等基础设施,改造农村危房260万户,改建农村公路20万公里。高度重视农村留守儿童、妇女、老人和"空心村"问题。今年再解决6000万农村人口的饮水安全问题,经过今明两年努力,要让所有农村居民都能喝上干净的水。
We will strengthen the foundation of agricultural and rural development. Investment will be concentrated on building a number of major water conservancy projects. Over 70 billion yuan will be allocated from the central government budget this year to fund major projects to divert water, protect key water sources, harness rivers and lakes, and develop efficient water-saving irrigation. All local governments need to give higher priority to building small and medium-sized water conservancy projects and solve the "last-kilometer" problem of farmland not being connected with main irrigation channels. Efforts will be sped up to increase the acreage of high-standard farmland that produces good yields in times of drought or excessive rain. We will work harder to breed important superior crop varieties, and develop and extend the use of new types of efficient agricultural machinery. We will improve rural infrastructure such as roads, telecommunications services, and water, electricity and methane supply. A total of 2.6million rundown rural houses will be rebuilt and 200,000 kilometers of rural roads will be upgraded. We will give high priority to resolving problems facing children, women and older people who are left behind in rural villages by rural migrant workers working in cities. Safe drinking water will be made available to another 60 million rural residents. Through hard work this year and next, we must provide safe drinking water to all rural residents.
积极推进农村改革。坚持和完善农村基本经营制度,赋予农民更多财产权利。保持农村土地承包关系长久不变,抓紧土地承包经营权及农村集体建设用地使用权确权登记颁证工作,引导承包地经营权有序流转,慎重稳妥进行农村土地制度改革试点。坚持家庭经营基础性地位,培育专业大户、家庭农场、农民合作社、农业企业等新型农业经营主体,发展多种形式适度规模经营。完善集体林权制度改革。加快国有农牧林场改革。健全农业社会化服务体系,推进供销合作社综合改革试点。农村改革要从实际出发,试点先行,切实尊重农民意愿,坚决维护农民合法权益。
We will vigorously push forward rural reform. We will adhere to and improve the basic rural management system and grant farmers more property rights. We will ensure that rural land contract relations will long remain unchanged, and promptly determine, register and certify the rights to contracted use of land and the use of collective land for construction purposes in rural areas. We will guide the orderly transfer of contracted land-use rights and prudently carry out trials to reform the rural land system. We will maintain household operations as the basis; cultivate new types of agricultural businesses, such as large and specialized family businesses, family farms, farmer cooperatives, and agribusinesses; and develop large-scale agricultural businesses of various types. We will improve tenure reform for collective forests and accelerate the reform of state-owned farms, grazing land and forestry farms. We will improve commercial agricultural services and carry out trials of comprehensive reform of rural supply and marketing cooperatives. In carrying out rural reform, we need to base ourselves on actual conditions, conduct trials first, fully respect farmers' wishes, and steadfastly protect their legitimate rights and interests.
创新扶贫开发方式。加快推进集中连片特殊困难地区区域发展与扶贫攻坚。国家加大对跨区域重大基础设施建设和经济协作的支持,加强生态保护和基本公共服务。地方要优化整合扶贫资源,实行精准扶贫,确保扶贫到村到户。引导社会力量参与扶贫事业。今年再减少农村贫困人口1000万人以上。我们要继续向贫困宣战,决不让贫困代代相传。
We will explore new ways to alleviate poverty through development. We will move faster to promote development of contiguous poor areas and reduce poverty there. The central government will increase support for major trans-regional infrastructure projects and economic coordination, strengthen ecological preservation and improve public services. Local governments need to merge poverty alleviation resources to make better use of them and take targeted measures to ensure that assistance reaches poverty-stricken villages and households. We will guide nongovernmental forces to participate in poverty alleviation. This year, we will lift more than ten million people out of poverty. We will continue to fight poverty and prevent poverty from being passed to future generations.
(五)推进以人为核心的新型城镇化。
5. Carrying out a new type of people-centered urbanization
城镇化是现代化的必由之路,是破除城乡二元结构的重要依托。要健全城乡发展一体化体制机制,坚持走以人为本、四化同步、优化布局、生态文明、传承文化的新型城镇化道路,遵循发展规律,积极稳妥推进,着力提升质量。今后一个时期,着重解决好现有"三个1亿人"问题,促进约1亿农业转移人口落户城镇,改造约1亿人居住的城镇棚户区和城中村,引导约1亿人在中西部地区就近城镇化。
Urbanization is the sure route to modernization and an important basis for integrating the urban and rural structures. We must improve the system and mechanisms for integrating rural and urban development and embark on a new path of urbanization. This new type of urbanization should have the following features: putting people first; integrating the development of industrialization, IT application, urbanization and agricultural modernization; improving the spatial layout; protecting the ecological environment; and carrying forward Chinese culture. We must follow the natural law concerning urbanization, carry it out actively and prudently, and work harder to raise its quality. For some time to come, we will focus on three tasks, each conceruing I00 million people: granting urban residency to around I 00 million rural people who have moved to cities, rebuilding rundown city areas and villages inside cities where around 100 million people live, and guiding the urbanization of around 100 million rural residents ofthe central and western regions in cities there.
有序推进农业转移人口市民化。推动户籍制度改革,实行不同规模城市差别化落户政策。把有能力、有意愿并长期在城镇务工经商的农民工及其家属逐步转为城镇居民。对未落户的农业转移人口,建立居住证制度。使更多进城务工人员随迁子女纳入城镇教育、实现异地升学,实施农民工职业技能提升计划。稳步推进城镇基本公共服务常住人口全覆盖,使农业转移人口和城镇居民共建共享城市现代文明。
We will grant urban residency in an orderly manner to rural people who have moved to cities. We will reform the household registration system, and implement a household registration policy with different eligibility requirements for people of different conditions, and progressively grant urban residency to rural migrant workers and their families who are both willing and able to stay in cities and towns where they have had jobs or done business for a long time. We will introduce a residence permit system for rural people in urban areas who have not yet gained urban residency. More children of rural migrant workers living with their parents in cities will be entitled to go to school there, including secondary school and college, and we will provide vocational skills training to rural migrant workers. We will steadily extend basic public services to fully cover the permanent population of cities and towns so that the rural people who live in them can contribute to the development of modem urban life and enjoy it together with the urban people.
加大对中西部地区新型城镇化的支持。提高产业发展和集聚人口能力,促进农业转移人口就近从业。加快推进交通、水利、能源、市政等基础设施建设,增强中西部地区城市群和城镇发展后劲。优化东部地区城镇结构,进一步提升城镇化质量和水平。
We will increase support for a new type of urbanization in the central and western regions. We will help their industries develop and attract people and encourage rural migrant workers in the two regions to find employment in local cities and towns. We will speed up development of infrastructure including transportation, water conservancy, energy and municipal services in the two regions and make development of city clusters and towns there more sustainable. We will also improve the structure of cities and towns in the eastern region and raise the quality and standard of urbanization there.
加强城镇化管理创新和机制建设。要更大规模加快棚户区改造,决不能一边高楼林立,一边棚户连片。以国家新型城镇化规划为指导,做好相关规划的统筹衔接。提高城镇建设用地效率,优先发展公共交通,保护历史文化和自然景观,避免千城一面。加强小城镇和村庄规划管理。探索建立农业转移人口市民化成本分担、多元化城镇建设投融资等机制。通过提高建设和管理水平,让我们的城镇各具特色、宜业宜居,更加充满活力。
We will strengthen management innovation and institutional development pertaining to urbanization. We will expand the rebuilding of rundown urban areas so that cities will take on a new look instead of having stretches of rundown areas existing side by side with high-rise buildings. We will make plans for urbanization in a coordinated way in accordance with the national guidelines for developing a new type of urbanization. We will use urban construction land more efficiently, give high priority to developing public transport, protect sites of historical and cultural interest and natural landscapes, and avoid making cities and towns all look the same. We will strengthen planning management of villages and small towns. We will explore ways to share costs associated with granting urban residency to rural people who have moved to cities and diversifY investment and financing for urban development. We will better develop and manage cities and towns so that they are livable and have unique features, good working conditions and more vitality.
更多精品翻译素材,敬请关注可可英语。