CRI News Report:纽约和东京相继上调防疫警戒级别 英国首相宣布30年来最大规模国防投资计划
日期:2020-12-03 14:19
(单词翻译:单击)
正文文本
Chinese President issued a call for joint efforts to deliver a brighter future as he made his keynote speech via video link at the APEC CEO Dialogue.
Xi Jinping expressed his wish that the Asia-Pacific business community work to promote openness and development, as well as explore innovation-driven growth.
He says that in the face of the COVID-19 pandemic, meeting challenges through cooperation is the only choice for the international community.
"All countries should act in the spirit of partnership and get through this tough time together. We need to step up policy communication and coordination, intensify all-round global cooperation against COVID-19 and keep the global economy open. By doing so, we can defeat the virus at an early date and achieve robust, sustainable, balanced and inclusive growth for all."
The president adds that China will get more involved in global industrial, supply and value chains, and continue to support the multilateral trading system.
The 17th China-ASEAN Expo later this month will hold a series of investment and trade promotion activities to facilitate the Regional Comprehensive Economic Partnership.
The event will also help integrate the market advantages and resources of ten ASEAN members with the capital and technical advantages of the other RCEP members.
Shanghai's Pudong New Area will pilot an integrated license reform program.
Authorities say multiple licenses will be combined to help reduce the cost of industry access.
25 administrative licensing items under the responsibility of central government departments will be processed by the authorities in Pudong New Area.
An official statement says the pilot reform will last till the end of 2022, aiming to accumulate experience for similar practices to be implemented across China.
The mayor of New York City says that it's just a matter of time before the city will enter an Orange Zone designation forcing indoor dining and gyms to close.
An orange zone means the city is under the second highest level of COVID-19 alert, with a red zone being the highest.
Bill de Blasio says it's very likely to happen in the next week or two, calling on all people to get tested for the virus.
New York City has so far confirmed over 280-thousand COVID-19 cases including more than 24-thousand deaths.
The Tokyo metropolitan government has decided to raise its COVID-19 alert to the highest level.
This comes as the Japanese capital reported over 530 new cases on Thursday, renewing its record for daily infections.
It's also the first time that Tokyo reported more than 500 cases in a single day.
Governor Yuriko Koike says daily infections in the city are expected to reach 1000.
British Prime Minister Boris Johnson has announced the country's largest military investment in 30 years.
He says defense spending will increase by 16.5 billion pounds, or about 21.9 billion US dollars, over the next four years.
The new money will fund space and cyber-defense projects, including building a Space Command capable of launching the country's first rocket in 2022.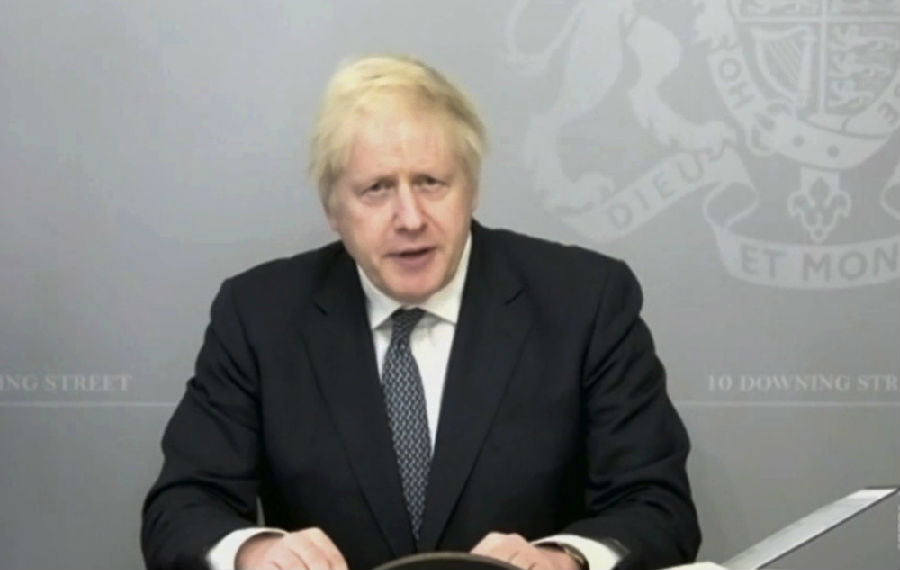 The United Nations refugee agency says more than 31,000 people have now fled fighting in Ethiopia's Tigray region.
About 4,000 people per day have been crossing into Sudan since the clashes between federal and regional forces started.
The UNHCR says the agency and its partners are doing their best to provide immediate humanitarian aid.
参考译文
中国国家主席在亚太经合组织首席执行官对话会上通过视频连接方式发表主旨演讲,呼吁共同努力创造更加美好的未来。
习近平表示,希望亚太工商界努力推动开放发展,探索创新驱动增长。
他表示,面对新冠肺炎疫情,通过合作应对挑战是国际社会的唯一选择。
"各国要守望相助,同舟共济。我们要加强政策沟通和协调,全面深化抗疫国际合作,保持世界经济开放。通过这样做,我们可以尽早战胜病毒,实现经济强劲、可持续、平衡和包容性增长。"
习近平主席补充称,中国将更多地参与全球产业链、供应链和价值链,并继续支持多边贸易体系。
本月下旬,第17届中国-东盟博览会将举办一系列投资和贸易促进活动,以促进区域全面经济伙伴关系。
博览会还将有助于东盟十国的市场优势及资源与其他区域全面经济伙伴关系协定成员国的资金和技术优势相融合。
上海浦东新区将开展综合许可证改革试点。
有关部门表示,将合并多个许可证,以帮助降低进入行业的成本。
中央政府部门负责的25项行政许可事项将委托浦东新区有关部门办理。
一份官方声明表示,这项改革试点将持续到2022年底,旨在为全国范围内实施类似做法积累经验。
纽约市市长表示,纽约市将升级为橙色区域并关闭室内餐厅和健身房。
橙色区域表示该市处于新冠肺炎疫情第二高警戒级别,最高警戒级别为红色。
比尔·白思豪表示,未来一两周内将发生(进入橙色预警)这一情况,他呼吁所有人都接受病毒检测。
目前为止,纽约市已确诊超过28万例新冠肺炎病毒,其中死亡病例超过2.4万例。
东京都政府决定将新冠肺炎疫情警戒级别提升至最高水平。
此前,日本首都东京在周四报告了超过530例新增病例,刷新了单日感染病例记录。
这也是东京首次单日报告超过500例病例。
东京都知事小池百合子表示,预计东京日感染人数将达1000人。
英国首相鲍里斯·约翰逊宣布了该国三十年来最大的军事投资。
他表示,未来四年,国防开支将增加165亿英镑,约合219亿美元。
这笔新资金将用于太空和网络防御项目,包括建立一个能够在2022年发射该国首枚火箭的太空司令部。
联合国难民署表示,埃塞俄比亚提格雷地区已有超过3.1万人逃离战火。
自联邦部队和地区武装之间的冲突爆发以来,每天约有4000人越境进入苏丹。
联合国难民署表示,该机构及其合作伙伴正在尽最大努力提供紧急人道主义援助。

重点讲解
重点讲解:
1. in the face of 面对;在…面前;
In the face of difficulties, he's completely unafraid.
他在困难面前毫不怯懦。
2. get through 度过,熬过(困难或不快的时期);
It is hard to see how people will get through the winter.
难以想象人们将怎样熬过这个冬天。
3. a matter of time (只是)时间的问题(用于说明某事必定发生);
It is merely a matter of time.
这仅仅是时间问题。
4. do one's best to do sth. 尽力;竭尽所能;
He did his best to talk me round, but I wouldn't speak to him.
他竭力想要说服我改变主意,但是我不愿意跟他讲话。