CRI News Report:报道称新冠病毒去年夏天或已在意传播 美国宣布减少阿富汗和伊拉克驻军
日期:2020-12-01 14:13
(单词翻译:单击)
正文文本
Chinese President is calling on BRICS countries to promote sustainable development across the world.
He made the call at the latest summit of the bloc that groups Brazil, Russia, India, China and South Africa.
President Xi Jinping has called for international solidarity and cooperation in jointly coping with the challenges of the COVID-19 pandemic.
He says China will more actively integrate into the global market and deepen international cooperation to create more opportunities and room for world economic recovery and development.
Tuesday's video meeting was hosted by Russia, which holds the rotating BRICS presidency this year.
The Chinese premier is calling for more effective and sustainable efforts to promote steady economic recovery.
Li Keqiang made the remarks when presiding over a symposium on the economic situation.
He says more targeted policies should be rolled out to support market entities, especially to smaller firms and individual businesses.
He also calls on companies to adapt to the upgrades in economic structures and consumer spending to provide higher-end products and services that can meet county-level demands.
He says the country will also further boost its high-level opening up.
Authorities in Xinjiang have decided to downgrade Shufu County to low-risk for COVID-19.
This comes as the region has reported no new confirmed or asymptomatic cases for nine consecutive days.
Sixty-three patients have been discharged from hospitals and over 240 asymptomatic cases have been released from medical observation in Xinjiang since October 24th, when the latest cluster infections began.
Xinjiang has 15 existing confirmed cases and over 100 asymptomatic ones as of Monday.
The Chinese government is calling for global cooperation on tracing the origins of the novel coronavirus.
Foreign Ministry spokesperson Zhao Lijian made the remarks after reports said that the virus likely began spreading in Italy in September last year, before the first-known case emerged in China.
"The report once again proves that tracing the origin of the virus is a complicated scientific issue which should be solved by scientists via international research and cooperation to promote the understanding of the animal hosts and transmission routes of the virus. This will help better prevent the future risk of outbreaks as well as to protect the safety and health of people around the world."
The spokesperson is calling on all countries to strengthen cooperation with the World Health Organization on tracing the source of the virus.
He adds that China will continue to take part in that global process and contribute to global cooperation on COVID-19 control.
Acting Defense Secretary Christopher Miller introduced plans to reduce U.S. troops in Iraq and Afghanistan.
"By January 15th, 2021, our forces, their size in Afghanistan will be two thousand five hundred troops. Our force size in Iraq will also be two thousand five hundred by that same date. This is consistent with our established plans and strategic objectives supported by the American people and does not equate to a change in US policy or objectives."
The United States currently has 4,500 troops in deployed Afghanistan and about 3,000 in Iraq.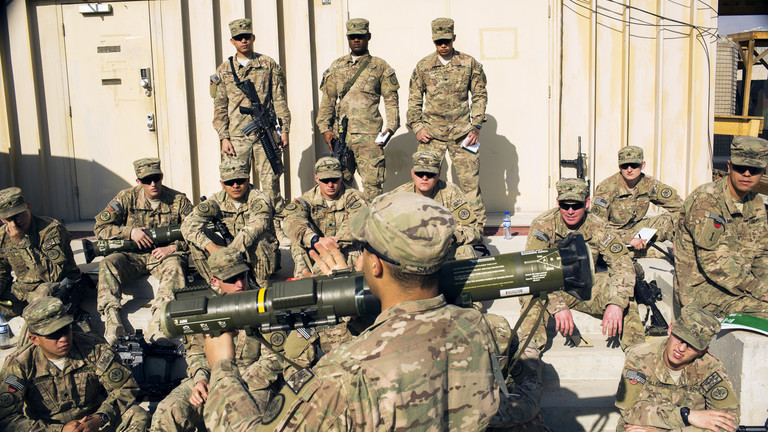 French authorities say the daily increase in COVID-19 infections has begun to drop, urging a high level of vigilance to maintain the momentum.
Health Minister Olivier Veran says a downward trend of daily new cases has been underway for two weeks.
The minister calls on the people to remain careful to prevent the situation from getting worse again.
He says it's still too early for shops to reopen and for people to make plans for Christmas holidays.
The country has so far confirmed about two million cases, including more than 45-thousand deaths.
Sao Paulo, Brazil has decided to extend its lockdown until Dec. 16, due to a rise in hospitalizations from COVID-19.
The most populous state in Brazil has been the hardest hit by the novel coronavirus, with more than 40,000 deaths.
The state's secretary of health has announced that more restrictive measures will be taken if the rates of infection, hospitalization and death keep rising.
参考译文
中国国家主席呼吁金砖国家促进全球的可持续发展。
习近平主席在金砖国家成员国巴西、俄罗斯、印度、中国及南非最近举行的峰会上做出上述呼吁。
习近平主席呼吁国际社会团结合作,共同应对新冠肺炎疫情挑战。
他表示,中国将更加积极地融入全球市场,深化国际合作,为世界经济复苏和发展创造更多机遇和空间。
周二的视频会议由今年金砖国家轮值主席国俄罗斯主办。
中国总理呼吁采取更有效和可持续的措施促进经济稳定复苏。
李克强在主持经济形势座谈会时发表了上述讲话。
他表示,应该出台更多有针对性的政策来支持市场实体,特别是小企业和个体商户。
他还呼吁企业适应经济结构和消费升级,提供高高端产品,满足县级市场需求服务。
李克强总理表示,中国还将进一步推动高水平对外开放。
新疆有关部门决定将疏附县疫情风险等级降至低风险。
该地区已连续九天未报告新增确诊病例及无症状病例。
自10月24日出现最新的聚集性疫情以来,新疆已有63例患者出院,240余例无症状病例结束医学观察。
截至周一,新疆还有15例确诊病例,100多例无症状病例。
中国政府呼吁开展全球合作,追溯新型冠状病毒的源头。
外交部发言人赵立坚发表上述言论之前,有报道称新冠病毒可能于去年9月就开始在意大利传播,当时中国未出现首例已知病例。
"该报道再次印证病毒溯源是一个复杂的科学问题,应该由科学家在全球范围开展国际科学研究合作,以促进对病毒来源和传播途径的了解,其目的是未来更好预防风险,保护各国人民安全健康。"
赵立坚呼吁各国加强同世卫组织的合作,追溯病毒来源。
他还表示,中国将继续参与这一全球进程,为全球抗疫合作作出贡献。
美国国防部代理部长克里斯托弗·米勒宣布了减少驻伊拉克和阿富汗美军的计划。
"到2021年1月1日,我们驻阿富汗的军队规模将减至2500人。同样,我们驻伊拉克的军队规模也将减至2500人。这个计划与美方既定计划和战略目标相符,这并不等同于美国政策或目标的改变。"
目前美国在阿富汗驻军4500人,在伊拉克驻军3000人。
法国有关部门表示,日新增新冠感染人数已出现下降的趋势,并敦促人们保持高度警惕以保持这一势头。
卫生部长奥利维尔·韦兰表示,两周来日新增病例呈下降趋势。
部长呼吁人们保持警惕,防止形势再次恶化。
他表示,目前,让商店重新开业、让人们为圣诞假期做计划还为时过早。
到目前为止,法国确诊病例约为200万例,其中死亡病例4.5万例。
由于新冠肺炎患者住院人数有所增多,巴西圣保罗州决定将封锁延长至12月16日。
圣保罗州是巴西人口最多的州,也是新冠病毒疫情最严重的州,死亡人数已超过4万人。
该州卫生部长宣布,如果感染率、住院率和死亡率持续增长,将采取更严格的措施。

重点讲解
重点讲解:
1. adapt to 适应;
Some western people may not adapt to these habits very soon.
一些西方人可能不会很快适应这些习惯。
2. be discharged from 允许…离开(医院、军队);
She was discharged from the hospital within a day.
不到一天就让她出院了。
3. take part in 参加;参与;
He is ill, so he didn't take part in the picnic.
他病了,所以没参加这次野餐。
4. be consistent with 一致的,吻合的,不矛盾的;
These actions are consistent with his principles.
这些行为与他的原则是一致的。