VOA慢速新闻附字幕:柬埔寨为教育计划选拔有前途儿童
日期:2015-10-10 13:26
(单词翻译:单击)
Most Promising Children Chosen for Program in Cambodia
A group of 50 Cambodian schoolchildren are trying a program to develop young people who can improve the country.
They are working to develop a model program that can be repeated in other countries.
In 2012, teachers and staff from the Liger Learning Center interviewed hundreds of children across Cambodia. They wanted to find the most promising students. They chose 25 boys and 25 girls. The Liger Learning Center paid for all of the students' education and living costs.
Most of Liger's 50 students are from poor families. Cambodia has a weak public education system. Children of low-earning families have little chance to receive a quality education.
The Liger school wants to change that for these 50 students. Next year, they want to add 50 more students. Over time, they want to change education for the whole country.

U.S. businessman Trevor Gile, who started the school with his wife, was in Cambodia last week. He said that the goal of the school is to help people help themselves, instead of just giving them money. That means those who attend the school have to give something back.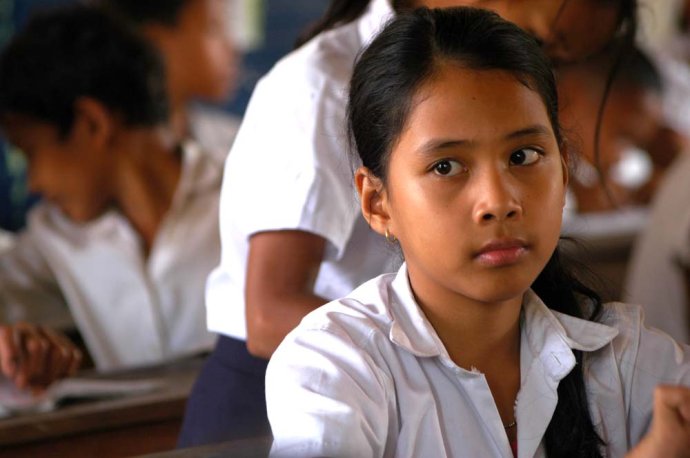 Education in Cambodia is slowly improving. But the education minister has a very big job ahead.
Teaching methods at government schools are based on rote learning, memorization of subjects in order to pass exams.
Mr. Gile's wealth means that Liger is ahead of other schools. Each Liger student, for instance, has a laptop. The school uses a more modern teaching style. Students often do group projects and take class trips.
Thirteen-year-old Seiha was chosen. His parents, who have very little money, were happy. Seiha worked with a team of Liger students to write a book about Cambodia's wildlife. Another book the Liger students wrote about the economy will be used in schools across the country.
Trevor Gile says, in the end, the Liger Learning Center is about more than helping Cambodia to move forward.
Mr. Gile is happy with the progress so far. He says he is sure Liger will show the results it promises. Then, he says, other individuals and organizations will want to expand the idea.
Trevor Gile expects that by 2025 there will be at least 10 Liger schools in the region and beyond.
By then, this class of 12- and 13-year-olds will have graduated. If all goes as planned, they will be using the skills they are learning here to help Cambodia move forward.
I'm Jonathan Evans.