新冠疫苗接种开始 哪些人群不适宜接种?
日期:2021-01-05 11:01
(单词翻译:单击)
Beijing's 220 health centers have since Friday vaccinated 73,537 people, with no major side effects detected, said Gao Xiaojun, a spokesman for the Beijing Health Commission, at a news conference on Sunday.

北京市卫生健康委员会新闻发言人高小俊在1月3日的发布会上介绍,1月1日以来,北京的220个接种点共接种新冠疫苗73537剂,未发生严重不良反应。

The inactivated vaccine, which got the approval from the National Medical Products Administration (NMPA), is developed by the Beijing Biological Products Institute Co., Ltd. under the China National Biotec Group (CNBG), which is affiliated with Sinopharm.

此次经国家药监局批准的疫苗为国药集团中国生物研发的新冠病毒灭活疫苗。

The interim results of its phase-3 clinical trials show 79.34 percent efficacy against COVID-19, meeting the standards of the World Health Organization and the NMPA, according to a press conference by the State Council joint prevention and control mechanism against COVID-19.This vaccine will be provided free of charge to all Chinese people.

国务院联防联控机制发布会表示,三期临床试验中期结果显示,该疫苗有效性达到79.34%,保护效力达到世界卫生组织及国家药监局相关标准要求,将为全民免费提供。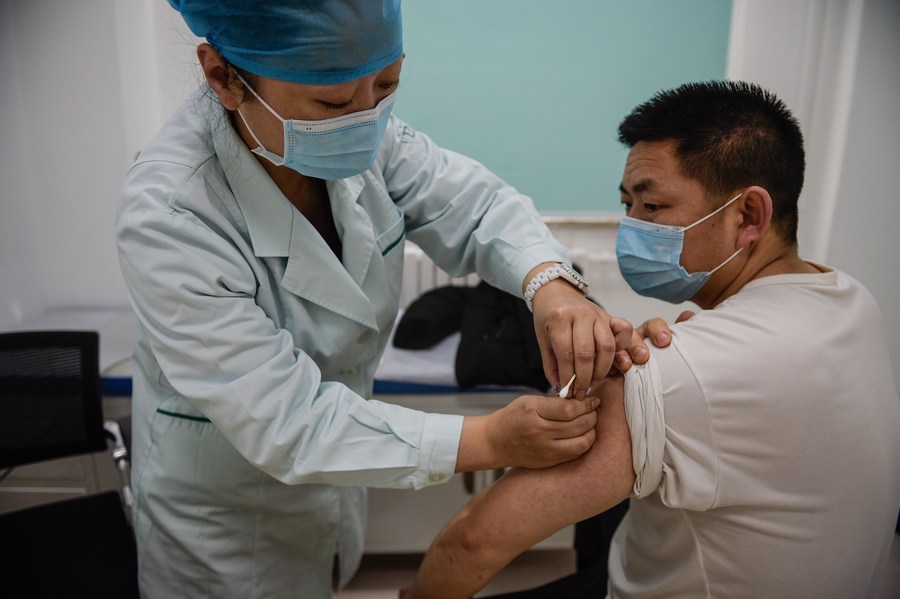 Currently, health centers don't accept individual vaccination reservations. Individuals going abroad for personal reasons can apply for the shot at their residential community service centers.

目前,接种点不接受个人接种预约。因私出境人员可到居住地所在社区服务站提交申请。

Groups that are not suitable to receive the vaccines include pregnant women, lactating women and patients with some diseases. These patients are those in the acute stage of fever and infection, suffering from immune deficiency or immune disorder, having severe liver or kidney diseases, having uncontrolled hypertension, diabetic complications or malignant tumors.

不适宜接种的人群包括:孕妇、哺乳期妇女、正处在发热、感染等疾病急性期、患免疫缺陷或免疫紊乱的人群、严重的肝肾疾病、药物不可控制的高血压、糖尿病并发症、恶性肿瘤等人员。

Currently, people in the age group from 18 to 59 are arranged to receive the vaccination, and people not in the age group should wait for further data of clinical trials to know whether they could be vaccinated.

目前,只安排18到59岁年龄段的人群接种,其他年龄段的人群需等待进一步临床试验数据,明确是否能接种。