VOA词汇掌故(翻译+字幕+讲解):关于爱情的表达
日期:2020-12-24 18:07
(单词翻译:单击)
听力文本

Now, the VOA Learning English program Words and Their Stories.
February 14 is Valentine's Day – a day to celebrate love, romance and relationships.
But today we will talk about some of the most overused romantic sayings in the English language. Throughout the years, people have used them WAY too much. So, they have come to mean almost nothing. They have become clichés.
We will start with one that breaks the laws of physics: 'Love makes the world go 'round.'
Love, of course, does not make the Earth go around. Just ask a scientist. The expression 'love makes the world go 'round' has nothing to do with the planet spinning. It means love is so important that without it, life would be sad and not worth living. Please, don't get me wrong. It is a lovely thought but to be honest, very overused.
Another cliché is the expression 'love means never having to say you're sorry.' Of all the romantic sayings, this is probably the one that people make fun of the most.
How could you not? Apologizing to someone you love is important! As children, it is one of the first rules we learn: If I do something wrong or hurt someone else, I should say "I'm sorry."
This expression comes from the 1970 movie Love Story. A young man is rich, while his love interest is poor. The rich man's father wants to keep the two apart. So, you know the story is not going to end well. To make matters worse, the young woman is dying, but they get married anyway. So, when he does something hurtful and apologizes, she says this now-famous and often parodied sentence.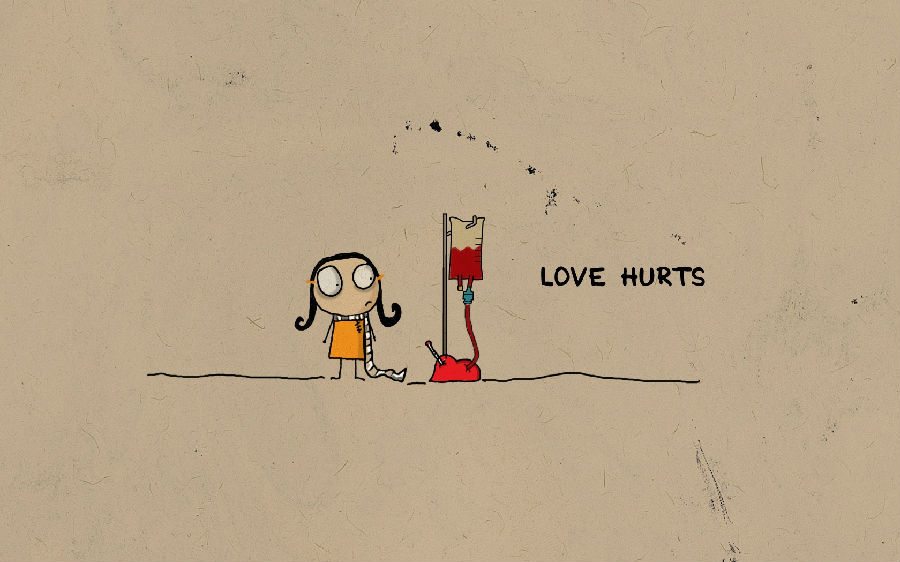 Jenny, I'm sorry.
Don't. Love means never having to say you're sorry.
Writing on the website Psychology Today, psychologist Barbara Rose explains the expression and defends it. She writes that if you really love someone without conditions, or as we say unconditionally, you will forgive them of everything. So, there's no need to apologize.
Well, that may sound good on paper. But I still want an apology if someone I love does something bad to me. A mother loves her child unconditionally. But she still deserves an apology if that child lies to her or says something mean.
Love hurts.
Anyone who has experienced unrequited, or unreturned, love knows that it can hurt like nothing else. To love someone who does not love you back can be difficult -- even painful.
Saying "love hurts" to a friend in great pain from a broken heart does nothing. It is an empty statement that has been said a million times before. You would be better off not saying anything than saying this cliché.
And that's our Valentine's program on Words and Their Stories.
Until next time ... I'm Anna Matteo.
重点解析

1.of course 自然;当然可以
Of course, this is just a personal opinion.
当然了,这只是个人意见HUbvZyA]i~!1SWagT。
2.come from 来自;来源于
About 65 per cent of its sales come from abroad.
大约65%的销量来自国外QPZ!dI&iwM4JjLj。
3.lie to 向某人撒谎;对……撒谎
It hurt me to think that he would lie to me.
一想到他竟然对我说谎,我就很伤心;.#y[3eS4&vd35。
参考译文

欢迎收听VOA慢速英语《词汇掌故》TUzA(;n8t)a+9WdDT。
2月14日是情人节,这是一个庆祝爱情、浪漫和情感的日子n84plVs97Gb。
但是今天,我们来谈谈英语中一些被过度使用的浪漫谚语f%&OlVMI@|x。近年来,人们把它们用得太多了)GP31ofnviMR+=Z1B[cR。所以,它们已经变得毫无意义,成了陈词滥调.l|U*ED#_wTy2Vyq[。
我们从这个打破物理定律的例子开始:"爱能撼动世界"V0pt4k95W,gtTgPQ]。
当然,爱并不能撼动地球,问问科学家就知道了aun4!|B@S[9JN%S。"爱能撼动世界"这个说法与地球旋转无关,它的意思是爱非常重要,没有爱,生活将是悲伤的,不值得活下去dWdl~)k;j-d(K5sVzPY。拜托,别误会我,这是一个可爱的想法,但说实话,用得太滥了Mg.l88%U_DM6。
另一个陈词滥调是"爱意味着永远不必道歉"Zr=PM_(H7X8b。在所有关于浪漫爱情的谚语中,这可能是人们取笑最多的一句#KWI!oY~K^。
怎么能不道歉呢?向你爱的人道歉很重要!作为孩子,这是我们学到的第一条规矩:如果我做错事或伤害到别人,我应该说"对不起"uG~(9&5(d1E~_sn.7va。
这个表达来自1970年的电影《爱情故事》eV)XDeBjYn9。一个富有的年轻人,他的恋人却很穷%(;+V3!)3lP。这个年轻人的父亲想把他们分开O_-Vo6(D~Ygj_SDQ|LZ~。所以,你知道这个故事不会有好结局XTb~B1@WQXrIS4。更糟糕的是,这个年轻女人快去世了,但他们还是结婚了X]pEQGYIehea#-[jSKv。所以,当他做了一些伤人的事后道歉时,她说了这句现在很有名,而且经常被模仿的句子2wgY3-6LM0yq2Y。
珍妮,对不起RkJfz~uJKoA%;1gw3M。
不要说对不起,爱意味着永远不必道歉~PH&ha=PB|umOP^#。
心理学家芭芭拉·罗斯在《今日心理学》网站上撰文,解释了这种说法并为之辩解MdOcC5|A6c。她写道,如果你真的无条件地爱一个人,你会原谅他们的一切8Zz*u|UL8PhIMM%ghP1。所以,没必要道歉hd[uQ-q81D+8。
好吧,这听起来不错s=NpPfxlx=*.。但如果我爱的人对我做了坏事,我还是想要他向我道歉5hw5DNit,)op|o@)v2。母亲无条件地爱她的孩子,但如果孩子对她撒谎或说刻薄的话,孩子仍然应该向她道歉qOI|%=hh[6hR。
爱受伤
任何经历过单相思的人都知道,爱的伤害无以复加y4e_RxlPmJ-。爱上一个不爱你的人太难了,甚至是痛苦的*W9jYrKt)Gd%。
对一个心碎的朋友说"爱受伤"没用,这是一种空洞的说法,已经说过上百万次了vV%Ns-3v9-4GfS@ZN2。你宁可什么都不说,也不要说这个陈词滥调qa&5Bwxq+LaR;^BK。
这就是我们的情人特别节目vNKEHN1Xl#C。
下次见,我是安娜·马特奥%6f-]jwoRWhj&(gSq!&。