CRI News Report:大陆官员承诺"一国两制"在香港不变
日期:2019-08-02 15:25
(单词翻译:单击)
正文文本
Speaking to the press on Monday, a spokesman for the Hong Kong and Macao Affairs Office of the State Council, made it clear that three bottom lines cannot be challenged when implementing the "one country, two systems" principle in Hong Kong.
"We never allow any behaviors to jeopardize China's national sovereignty and security, never allow any challenge to the authority of the central government and the Basic Law, and never allow any move to infiltrate and undermine Chinese inland by making use of Hong Kong."
While reaffirming the mainland's commitment to fully implementing the "one country, two systems" principle, spokesman Yang Guang also said the principle will never weaken the high-degree autonomy of the special administrative region.
He also stressed that Hong Kong affairs are China's internal affairs, warning against foreign interference.
Some western countries have called for sympathy, understanding and even tolerance for violent crimes, while criticizing police actions to maintain public security.
The spokesman blamed the negative role those countries have played.
"Recently some Western politicians made irresponsible remarks over and over again, and even went out to back some people. To put it bluntly, they are simply trying to mess things up in Hong Kong and turn Hong Kong into a trouble spot for China to contain China's development. Their attempts are doomed to fail."
Yang Guang reiterated that the central government will firmly support Hong Kong authorities to punish violent and illegal acts in accordance with the law.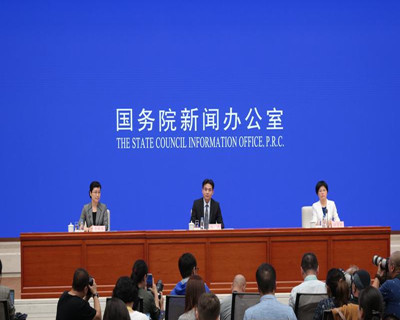 He said intentional violent activities by some protesters have gone far beyond peaceful demonstrations, and have severely damaged Hong Kong's social order, economy and people's livelihoods.
"No civilized society under the rule of law can tolerate rampant violence. It is our hope that the general public in Hong Kong can understand clearly the seriousness of the current situation, jointly condemn the evil deeds and crimes committed by the radicals, and prevent them from harming Hong Kong."
The spokesman also called on Hong Kong citizens to firmly uphold the rule of law, calling it an important cornerstone for the city to maintain its prosperity and stability.
He urged the people to walk clear from political disputes and focus more on developing the economy and improving people's livelihoods, especially in helping young people tackling difficulties in housing, education, employment and starting businesses.
For CRI, I'm Xie Cheng.
参考译文
中国国务院港澳事务办公室新闻发言人在周一举行的记者上明确表示,贯彻落实"一国两制"方针,始终要强调"三条底线"不能触碰。
"绝对不能允许任何危害国家主权安全、绝对不能允许挑战中央权力和香港特别行政区基本法权威、绝对不能允许利用香港对内地进行渗透破坏的活动。"
发言人杨光重申大陆承诺全面落实"一国两制"原则,同时他也表示,这一原则永远不会削弱香港特别行政区的高度自治。
他还强调,香港事务是中国内政,并警告外国不要干涉。
一些西方国家呼吁同情、理解甚至容忍暴力犯罪,同时批评警察维护公共安全的行为。
发言人指责这些国家扮演角色了不太光彩的角色。
"西方国家的一些政客频频在这一段时间里说三道四,品头论足,甚至给一些人撑腰打气,他们的用心说穿了无非是想把香港搞乱,把香港变成中国的一个麻烦,进而牵制或者遏制中国的发展。这个图谋是无法得逞的。"
杨光重申,中央政府坚决支持香港特区政府有关部门依法惩治暴力犯罪分子。
他说,香港一些激进示威者蓄意制造暴力事件,其行为完全超出了和平游行示威的范畴,这严重破坏了香港的社会秩序、经济和民生。
"任何文明和法治社会都不会容忍暴力横行。希望广大(香港)市民清醒地认识到当前事态的严重性,共同声讨激进分子所作的恶、犯的罪,阻止他们祸害香港的行径。"
杨光还呼吁香港市民坚持维护法治,称"法治"是香港保持繁荣稳定的重要基石。
他敦促香港社会尽快走出政治纷争,集中精力发展经济、改善民生,特别是帮助年轻人解决住房、教育、就业和创业等方面的困难。
CRI新闻,谢程(音译)报道。

重点讲解
重点讲解:
1. over and over again 一再;再三;反复;
He reiterated his views over and over again.
他一再重复自己的观点。
2. mess up 搞砸;弄糟;
Even if you mess up, you'll learn from your own mistakes.
即使你搞砸了,你也会从自己的错误中学到东西。
3. be doomed to 注定的;命定的;
One who committed many injustices is doomed to failure.
多行不义必自毙。
4. in accordance with 按照;依据;
We should make decisions in accordance with specific conditions.
我们应当根据具体情况做出决定。