CRI News Report:外国投资者对中国市场持乐观态度
日期:2019-07-09 16:20
(单词翻译:单击)
正文文本
It's the 13th time that the Summer Davos forum has been held in China.
A number of topics, including artificial intelligence and 5G technology, were discussed at the three-day event, which concluded on Wednesday.
Adrian Monck, the managing director of the World Economic Forum, says the event reflects the weight of China in global growth.
"China has become a major player in the world's economy. I think everyone looks now at China as being central to how the world moves forward. And I think, you know, the eyes of the world are around this country because its economy, its people, its technology, it's so important to every one's future. All of us I think have an interest of seeing China being successful. And you know, that's one of the things we will be talking about in this meeting, on how China's success can help the world, and how the world can help play a part in China's success."
Murat Sonmez is managing director of the Centre for the Fourth Industrial Revolution Global Network.
He said that he's worked with many Chinese experts and enterprises over the years, and has come to see that China's experience in poverty alleviation offers lessons for other countries.
"China is playing a critical role in multiple dimensions. First of all, if you look at the population, it's a significant part of the population. And what China has achieved in the last decades, lifting people out of poverty into the middle class is an amazing role model. Yet there are new challenges: how do you continue to have an inclusive economy, how do you deal with the problem of wealth, congestion, and the environment. And there are the new challenges that China hasn't faced yet. And while it certainly has a capacity to formulate solutions, these are challenges that require global collaboration."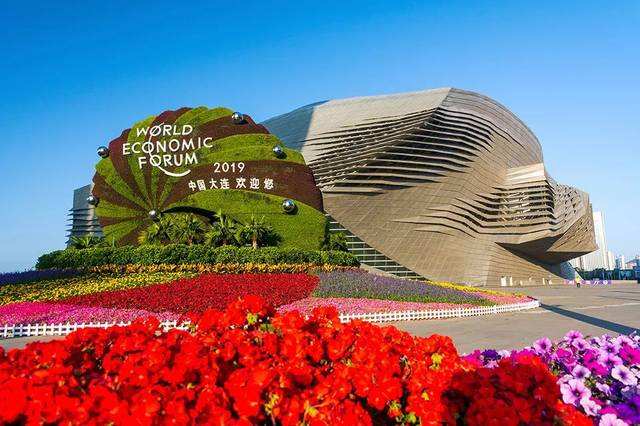 This year's Summer Davos was the first time that Abhniav Kumar has come to China. He's the chief global marketing officer at Tata Consultancy Services.
He says the visit has deepened his understanding about China's market.
"We've been operating our business in China for many years, growing in size and scale. We have seen how the economy has been expanded and we are pleased to be part of that. The world sees China as a big opportunity, a big huge economic opportunity in the market. Look at the agenda for a few days, a lot of person. It's important time because economically, you know, this is the day which half of the calendar is the year is out. So it's interesting to talk about the state of the economy. "
As head of programming at the World Economic Forum, Sebastian Buckup, travels back and forth between China and Switzerland.
He said China's market will keep moving forward and will take a leading role in innovation.
"So this is a train that has left the station. China is the second largest economy in the world and will keeping growing. It's not only the second largest economy in the world, it's also a leader in many areas of innovation. It's a leader in terms of renewable investment, and it's leading when talking about artificial intelligence. There are many things are happening in China that the world should learn from."
Official data shows that China's actual use of foreign capital reached 300 billion yuan in the first five months of the year. This represents a 6.8 increase on the same time last year, and shows that overseas investors continue to see China as a great place to invest.
参考译文
这是夏季达沃斯论坛第13次在中国举行。
本届论坛于周三结束,为期三天,期间讨论了包括人工智能和5G技术在内的一系列主题。
世界经济论坛执行董事阿德里安·蒙克表示,此次活动反映了中国在全球增长中的重要性。
"中国是世界经济的重要一员,也是推动世界发展的重要力量。从世界来看,中国的技术、人力资源以及经济发展对大家的未来都很重要。我认为我们所有人都有兴趣看到中国取得成功。我们在这个会议上希望讨论中国的成功如何帮助其他国家,对其他地方有什么借鉴,以及世界将如何帮助中国取得成功。"
穆拉特·桑麦资是世界经济论坛第四次工业革命中心主管。
他说,多年来他与许多中国专家和企业合作,并且看到中国在扶贫方面的经验值得其他国家学习。
"中国在很多领域都发挥着重要作用。首先,来看人口,人口是重要的部分。中国在过去几十年间所取得的成就是,让人们摆脱贫困,成为中产阶级,这是一个了不起的优秀案例。当然中国经济发展也面临一些新挑战,比如怎样实现包容性增长、如何实现经济增长和环保共同促进以及解决拥堵问题。还有中国尚未面临的新挑战。中国有能力制定解决方案,但这也需要全球合作。"
阿毗纳乌·库马尔是第一次来中国参加夏季达沃斯论坛。他是塔塔咨询公司的全球市场主管。
他说这次访问加深了他对中国市场的了解。
"我们集团在中国市场的经营已经有很多年了,我们不断扩大规模也看到了中国市场的巨大变化,我们很荣幸参与了这个进程。世界都把中国市场看作一个机遇、一个巨大的机遇。看看达沃斯的日程就知道了,有太多和中国相关的设置。对于经济发展来说,这是一个很重要的时刻。现在正好是一年过半了,所以谈论经济状况相当重要。"
作为世界经济论坛项目主管,塞巴斯蒂安·贝巴克频繁往来中国和瑞士。
他认为,中国市场会继续向前发展,并在未来的创新领域发挥引领作用。
"现在的状况就像火车已经离站了。中国是世界第二大经济体,并将持续保持增长。中国在很多科技创新领域发挥了引领作用,比如在可再生能源投资和人工智能等领域,中国正在发生很多变化,全球需要从中学习、共享。"
官方数据显示,今年前5个月,中国实际利用外资达到3000亿美元,同比增长6.8%。这表明海外投资者会继续将中国视为投资的好地方。


重点讲解
重点讲解:
1. a number of 若干;许多;
We have lived here quite a number of years.
我们在这儿住了好些年了。
2. be pleased to do sth. 高兴,乐于(做某事);
They're pleased to be going home.
就要回家了,他们很高兴。
3. see as 认为;把…看作;
Some cultures see it as a normal process based on love and a wish to protect.
在一些文化中,这被看作是基于爱和保护心愿的一个正常过程。
4. in terms of 在…方面;从…角度看;根据…来说;
In terms of annual production, the country has dropped behind the rest of Europe.
在年产量方面,这个国家落后于欧洲其他国家。