CRI News Report:习近平呼吁APEC抵制保护主义和单边主义
日期:2018-11-29 15:05
(单词翻译:单击)
正文文本
During his speech, President Xi Jinping praised the openness and cooperation among APEC economies, calling for a continued commitment to this working relationship.
He said that only openness and cooperation can bring more opportunities and create more space for development.
"Economic globalization is the irreversible trend for the human society to achieve development, and the multilateral trading system has created opportunities for us all. In today's world, countries' interests are so closely intertwined, and the global supply chain, industrial chain and value chain are so closely connected. Each of us is a link of the global chain of cooperation. Increasingly, we are becoming a community with shared interests and a shared future."
The Chinese leader said to embrace globalization is a natural law of economics, and that all countries should cope with new challenges in a responsible and rule-based way.
"If someone attempts to erect barriers and cut the close economic ties among countries, he is working against the laws of economics and the trend of history, and is running counter to the shared desire of people around the world; he is shortsighted, and is doomed to failure."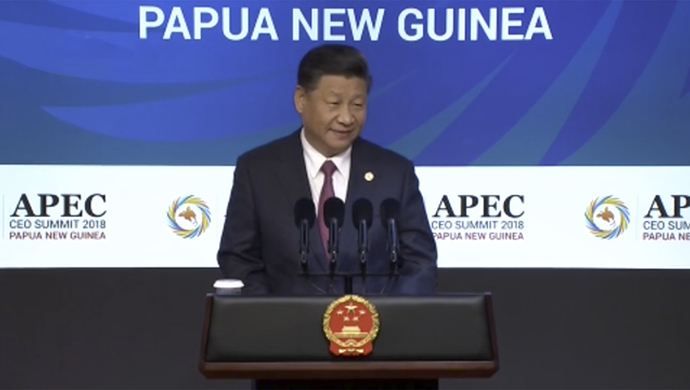 The Chinese President suggests protectionism should not be a solution to problems whenever they arise.
"Resorting to old practices such as protectionism and unilateralism will not resolve problems. On the contrary, it can only add uncertainty to the global economy. Only openness and cooperation can bring more opportunities and create more space for development."
In addition, Xi Jinping expressed China's determination of opening-up and listed some measures taken by the government to attract foreign investment.
"With the new round of tariff cuts coming into effect on Nov. 1, China's overall tariff rates have been reduced to 7.5 percent. This rate is lower than the commitment China made upon its accession to the WTO. It is also lower than that of most developing countries."
Papua New Guinea is the first stop of the Chinese President's ongoing Asia-Pacific tour. He will later visit Brunei and the Philippines.
参考译文
习近平主席在演讲中高度赞扬了亚太经合组织各经济体(APEC)之间的开放性和合作性,并且呼吁保持这种工作关系。
他表示,只有开放和合作才能为发展创造更多机会、更大空间。
"经济全球化是人类社会发展必经之路,多边贸易体制为各国带来了共同机遇。在各国相互依存日益紧密的今天,全球供应链、产业链、价值链紧密联系,各国都是全球合作链条中的一环,日益形成利益共同体、命运共同体。"
习主席还提到,拥抱全球化是经济发展的自然法则,所有国家都应该以负责任、合规矩的方式应对新挑战。
"如果人为设置壁垒,切断各国经济上的密切联系,不仅违背经济规律和历史潮流,也不符合各国人民普遍愿望,既是短视的,也是不会成功的。"
他表示,无论何时,保护主义都不应该是解决问题的手段。
"走保护主义、单边主义的老路,不仅解决不了问题,还会加剧世界经济的不确定性。只有坚持开放合作才能获得更多发展机遇和更大发展空间。"
除此之外,习近平表示中国会坚持改革开放,同时列举了几项政府为了吸引外资而采取的措施。
"随着11月1日新一轮降税措施实施,中国关税总水平已经降到7.5%,超出了对世界贸易组织的承诺,也低于大多数发展中国家。"
巴布亚新几内亚是习近平主席亚太行的第一站。他接下来将访问文莱和菲律宾。

重点讲解
重点讲解:
1. run counter to 与…相对;与…冲突;
Your suggestions run counter to what we arranged yesterday.
你的建议和我们昨天已作好的安排相抵触。
2. resort to 诉诸;采取;
It's my position that gentlemen should reason thing out rather than resort to force.
我主张君子动口不动手。
3. on the contrary 相反地;
He is not stingy at all; on the contrary, no one could be more generous.
他一点儿也不吝啬,相反,没有比他更大方的了。
4. come into effect 开始实施;生效;有效;
The new law will come into effect next month.
新的法律下个月生效。