CRI News Report:中美双方合理解决冲突争端
日期:2018-11-26 15:05
(单词翻译:单击)
正文文本
The U.S. National Committee on U.S.-China Relations has hosted its annual gala dinner in New York City on Thursday.
The event has included Committee President Stephen Orlins, former U.S. Secretary of State Henry Kissinger, China's Ambassador to the United States, Cui Tiankai, and the Chair of National Committee on U.S.-China Relations, Carla Hills, among others.
Stephen Orlins says the U.S. and China should be finding ways to work through their current problems for the good of their respective societies.
"In the end, it is the peoples of the United States and China who will determine the future of the U.S.-China relationship. Those bonds remain strong. We share so much. We laugh together, we cry together. Mothers in Shanghai and mothers in New York have same worries about their children's future. Because of them, because of you in this room, China and the United States must and will find ways to work together to confront the real threats of climate change, terrorism, pandemics and economic crisis."
Speaking at the gala shortly after returning from a trip to China this past week, Henry Kissinger says he believes the Sino-US relationship has the ability to weather the current storm.
"I think we are now at a moment of fundamental importance in our relationship. The fundamental issue is whether two great countries can live together in a new world for international politics ... in which we find that we emphasize the importance of better relations and the importance of co-existence. I think it can be done."
At the same time, Kissinger says he believes the time is right for China and the US to start developing a new pattern of coexistence.
"So I actually leave China with great hope that a way will be found by which the immediate disputes will be overcome, a new pattern of economic relationship will emerge, and well beyond that, China and the United States find a way to a dialogue in which they anticipate challenges and overcome them. I believe this is possible."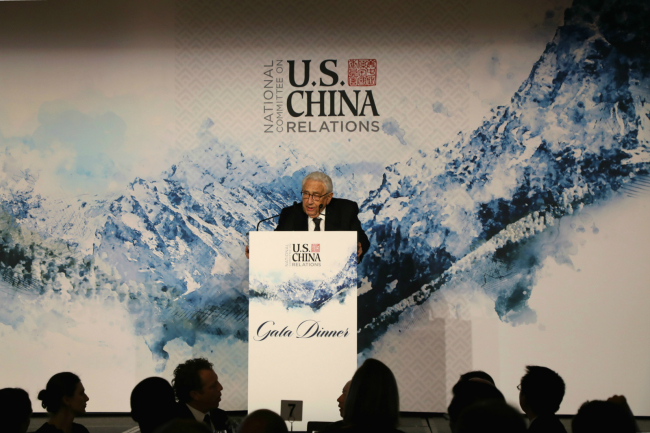 Echoing the sentiment of the evening, Chinese Ambassador to the United States, Cui Tiankai, suggests the two sides should be able to manage their differences and move past the current trade and strategic disputes.
"More recently we are witnessing some questioning or even challenging to that very good foundation of our relationship that we have built together over the years. If we allow ourselves to be misled by the outdated Cold War mentality and believe in the zero-sum game of great powers, then we might really face a new cold war. But if we believe in the 21st-century approach to great-power relationship, if we base ourselves on "no-conflict, no-confrontation, mutual respect, and win-win outcome", and if we follow an approach that emphasizes coordination and cooperation, we will be able to build an even stronger and more comprehensive, win-win relationship for our two countries."
The gala for the US National Committee on US-China Relations saw around 400 people attend the dinner, including various experts, scholars, officials, diplomats and business representatives.
For CRI, this is Chen Shanming reporting from New York.
参考译文
美国美中关系全国委员会周四在纽约举行了年度晚宴。
出席晚宴的嘉宾包括委员会会长斯蒂芬·欧伦斯,前美国国务卿亨利·基辛格,中国驻美国大使崔天凯、美中关系全国委员会主席卡拉·希尔斯。
斯蒂芬·欧伦斯表示,中美两国应该找到方法解决现在面临的各种问题,造福社会。
"未来中美关系的最终决定权在两国人民手中。两国联系仍很紧密。我们有很多共同点。我们同喜同悲。上海和纽约的母亲对孩子的未来有着同样的担忧。为了他们和在座的诸位,中美两国必须也将会找到方法合作应对共同面临的真正威胁,如气候变化、恐怖主义、流行疾病、经济危机等。"
上周刚访问过中国的亨利·基辛格在晚宴上发表了讲话, 他相信中美两国能度过此次难关。
"我认为美中关系当前正处在一个极为重要的时刻。美中关系的根本问题在于两国能否在新的国际政治环境下相安共处,突出两国增进关系、彼此共存的重要性。我认为,美中双方能够做到这一点。"
同时,基辛格认为现在两国应建立一种共存的新模式。
"我带着极大的希望离开中国,希望两国找到方法来解决现在的争端,能够发展新型经济关系,同时中美两国也能够开展对话来解决可能面临的挑战。我相信这是可以实现的。"
中国驻美国大使崔天凯在当晚的演讲中呼应了这一观点,他认为双方应该管控分歧,解决当前的贸易和战略争端。
"最近我们看到两国建立多年的友好关系基础受到质疑甚至是挑战。如果我们仍然被过时的冷战思维误导,相信大国的零和博弈,那我们可能会面临新冷战。但是如果我们相信21世纪的大国关系,遵循'不冲突不对抗、相互尊重和合作共赢'的原则,强调协调合作,那我们两国将建立一种更强大、更全面的双赢关系。"
这场晚宴有约400人出席,包括专家、学者、官员、外交官以及商界代表。
CRI新闻,陈珊明(音译)纽约报道。

重点讲解
重点讲解:
1. work through 完成;解决;
Nonetheless, it's helpful to have some guidelines to help you work through the problems that may arise.
尽管如此,一些指导方针很有用,能帮助你解决可能发生的问题。
2. in the end 最后;终于;
It's hard work but if you hang on you'll succeed in the end.
这是件困难的工作,但如你坚持不渝,最后是能成功的。
3. at the same time 同时;
She did not believe it was going to happen. At the same time, she was curious.
她不相信这一切将会发生,同时,也感到非常好奇。
4. believe in 相信;
I believe in the maxim 'if it ain't broke, don't fix it'.
我相信这样一条箴言:"不破不修"。