CRI News Report:甘南自治州清理卫生改善民生
日期:2018-09-05 12:17
(单词翻译:单击)
正文文本
Bordering Qinghai and Sichuan provinces in southwest China, the Gannan Tibetan Autonomous Prefecture is home to vast grasslands, lush forests, and beautiful waterways.
Over half of the people living in the area are Tibetan.
It was not that many years ago that the region was economically backward, with its cities and towns badly polluted, and garbage a common sight along the roadside.
Tang Foyu is a resident of Da Shaoma, a village in Hezuo city, which is the capital of Gannan prefecture.
"It was quite dirty here. We used to raise pigs at home. There was no clear division between the pigsty and our house."
Starting in March 2015, local governments started a campaign to clean up the towns and cities in Gannan, vowing to clean the trash from the environment.
Huang Yamei works at a local community office in Hezuo City, the administrative seat of the prefecture.
She says the clean-up works in Da Shaoma village included road construction, separating the areas where animals live from the residential areas, and repairing the houses of the local villagers. To maintain the momentum of the campaign, the local officials praise the families who maintain the cleanest houses.
"In the beginning, local officials came to the village to do the cleaning. But after a while, local people started to clean the area on their own."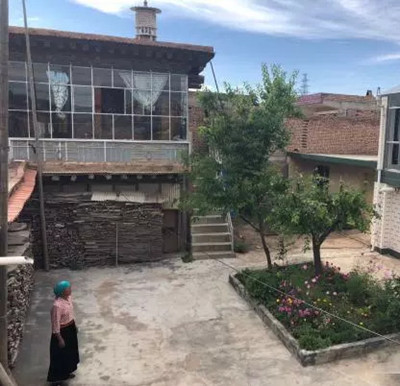 So far, Gannan government has spent around 19 million U.S. dollars in the clean-up effort. Officials are working to ensure that every part of the region is brought under their supervision.
Tashi Tsering, head of the Gannan Housing and Urban-Rural Development Bureau, says the clean-up has helped to improve the lives of the local people.
"The clean-up has changed people's ideas, their habits, and their standard of living, and their pursuit for a better, healthier life. People now have the desire to improve their lives."
Local authorities have announced the 4.5 million hectares of mountains, grasslands and water areas in the prefecture have been totally free of trash.
For CRI, this is Huang Yue.
参考译文
甘南藏族自治州与青海、四川两个西南部省份毗邻,有广袤草原、茂密森林还有潺潺流水。
这里的居民超过一半是藏族人。
几年前的甘南,经济发展落后,城镇污染严重,路边垃圾随处可见。
唐佛玉是甘南藏族自治州首府合作市大绍玛村的居民。
"以前的生活各个方面比较脏,以前我们养猪,在家里都是散养的,比较脏,跟人基本上都在一起。"
2015年3月起,甘南州全面铺开了城乡环境综合整治,下决心清理当地环境。
黄雅梅是合作市当地居委会的一名工作人员。
她说,大绍玛村的"环境革命"从道路硬化、人畜分离,延伸到了少数民族群众的窗台圈舍和柴房,还在村里开展了"卫生先进家庭"的评选活动。
"刚开始都是我们干部们过来,从村子里面的基本卫生开始做起,我们打扫,慢慢地群众自己就开始(打扫)。"
到目前,甘南政府已经在清理工作中投入了1900万美元。当地官员在努力保证监督每块地区。
甘南州住房和城乡建设局局长扎西才让说,清理工作提高了当地人民的生活质量。
"这次的清理运动也改变了当地居民的思想认识、行为习惯,也提高了居民生活水平,让人们开始追求更好、更健康的生活。人们现在都非常想要提高自已的生活质量。"
当地政府宣布,如今,甘南州已实现了450万公顷青山绿水草原"全域无垃圾"。
CRI新闻,黄阅(音译)报道。

重点讲解
重点讲解:
1. used to do sth. 过去常常;过去曾;
Above all, this time that I used to waste on social network sites has taught me nothing and has given me very little in return.
最重要的是,这些我过去浪费在社交网站上的时间没有教给我任何东西,几乎没有带来益处。
2. clean up 清理,清除(污染物) ;
Many volunteers are using just their hands to try to clean up the polluted water and the beaches.
许多志愿者仅靠双手清理被污染的水面和海滩。
3. on their own 单独地;独自地;
He did the whole project on his own.
他独立完成了整个项目。
4. so far 迄今为止;到目前为止;
We have been trying a new teaching method and its effects so far seem to be quite satisfying.
我们一直在尝试一种新的教学方法,目前看来效果还令人满意。