CRI News Report:中国进一步加深改革 开放自贸区
日期:2018-06-11 11:59
(单词翻译:单击)
正文文本
China's first Free Trade Zone opened in Shanghai in 2013, followed by those in Guangdong, Tianjin and Fujian a year later.
Since then, another seven have opened around the country.
The zones provide a range of benefits to investors, including lower taxes, streamlined customs clearance procedures, and preferential policies for select regional industries.
Assistant Minister of Commerce Ren Hongbin says that fruitful results have flowed from the Guangdong, Tianjin, and Fujian Free Trade Zones since they were launched more than three years ago.
"The Guangdong, Tianjin and Fujian pilot Free Trade Zones have made remarkable achievements in terms of institutional innovation in many areas since their launch, gradually unleashing the dividends of reform and opening-up.
They have generally met the expected targets and results."
Further reform will be undertaken in the three Free Trade Zones, focusing on encouraging high-quality internationally-focused development, supply-side structural reform, institutional innovation, and risk prevention, that is in line with international standards.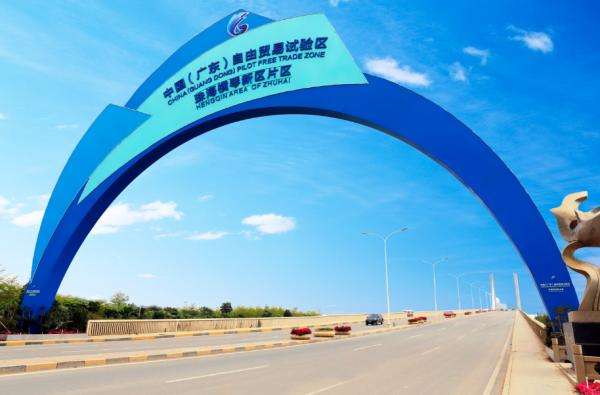 Ren Hongbin says that the three Free Trade Zones have introduced their respective measures to deepen reform in accordance with their own local conditions.
"Guangdong has presented measures covering 18 sectors, ranging from building a legal environment with fairness and integrity, implementing financial opening-up trial programs and promoting the liberalization of the trade in services between Guangdong, Hong Kong, and Macao. Those measures can help the Free Trade Zone in Guangdong develop into a pioneering area for building new institutions for an open economy, a gateway hub for high-level opening up, and can act as a template for cooperation in the Guangdong-Hong Kong-Macao Greater Bay Area."
For the Free Trade Zone in Tianjin, new measures are being introduced to improve the allocation of market resources and to further encourage the development of high tech industry.
In Fujian, the measures being proposed for its Free Trade Zone aim to develop a high quality international business environment, with standardized and transparent government services. The measures are also designed to encourage greater financial cooperation with Taiwan.
China is set to replicate successful practices from the pilot Free Trade Zones in other parts of the country.
These practices include policies that encourage an expansion in international shipping, offering online registration for taxpayers, facilitating inspection and quarantine for empty cargo containers shipped by sea, and efforts to improve the sharing of information among enterprises.
For CRI, I'm Xie Cheng.
参考译文
2013年,中国首个自由贸易区在上海成立,一年后广东、天津和福建也相继建立自由贸易区。
此后,全国又建立了七个自由贸易区。
自贸区为投资者提供了一系列便利条件,比如减税、简化报关流程以及特定地区产业政策优惠等等。
商务部部长助理任鸿斌说,自三年多以前建立广东、天津、福建自贸区以来,已经取得了相当丰硕的成果。
"广东、天津、福建自贸试验区运行以来,在多个领域制度创新取得明显成效,改革红利、开放红利逐步释放。"
"总体上达到了预期目标和效果。"
三个自贸区将进一步改革,重点是鼓励符合国际标准的高质量发展、供给侧结构性改革、制度创新和风险防范。
任鸿斌表示,三个自由贸易区已经根据各地的实际情况,采取了不同的深化改革的措施。
"广东提出了涵盖18个方面的措施,包括建设公平廉洁的法律环境、实施金融开放试点、推进粤港澳服务贸易自由化等。这些措施可以让广东自贸区成为建设开放型经济新体制的先行区、高水平对外开放的门户枢纽,也可以成为粤港澳大湾区合作的示范区。"
天津自贸区方面则推动市场资源配置、进一步鼓励高科技企业发展。
福建为自贸区出台的措施旨在打造高标准国际化营商环境、推进政府服务标准化透明化。这些措施也鼓励加强闽台金融合作。
中国将把改革试点成功经验推广到国内其他地区。
这些成功经验包括鼓励扩大国际航运、为纳税人提供在线注册、便利海上货物集装箱检查和检疫、以及改善企业间信息共享等。
CRI新闻,谢程(音译)报道。

重点讲解
重点讲解:
1. in terms of 在…方面;从…角度看;根据…来说;
例句:In terms of annual production, the country has dropped behind the rest of europe.
在年产量方面,这个国家落后于欧洲其他国家。
2. in line with (与…)一致;(与…)相符;
例句:Our counter offer is in line with the international market.
我方的还盘与国际行情是一致的。
3. in accordance with 按照;依据;
例句:We should make decisions in accordance with specific conditions.
我们应当根据具体情况做出决定。
4. act as 起作用;充当;
例句:A trained dog can act as a guide to a blind person.
经过训练的狗能担任盲人的向导。