CRI News Report:中国无意与美国进行贸易战
日期:2018-04-03 12:00
(单词翻译:单击)
正文文本
On the sidelines of the ongoing session of the National People's Congress, commerce minister Zhong Shan told reporters that trade wars have no winners.
The remarks followed the US imposition of 25 percent tariffs on steel imports and 10 percent on aluminum, which have triggered opposition from around the world.
At the press conference, Zhong Shan highlighted the progress in the Sino-US trade and economic cooperation in the past decades.
"China and the US have had diplomatic ties for almost 40 years. Their bilateral trade and economic ties are getting closer. The volume of trade has grown by 232 times during the 40 year period. Have you ever seen two other countries experience such growth in such a short period? Two-way investment has exceeded 230 billion US dollars, which means the two economies are complementary and boast huge cooperative potential."
But the minster also acknowledged that there are still some outstanding issues between the two sides when it comes to trade cooperation.
"The calculation of trade statistics varies between the US and China. Chinese and American statistical working groups, with experts from government and other institutions, undertake research on these differences every year. According to their research, the US overestimates its trade deficit with China by an average of 20 percent a year."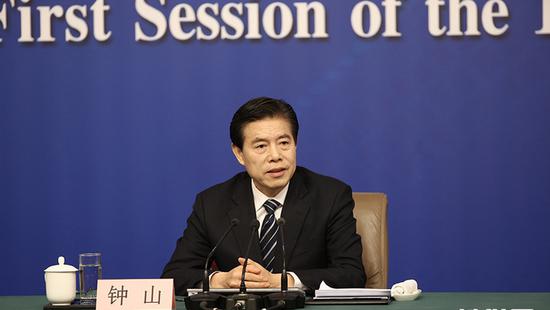 Zhong went on to explain that there are structural reasons for the trade imbalance that does exist between China and the US.
"The trade imbalance between China and the US is a structural one. China has a surplus in the trade of goods, and the US runs a surplus in the trade of services. I think the competitive edge in trade basically lies in the strengths of the different industries. The imbalance between China and US trade also relates to US regulation on its high-tech exports to China. A US report shows that if regulations were eased, the US trade deficit with China could be reduced by about 35 percent."
Earlier this month, a senior economic and finance official from China, Liu He, met with U.S. officials.
During their talks, both sides agreed to settle their trade disputes by cooperation rather than confrontation.
Zhong Shan stressed that the two sides hadn't stopped their dialogue on economic matters, and that the exchange of dialogue between the two countries would continue.
For CRI, this is Guan Chao.
参考译文
在两会采访通道接受采访时,商务部部长钟山告诉记者,贸易战没有赢家。
此番言论是缘于美国决定对中国钢铁进口产品征收25%关税,并对铝进口产品征收10%关税,此举在全球引发连锁反应。
在发布会上,钟山首先高度评价了中美两国过去数十年间经贸合作的成果。
"中美两国建立外交关系已经快40年了。双方双边贸易和经济联系日益密切。四十年间贸易增量增长了232倍。你见过任何其他两个国家在这么短的时间内有过这样的事情吗?双向投资超过了2300亿美元,意味着双方正在发掘巨大的合作潜力。"
但是钟山部长也承认,双边贸易合作仍然有一些突出问题。
"中美两国贸易数据的计算是有差异的。中美双方的数据处理团队包括政府及其他机构的专家,每年都会研究这些差异。他们的研究显示,美国政府每年平均把对中国的贸易逆差多算了20%。"
他继续解释了中美双方贸易不平衡的结构性原因。
"中美双方的贸易不平衡是结构性的。中国在商品贸易方面有顺差,而美国则在服务贸易方面有顺差。我认为贸易中的竞争优势主要在于不同行业。中美贸易不平衡主要源于美国对于中国高科技产品出口的管制。美国报告显示,如果相关管制松动,那么美国对中国的逆差将会减少大约35%。"
三月早些时候,中国财经高级官员刘鹤与美国官员会面。
在他与美国官员的会谈之中,双方都同意要合作而不是对抗,尽量搁置争议。
钟山强调双方不会停止经济议题的对话,会继续进行相关交流。
CRI新闻,关超(音译)报道。

重点讲解
重点讲解:
1. when it coems to 谈到;涉及;
例句:Life in city cannot be compared with that in countryside when it comes to the natural environment.
就自然环境而言,城市的生活无法与农村的相比。
2. according to 据…所说;按…所载;
例句:According to a report in The British Medical Journal, children with higher IQs are more likely to grow up to be vegetarians.
根据《英国医学期刊》中的一篇报告,高智商的小孩将来很可能是素食者。
3. go on to do sth. (做完某事后)进而,接着(做另一件事);
例句:Now that the matter has been cleared up we can go on to consider the next point.
既然那个问题已经解决,我们可以接着考虑下一步了。
4. rather than 而非;胜于;而不是;
例句:Investors in financial markets, certainly, seem to be expecting more of the same from the US rather than direct confrontation.
当然,金融市场投资者似乎更希望美国维持当前策略,而不是展开直接对抗。