CRI News Report:中国推动科技创新
日期:2018-03-30 12:08
(单词翻译:单击)
正文文本
Minister Wan Gang said the State Council has adopted a series of actions to help translate the results of technological innovation into practical applications.
These actions include promoting the modification of various laws and regulations, including the Law of the Transformation of Scientific and Technological Achievements.
Reviewing the efforts of the past five years, Wan Gang said that a sign of China's progress in developing its science and technology industry was the increasingly diversified background of players in the market.
"We have seen significant progress in the transformation of the results of scientific and technological innovation, with its market value rising to 1.3 trillion RMB. The range of market players has expanded from enterprises to include universities and research institutions. The quantity of transformation has been growing rapidly. Statistics show that the quantity of transformation has seen a growth rate above 20%. And the results of some basic and cutting-edge research have been turned into practice."
When it comes to artificial intelligence technology, Wan said that AI is expected to reach into various aspects of life.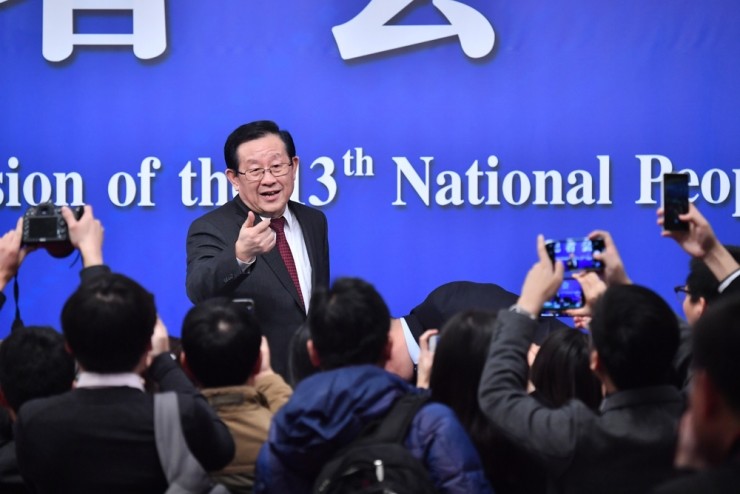 China first started research into AI technology back in the 1980s, and in recent years its efforts have paid off.
Some of the country's largest tech enterprises have been leading the way, with Baidu focusing on driverless car technology, Alibaba looking into smart transportation, and Tencent looking at how AI can be applied to the provision of medical services.
Wan explained that to facilitate AI development, there is a need to consolidate basic research with technology transformation efforts.
"We need to accelerate the transformation of the results of AI innovation. We should promote the use of AI technology in industrial development, as well as various fields of social life, to solve the problems that most concern the people, in areas like security, health, and the environment. We should also pay attention to the social attributes of AI technology, and address challenges relating to social ethics, employment, privacy, and national security."
The Minister also said the government needs to address obstacles in the transformation process to improve the environment for innovation.
"Issues happen in the transformation process, such as uncoordinated or mismatched policies of industry and the registration of property rights. We need to put relevant policies in place. Our next steps are to adopt more incentivizing policies."
Wan said the government is looking at solutions for problems facing China's innovation industries.
He revealed that authorities will provide more favorable taxation policies, guarantee a stable income for researchers on major projects, and reward the successful transformation of innovation into practical applications.
For CRI, this is Guan Chao.
参考译文
科技部部长万钢表示,国务院已经采取一系列措施来帮助转化科技创新成为实际应用。
其中包括修改调整相应法律法规,比如《科技成果转化法》。
回顾过去五年的努力,万钢表示中国科技产业发展的一大亮点在于市场活跃的成员开始有了不同背景。
"在科技成果创新转化方面我们看到了显著的进步,市值上涨到1.3万亿元人民币。市场内参与者从企业扩展到了大学以及研究中心。转化质量快速提高。数据显示,转化质量增长了20%以上。一些基础前沿的成果也逐步的转化到实践当中"
在提到人工智能(AI)时,万钢表示人工智能能够涉及到生活的方方面面。
中国在20世纪80年代就开始了人工智能方面的研究,最近几年终于有了回报。
中国的一些大型科技企业在这方面起到了带头作用,百度正在研究无人驾驶技术,阿里巴巴研究智能运输,腾讯注重的是工人智能如何应用到医疗领域。
万钢解释道,为了促进工人智能的发展,需要加强基础研究,从而进一步在科技成果转化方面做出努力。
"我们需要加快人工智能创新的成果转化。我们应该推动人工智能应用到产业发展中去,应用到社会生活的方方面面,解决人们所关心的安全问题、健康问题、环保问题等方面。我们还应该注意人工智能技术的社会属性,要积极应对人工智能发展可能对社会伦理、就业结构、个人隐私、国家安全等方面的一些挑战。"
万钢还说政府需要破除科技转化过程中的障碍,从而改善创新环境。
"在转化过程中确实会出现一些问题,比如行业政策不协调或者产权问题等等。我们需要在相关领域出台政策。我们的下一步计划就是出台更多激励措施。"
万钢表示政府正在寻找方法解决中国创新行业面临的问题。
他表示官方会出台更为优惠的税收政策,保证主要项目研究者的收入,并对研究成果成功转化的案例进行奖励。
CRI新闻,关超(音译)报道。


重点讲解
重点讲解:
1. turn into (使)变成;(使)成为;
例句:We're only a week away, and that's when expectations turn into reality or disappointment.
我们只剩一个星期就可以见证期待是变成现实还是失望。
2. when it comes to 谈到;涉及;
例句:Although, researchers caution, the verdict is still out when it comes to the long-term effect of these programs on cognition.
尽管研究者也提醒,这些程序的长期效果如何尚未得出结论。
3. pay off 成功;赢利;
例句:They doubted whether all this work would pay off.
他们怀疑这样干是否划得来。
4. pay attention to 关心;注意;
例句:While speeding up work on the project, we must pay attention to ensuring its quality.
在加快工程进度的同时,必须注意质量。