CRI News Report:中国加强对数字货币的监管
日期:2018-03-29 12:05
(单词翻译:单击)
正文文本
The People's Bank of China set up a research institute three years ago to conduct research into issues around the use of digital currency.
And last year, a research project organized by the central bank was officially approved by the State Council.
According to Governor Zhou Xiaochuan, the Bank is currently engaged in research and development and working out solutions by tapping into the resources of the business community.
"We could say that the development of digital currency technology is inevitable. In the future, the use of paper money and coins may gradually decrease and even one day disappear. This is possible."
But meanwhile, he stressed that the product must be carefully tested before they are put into use in order to reduce risks to the financial system.
"In this process, we need to pay attention to financial stability and prevent risk. In the meantime, digital currency must be able to guarantee the transmission mechanism of monetary policy and financial stability. We should also protect consumers. Some technical solutions are too risky. It may lead to loss for consumers. As a large country, we need to be cautious to prevent unfixable loss."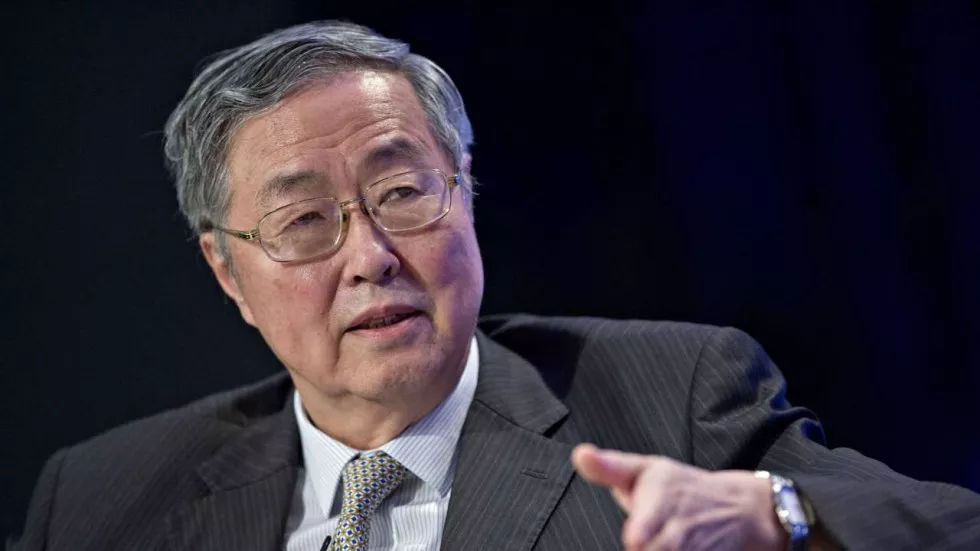 Bitcoin and ICO financing has been a hot topic in recent years.
While these innovations are important of new financial tools, Zhou Xiaochuan says that caution is required.
"We encourage innovation. But beyond market incentives, we should look to the larger picture and prevent unexpected issues due to loopholes in policies."
The People's Bank of China suspended ICO financing last August, which was followed by its discouraging tone toward the direct transaction of Bitcoin and RMB.
Digital currencies are not currently accepted as a means of payment by the banking system.
Regarding further steps towards digital currency regulation, Zhou said that regulators haven't decided on the details but revealed that one of their goals is to prevent these new technologies from becoming products for speculation.
Zhou also touched on changes to China's growth model, indicating that the country will pursue high-quality growth instead of growth requiring extensive capital input.
Regarding the further internationalization of China's currency, the RMB, Zhou said that it has increasingly been allowed to be used in international trade and investment activities.
The RMB has also been included in the basket of currencies for the SDR, or Special Drawing Right.
But Zhou said it may take a long time before the RMB is used widely by market players.
For CRI, this is Guan Chao.
参考译文
中国人民银行三年前建立了一个研究中心,专门研究数字货币的使用。
去年,国务院正式批准了央行的一项研究计划。
央行前行长周小川表示,央行现在正在通过利用商业资源来进行研究并且找出相关解决方案。
"我们可以说,数字货币科技的发展是不可避免的。在未来,纸币和硬币的使用会越来越少,甚至有一天会真正消失。这是很有可能的。"
但是同时,他强调在发布新的金融产品之前必须严格检测,减少其对金融系统可能造成的风险。
"在这个过程中,我们需要注意金融稳定,预防风险。同时,数字货币必须保证货币政策的流通机制以及金融稳定。我们也要保护消费者。有些技术解决手段风险太大了。可能会导致消费者的损失。作为一个大国,我们有必要防范未知风险。"
比特币和ICO金融近年来成为热门话题。
尽管这些创新对于新型金融工具非常重要,周小川仍然表示需要加以防范。
"我们鼓励创新。但是除了市场激励机制,我们也应该顾全大局,防范由于政策漏洞造成的未知风险。"
中国人民银行去年发8月禁止了ICO金融,同时也不鼓励比特币与人民币的直接兑换。
现在银行系统并不接受数字货币作为支付方式。
对于数字货币接下来的监管,周小川说监管部门还没有决定具体细节,但他透露,目标之一就是防止这些新的技术变成投机活动。
周小川还提到了中国发展模式的转型,表示中国将会追求高质量发展而不是追求额外的金融投入。
在人民币进一步国际化方面,周小川说将会进一步允许在国际贸易和投资活动中多使用人民币。
人民币也已经加入了SDR(特别提款权)。
但是周小川仍然认为,想要人民币被市场接受仍然还有很远的路要走。
CRI新闻,关超(音译)报道。

重点讲解
重点讲解:
1. be engaged in 从事…的;忙于…的;
例句:He is engaged in scientific research.
他从事科研工作。
2. work out 想出,得到(解决方法);解(谜);
例句:To work out a plan, one has to start with investigation.
制定计划要从调查研究入手。
3. paty attention to 关心;注意;
例句:In doing our work, we must pay attention to ways and means.
做工作应注意方式方法。
4. decide on 决定;选定;
例句:I am already an adult, so I should decide on my own life.
我已经是个成年人了,我应该决定自己的生活。
5. touch on 谈及;涉及;
例句:In this connection, we will touch on an interesting fact.
关于这一点,我们要谈到一个有趣的事实。