CRI News Report:科学家们正在研究超级老人之谜
日期:2018-03-13 11:59
(单词翻译:单击)
正文文本
Bill Gurolnick will celebrate his 87th birthday next month.
Two years ago he joined a study looking at people whose memory function is significantly better than the average for other people their age.
These are the so-called "superagers".
"Well, I don't feel my age. What do I feel like? If I was to give a number, I probably feel like I'm about my early 70s."
Bill attributes his sharp memory to his active lifestyle and regular social engagements.
Having a good memory is not something that runs in Bill's family.
His father developed Alzheimer disease in his 50s.
A person's genetic inheritance is believed to contribute about 70% of the risk for developing Alzheimer's.
Neuroscientist Emily Rogalski leads the Super Aging study at Chicago's Northwestern University.
She believes her work can help fight or prevent Alzheimer's disease, a condition for which conventional medicine currently offers no effective treatment or cure.
"And we think if we can understand the factors contributing to superaging, it may offer new hypotheses and new ways to explore the challenges in Alzheimer's disease."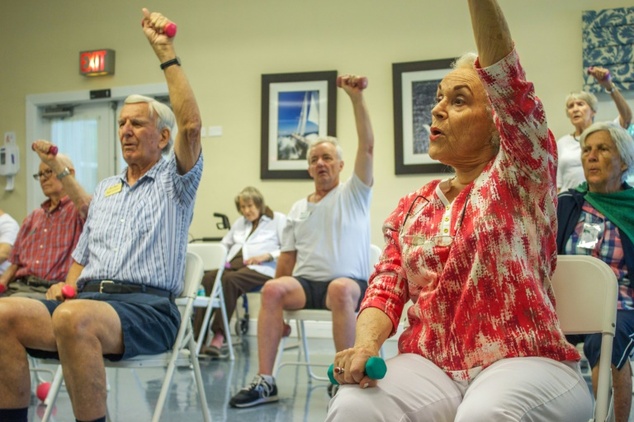 Emily's team found that superagers tend to be extroverts with strong social networks, and that their brains shrink much more slowly than those of their peers.
Research shows that the brains of superagers contain a lot more of a special kind of nerve cell that is important for attention, and that parts of their brain are packed with neurons thought to improve social processing and awareness.
Scientists are currently exploring how the brains of superagers resist and repair damage.
Heather Snyder from the Alzheimer's Association says studying the brains of superagers can help unpick the cause and provide potential treatments for Alzheimer's and other types of dementia.
"By studying superagers, we can get information about what might be contributing factors of how our brains are structured, our social interactions, how our heart health feeds into our brain health and use that information for thinking about strategies for prevention and treatment of Alzheimer's and other dementias."
Emily says that the existence of superagers might help change negative attitudes towards ageing.
"Perhaps, if we expected a bit better from ourselves, then we would understand that not all aging is 'doom and gloom' and talking about things changing for the worse."
For CRI, this is Li Yi.
参考译文
比尔·古洛尼克下个月就要过87岁生日了。
两年前他加入了一项研究计划,该研究是要寻找那些记忆力比同龄人好得多的人。
这些人被称作"超级老人"。
"我感觉不到自己老了。这是什么感觉呢?如果用数字来衡量的话,我觉得我也就70岁出头。"
比尔是通过积极的生活方式和规律的社交活动来保持记忆活跃的。
记忆好可不是比尔从家人身上遗传来的。
他父亲在50来岁的时候就得了阿尔兹海默症(老年痴呆)。
一个人的基因缺陷在得阿尔兹海默症方面占70%。
神经科学家艾米莉·罗卡斯基在芝加哥西北大学领导这个超级老人研究项目。
她相信这个研究将有助于防治阿尔兹海默症,而现在并没有什么有效的药物和手段可以进行治疗。
"我们认为如果可以搞清楚出现'超级老人'的原因,就有可能提出新的假设或者新的方法来应对阿尔兹海默症的挑战。"
艾米莉的团队发现这些"超级老人"都非常外向,有很强的社交联系网络,而且他们的大脑萎缩速度要比同龄人慢。
研究表明"超级老人"的大脑要有更多利于集中注意力的特殊神经细胞,而且他们的大脑被有利于提高社交能力的神经元包裹。
科学家们正在研究"超级老人"的大脑如何防止和修复损伤。
阿尔兹海默症协会的希瑟·斯奈德说,研究"超级老人"的大脑可以有利于找到阿尔兹海默症和其他痴呆症状的潜在治疗方法。
"通过研究'超级老人',我们能够了解到大脑的构造、社会反映以及心脏健康如何影响大脑健康,并且利用这些信息来研究治疗阿尔兹海默症和其他痴呆症状的潜在治疗方法。"
艾米莉说"超级老人"的存在可以改变人们对于变老的消极印象。
"也许,如果我们期望自己变得更好,我们就能够相信变老并不是只有悲观失望,并不是只有变得糟糕。"
CRI新闻,李毅(音译)报道。

重点讲解
重点讲解:
1. attribute to 把…归因于;把…归咎于;
例句:Never attribute your accomplishments to luck or chance.
永远不要把成绩归因于运气或机遇。
2. contribute to 促成;促使;是导致…的原因之一;
例句:Medication side effects and balance issues, which are exacerbated by a sedentary lifestyle, also contribute to fall risks, she said.
久坐不动的生活方式会加剧药物副作用和平衡问题,同时也增加了摔倒的风险。
3. be packed with 充满…的;富含…的;
例句:Fish and chips are packed with protein.
炸鱼薯条富含蛋白质。
4. change for the worse 向着更坏(或更糟的)情况(转变);
例句:The grandparents sigh and say how things have changed for the worse.
爷爷奶奶叹着气说情况变得如何如何糟糕。