CRI News Report:自动驾驶闪耀北美国际汽车展
日期:2018-02-12 12:13
(单词翻译:单击)
正文文本
Self-driving cars are dominating the Cobo Center in downtown Detroit, with discussion topics at different panels during the auto show focused on the automated sector.
Audiences here are showing a decent amount of interest in the technology, while many automakers are scrambling to stake their claim in the sector.
However, a growing number of voices from the US Department of Transportation, as well as some of this year's participants, are suggesting that the next major step is the establishment of a safety verification system that's recognized by everyone within the industry.
US Transportation Secretary Elaine Chao, addressing the auto show, says many Americans still have doubts about the technology.
"A recent AAA survey found that 78% of American surveyed are afraid to ride in a driverless car. If you refer to it as a self-driving car, the anxiety drops a little bit, but there's still anxiety. So there are legitimate public concerns that must be addressed before this technology can reach its full potential in our society."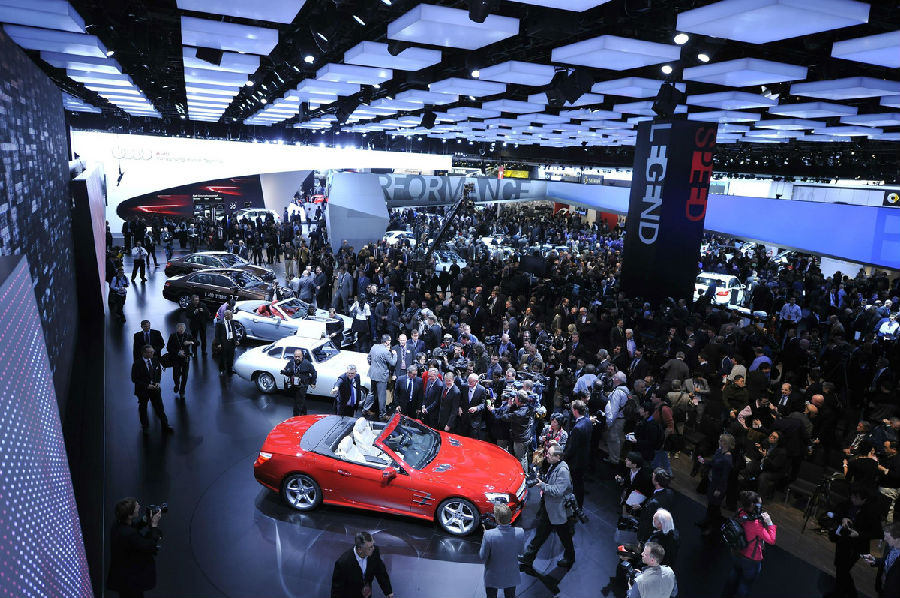 A number of automakers and tech companies participating at this year's event in Detroit are also expressing similar concerns.
Jack Weast is the chief architect of autonomous driving solutions at Intel.
He says the main reason why people don't trust self-driving cars is that there's no established tech verification system at the moment.
"And part of lack of trust, that difficulty in trusting in these vehicles, is consumers being unaware of how the cars are making decisions. So if we as an industry can get together and show them that there's a model for decision making, that can be formally verified, proven correct, we think that's an important step towards making customers or consumers more comfortable with these cars and showing them that they will be safe on the road."
The US government has been active in promoting the establishment of such systems.
In last September, the US Department of Transportation released a new Automated Driving Systems guideline designed to try to give car companies more autonomy in testing their technology.
Transport Secretary Elaine Chao says they intend to release an updated version of the guidelines this coming summer.
"This technology is changing so fast that a multi-model version, AV 3.0 is already in the works. We welcome your input. Look for it to be released sometime this summer. The Department will update this guidance as often as needed. That's part of our commitment to streamline the process and keep pace with innovation."
Despite the regulatory challenges, Jack Weast with Intel says the technology is still advancing.
"I think there's a lot of intelligence yet to be built into self-driving software. I think... We certainly hope it's ubiquitous in five to ten years, but I certainly don't think it will become a commodity."
For CRI, this is Liu Kun reporting from Detroit, Michigan.
参考译文
在底特律市中心的科博中心,自动驾驶汽车成为了焦点,人们在车展上广泛讨论着自动化产业。
来到这里的观众对这种新技术展现出了浓厚的兴趣,也有很多汽车制造商积极的发表自己的观点见解。
然而,美国交通部以及今年的参会人员有一个更为普遍的观点,那就是认为下一步应该建立一套业内人士认可的安全认证系统。
美国交通部部长赵小兰在汽车展上表示,很多美国人对这项技术仍然存有疑问。
"美国汽车协会最近的一项调查发现,78%的受访美国人害怕坐在一辆无人驾驶的汽车里面。如果你说的是自动驾驶汽车,那么这种焦虑心理可能会稍稍降低,但是仍然存在。所以首先要解决这种公众的担忧情绪,然后才能充分发挥这种技术在社会中的潜能。"
今年参加底特律车展的很多汽车商和科技公司表达了同样的看法。
杰克·韦斯特是英特尔自动驾驶解决方案的首席设计师。
他表示人们现在不相信自动驾驶汽车是因为当前并没有建立一套科技认证体系。
"人们对这些汽车信任缺失的一部分原因在于并不了解它们是如何做出决断的。所以如果我们业内能一同展示给大家,告诉大家有一套作出决定的模式,这套模式能够正式认证,而且能够通过检验。我们认为这是重要的一步,可以让消费者接受这些汽车,同时告诉消费者在路上很安全。"
美国政府一直在积极推进相关体系的建立。
去年9月,美国交通部发布了一套新的自动驾驶系统指南,用于给予汽车制造商在测试系统时更多的自主权。
交通部部长赵小兰表示,他们会在今年夏天发布最新版本。
"由于技术更新迭代非常快,所以新的多功能版本自动驾驶系统3.0正在制定中。我们欢迎各位提出建议。今年夏天就会发布新版本。交通部会尽快及时更新这份指南。这是我们对于简化流程和跟上创新节奏的承诺。"
尽管有监管上的一些挑战,但是来自英特尔的杰克·韦斯特表示技术仍然在进步。
"我认为自动驾驶技术还能够更加智能。我们当然希望在五到十年的时间里可以广泛应用,但是我不认为它会成为大宗商品。"
CRI新闻,刘坤(音译)密歇根州底特律报道。

重点讲解
重点讲解:
1. scramble to do sth. 仓促行动;争夺;
例句:This has spurred industrial consumers to scramble to secure supplies while speculators pour fresh money into the metal.
这促使工业消费者相互争夺供应,而投机者则将更多资金投向铂金。
2. be unaware of 不知道的;不晓得的;未注意到的;
例句:She hadn't read the letter and so was unaware of its contents.
她没有看那封信,所以不知道信的内容。
3. be active in 积极(参与)的;
例句:I was active in the group work.
我积极参加小组活动。
4. keep pace with 与…齐头并进(或并驾齐驱);
例句:Our understanding often fails to keep pace with the march of events.
我们的认识常常赶不上形势的发展。