CRI News Report:专家预测中国未来十年经济增长8%
日期:2018-02-09 12:10
(单词翻译:单击)
正文文本
Justin Lin Yifu, professor at the National School of Development at Peking University, said compared with high income countries, China has great potential to tap into in the area of industrial upgrading and technological innovation because of late-comer advantage.
He made the comment at an economic forum in Washington D.C. co-organized by Peterson Institute for International Economics and China Finance 40 Forum, a think tank in China.
Lin explained that late comer advantage will push China to learn from high income countries to improve productivity, thus unleashing economic growth momentum, which has already been shown in the cases of Japan, Singapore and South Korea.
He said analyzing data from 2008 and relating that with the experiences of the above four Asian economies, he is confident to conclude that China will be able to achieve an 8% growth rate for the coming decade, but only on the condition that China fully utilizes this late comer advantage.
"In 2008, the per capita GDP measured by purchasing power parity was 21% of the US. And it was similar to Japan in 1951, Singapore in 1967 and Korea in 1977. And these four East Asian economies, they achieved 20 years of 8-9% growth. So that means if they can realize 8-9% growth for 20 years, that means China has 8% growth potential from 2008. And now ten years have passed but we still have ten years to come. I think the growth potential in China could be about 8% per year in the coming 10 years."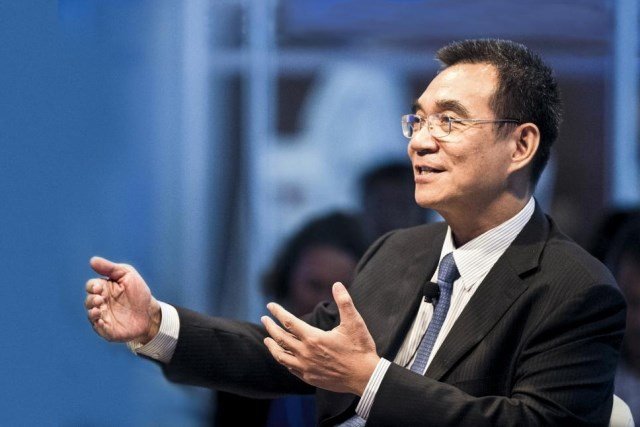 Nicholas Lardy is the Anthony Solomon Senior Fellow at the Peterson Institute for International Economics.
He said he agrees with Professor Lin, but also cautioned that China needs to address the financial instability brought by government directed lending to state owned enterprises.
"So I do tend to agree with Justin that there's still very substantial potential for China to grow at 8% or maybe even a little bit more, but I don't think this is going to happen if the current situation persists. China needs to return to a system in which bank lending is more commercially driven, which it had been in the 90s, in the 2000s, before the pattern changed after 2011. And it would require substantial reform of underperforming state owned enterprises."
The reform of SOEs in China was hotly contested at the forum, with some arguing that it represents the successful story of the Chinese model while others said it reflects an unhealthy relationship between government and market.
Qin Xiao is an academic advisor with China Finance 40 Forum and former chairman of China Merchants Group & China Merchants Bank.
He warned that if not taken care of, the problems with China's SOEs could not only wreck China's economy, but also have socio-political implications.
"State owned enterprises have been given the mandate to implement national strategies and serve as a tool for macroeconomic policy adjustment. As a result, they often obtain many explicit and implicit financial support and subsidies, including low cost loan, free land allocation, fiscal of injection of assets and fund, and monopolies in many industries. All these advantages undermine fair market competition and deepen social inequalities."
The forum, the 3rd of its kind, also released the Jingshan Report, addressing issues confronting China's financial sector and calling for a proactive yet prudent opening up process for the sector.
For CRI, this is Liu Kun reporting from Washington D.C.
参考译文
北京大学国家发展研究院林毅夫表示,与其他高收入国家相比,中国因为有"后发优势",所以在产业转型升级以及科技创新方面有很大的潜力。
他在华盛顿的一个经济峰会上做出了如上表述,这次峰会由皮特森国际经济研究所与中国智库中国四十人金融论坛联合举办。
林毅夫解释说,中国能够通过后发优势从高收入国家学习如何提高产能,从而释放经济发展动力,这在以前的日本、新加坡和韩国都已经有了很好的例证。
他表示,通过分析2008年以来的数据和上述四个亚洲经济体的经验,他相信中国能够在未来的十年里达到8%的增长,但是中国必须要充分利用这样的后发优势才行。
"2008年,美国人均GDP中购买力占比为21%。这与日本1951年、新加坡1967年和韩国1977年的数据相似。这四个东亚经济体都能够达到20年来8-9%的增长。如果他们能够实现20年8-9%的增长,那么中国从2008年算起也有8%的增长空间。现在已经过去十年了,我们还有十年。我认为中国在未来十年仍然有每年8%的增长潜力。"
尼古拉斯·拉迪是皮特森国际经济研究所安东尼·所罗门高级研究员。
他表示自己赞同林教授的观点,但是也谨慎的认为中国必须要解决由于政府直接借贷给国有企业造成的金融不稳定因素。
"我确实同意林教授所说的,中国仍然有很大的潜力能够保证8%甚至更高的增长,但是我认为如果现在的状况不做出改变,那么就很难达到这样的增长。中国需要回到20世纪90年代、21世纪初的时候那种银行借贷驱动商业发展的模式,这一模式2011年之后就发生了改变。这也需要那些表现不好的国有企业进行有力地改革。"
中国国有企业改革是这次峰会上的热点议题,有些人认为这代表了中国模式的成功,也有些人表示这反映出中国政府与市场之间不健康的状态。
秦晓是中国四十人金融论坛的顾问,也是中国招商集团和中国招商银行前任总裁。
他警告说,如果相关问题不谨慎处理,那么中国国有企业的问题不仅仅会危害中国经济,还会波及社会及政治方面。
"国有企业有义务落实国家政策,同时是宏观经济政策调控的工具。这样的结果是,国有企业常享有一些直接或简洁的财政支持和补助,比如低成本贷款、免费土地分配、财政注入资产及资金,以及对某些行业的垄断。这些所谓的优势都在破环市场竞争的公平性、加剧社会不平等。"
本次论坛已经是第三届,论坛上也发布了《径山报告》,这一报告着重解决中国金融领域面临的问题,同时呼吁在这一领域推行积极且谨慎的开放政策。
CRI新闻,刘坤(音译)华盛顿特区报道。

重点讲解
重点讲解:
1. compared with 与…相比;和…比起来;
例句:The flat was really very nice, but compared with what we'd been used to, it was a terrible let-down.
这套公寓真的很不错,但比起我们以往住的地方,那就差太远了。
2. be similar to 相像的;相仿的;类似的;
例句:These rules are similar to the first rule I just discussed.
这些规则与刚讨论的第一个规则非常相似。
3. agree with 同意;赞成;意见一致;
例句:I quite agree with you. That's a good way of looking at it.
我很赞同你的观点,这是看待该问题的一个很好的角度。
4. take care of 处理;应对;
例句:They leave it to the system to try and take care of the problem.
他们让系统去设法解决这个问题。