CRI News Report:郑州望成为新国际商业枢纽
日期:2018-02-06 12:01
(单词翻译:单击)
正文文本
At a rail freight terminal in Zhengzhou, stacked with containers, Pei Changming, a staffer with a Tianjin based steel company is checking their products which have been imported from Germany along China-Europe freight line.
Despite having their operations near the sea port in Tianjin, Pei Changming says his company still prefers to use Zhengzhou to export and import their products.
"We have been using rail freight transportation for the past two or three years. The cost of railway is lower than air transport. It's also a lot quicker than ocean transport, which can take as long as two months. When we ship out of Zhengzhou, the rail line gets our products to Europe in four weeks, which is half of the time by sea."
The first freight train connecting Zhengzhou with the German city of Hamburg was launched in 2013.
Four years on, 14 trains are either leaving or arriving in Zhengzhou every week, linking Henan's capital with 121 cities in 24 different countries along the route.
The China-Europe freight rail service in and out of Zhengzhou is fully loaded both ways.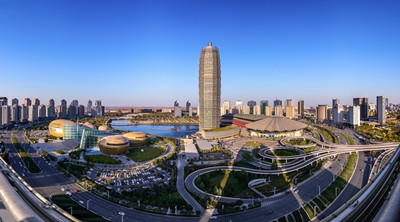 This creates unique challenges for the Zhengzhou International Hub Development and Construction Corporation, which operates the rail line.
Shi Wensong is the vice-General Manager of the company.
"If you watch the clock, 10:40, 10:37, 10:36, we keep shipping almost nonstop. Every day we have around 300 orders to deliver. Originally it was only around 100 orders per month. Most of the products are destined for Europe, mostly to Germany, Poland, Italy and France. The freight usually includes high level electric machines, IT equipment, food and other items. The train also comes loaded on its return trip."
While rail has helped develop Zhengzhou as a gateway to Europe, it's not the only option.
In 2014, an air freight service began operating between Zhengzhou and Luxembourg.
Dairy products, organic food and other luxury items from Europe are now readily available in central China thanks to the "Silk Road" in the air.
Luxembourg Prime Minister Xavier Bettel says he's happy he staked his leadership on links with Zhengzhou.
"So this is my first work. First work since I worked as Prime Minister. I'm very happy I took the right decision because it was planned that we have four flights a week now we have fifteen."
E-commerce is also creating more opportunities for Zhengzhou.
As one of the first 15 cities to trial transnational e-commerce in China, Zhengzhou processed around 30 million online import and export orders in the first half of this year, topping even Shenzhen.
Chinese authorities have laid out plans to turn Zhengzhou into a leading international commerce hub by 2049.
The city is also rapidly becoming a leader in domestic logistics.
参考译文
在郑州的一个火车货运站正堆满了集装箱,来自一家天津钢铁公司的裴常明正在检查货物,这批货物是沿着中欧货运线从德国进口来的。
尽管他们公司在临近港口的天津,但是裴常明表示他们还是喜欢选择郑州来进出口产品。
"我们过去两三年一直在用火车运输货物。火车运输的成本比空运低。而且比海运快很多,海运需要两个月。我们如果从郑州走铁路运输到欧洲只需要四周,是海运时间的一半。"
首列连接郑州与德国城市汉堡的班列始于2013年。
四年以来,每周14列专列从郑州出发或者离开郑州,把河南省会与沿线24个国家的121个城市相连。
出入郑州的中欧专列都是满载的。
这为运营铁路的郑州国际枢纽发展建设集团提出了不小的难题。
史文嵩是集团副总经理。
"你看一下表,10:40,10:37,10:36,我们几乎一刻不停地在运输货物。每天我们需要发送300单货物。以前大概每个月只有100单。大部分货物的目的地是欧洲,主要是德国、波兰、意大利还有法国。货物主要包括高级电器机械、IT设备、食物以及其他物品。在回程中,这些火车也同样满载而归。"
尽管这条铁路把郑州变成了通往欧洲的大门,但这并不是唯一选择。
2014年,郑州和卢森堡之间开启了空运服务。
有了这条空中"丝绸之路",乳制品、有机食品以及来自欧洲的奢饰品现在已经可以直接供应给中国中部地区。
卢森堡总理泽维尔·贝特表示他很高兴能与郑州建立联系。
"这是我的第一项工作。是我担任首相以来的第一项工作。我很高兴我做出了正确的决断,因为之前我们计划每周4架次航班,现在有15架次了。"
电子商务也给郑州创造了更多机遇。
作为中国首批试点跨国电商的15个城市之一,郑州在去年上半年就处理了3000万线上进出口订单,甚至比深圳都多。
中国政府计划2049年把郑州打造成世界领先的国际商务枢纽。
郑州也正在迅速成为国内物流的领头羊。

重点讲解
重点讲解:
1. prefer to do sth. 更喜欢;偏好;
例句:I still prefer to play in defence.
我还是更喜欢打防守。
2. thanks to 幸亏;归因于;
例句:Thanks to the angle at which he stood, he could just see the sunset.
由于站的位置视角好,他刚好能看见日落。
3. stake on 将…押(在…);以…打赌;拿…冒险;
例句:He has staked his reputation on the outcome.
他将自己的名声赌在了这个结果上。
4. turn into (使)变成;(使)成为;
例句:We think he'll turn into a top-class player.
我们认为他会成为一流的选手。