VOA慢速附字幕 美国史话第17期:在费城签署宪法
日期:2013-01-26 09:51
(单词翻译:单击)
From VOA Learning English, welcome to THE MAKING OF A NATION – American history in Special English. I'm Steve Ember. This week in our series, we continue the story of the United States Constitution.

In May of 1787, a group of America's early leaders met in Philadelphia, Pennsylvania to amend the Articles of Confederation. That document had established a loose union of the 13 states with a weak central government. But instead of amending the articles, the delegates at the convention wrote a completely new constitution.

As we heard last time, one of the issues they discussed was slavery. The existence of slavery affected decisions like how to count the national population. It also affected the powers proposed for Congress.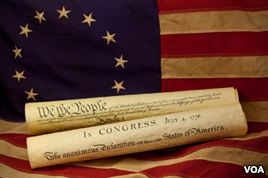 Making of a Nation

The delegates at the convention accepted several political compromises on the issue of slavery.

One compromise was the "three-fifths" rule. The population would be counted every ten years to decide how many members each state would have in the House of Representatives in Congress. With the three-fifths rule, the delegates agreed that every five slaves would be counted as three people.

Another compromise would allow states to import slaves until the year 1808. After that, no new slaves would be brought into the country.

Many of the delegates in Philadelphia did not like these compromises. But they knew the compromises would keep the southern states -- where slavery was most widespread -- from leaving the convention.

After all the debates, bitter arguments, and compromises, the delegates were nearing the end of their work. Four months had passed since the convention began. The weather had been hot. Emotions had been hot, too. But that was expected. After all, the men in Philadelphia -- and the delegates were all men -- were deciding the future of their country.

Early in September, the convention appointed five delegates to a Committee of Style. It was their job to write the document containing all the decisions made at the convention. The chairman of the committee was William Samuel Johnson of Connecticut. The other members were Alexander Hamilton of New York, Gouverneur Morris of Pennsylvania, Rufus King of Massachusetts and James Madison of Virginia.

Of these five men, Gouverneur Morris was known for the beauty of his language. So Johnson asked him to write the Constitution.

Here in Washington, visitors to the National Archives can read an original copy of the United States Constitution. Leeann Potter at the National Archives says visitors are often surprised that the document is only four pages long.

"The irony is that the pages are nearly three feet long and about two feet wide. They're written on parchment. In other words, they're written on animal skin using an iron gall ink. And this particular document was created in September of 1787."

The convention approved 23 articles for the Constitution. Gouverneur Morris rewrote them in simpler form, so there were just seven.

"The document itself is divided by article, and each aspect focuses on a different aspect of the American government."

Article One describes the powers of the Congress. It explains how to count the population for purposes of representation. And it states who can become senators or representatives, and how long they can serve.

Article Two describes the powers of the president. It explains the requirements for the office, and how the president is to be elected.

Article Three describes the powers of the federal judiciary, which includes the Supreme Court and all of the district and circuit courts.

Lee Ann Potter at the National Archives explains.

"That part of our government makes sure that the laws that the legislative branch creates and are being enforced by the executive branch