母亲是最优秀的员工
日期:2018-10-11 15:13
(单词翻译:单击)
There is something called the "motherhood penalty" and essentially it shows that a mother's earnings dramatically decrease after having one baby.

有种说法叫"母亲处罚" 它指的是母亲们在生完一个孩子后 薪资会大幅下降

They continue to decrease after two and three and four.

生完两个 三个 四个孩子后还会继续下降

When you look at fathers and you look at those same charts they're barely impacted in terms of their pay.

如果你看一下父亲们 同样的图表 他们的薪资几乎不受任何影响

Some of this is tied really directly with just generally the pay gap between men and women in the United States.

这与美国的男女薪酬差距有直接关系

The irony, of course, is that when you look at who actually performs well at work,

讽刺的是 如果你看一下 谁在工作上表现更佳

women come back to work more capable than they were before they left in many, many cases.

会发现在很多情况下 女性重返职场后会比之前要优秀很多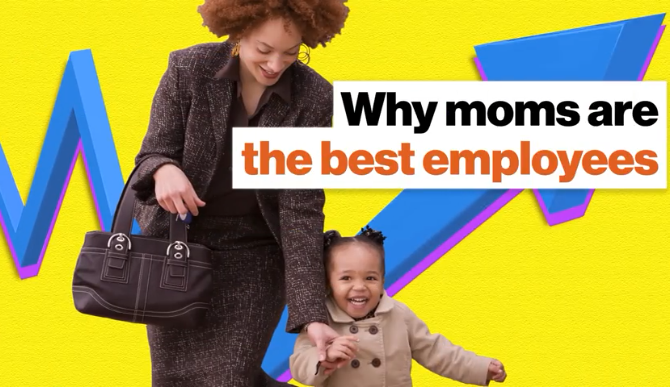 So they are, they have an end, a hard end stop to their day, right?

所以她们 她们每一天都过的很辛苦 对吧?

But this actually makes them more efficient.

但这反而会让她们更高效

If they have been home at leave, if they've been home with a baby on leave

如果她们休了假 休产假

that baby has been the toughest drill sergeant boss you will ever have in your life,

那她们的孩子就是你所见过的最难搞的训练老板

and has taught them to pivot between tasks without really any transition time between.

孩子教会了她们在各种任务之间无缝切换

You know, baby needs one thing, baby needs the next thing, you go, you go, you go, you do.

婴儿需要这 需要那 你只能马不停蹄地满足他

And that directly translates, it's been shown by women when they come back to work they don't need transition time between tasks.

这就能解释为什么女性重返职场后 不需要不同工作之间的过渡时间了

So you hear a lot of women say like "Oh, I'm more efficient because my day is shorter."

你听过很多女性说"哦 我效率更高 因为我的时间比别人少"

Well actually they're more efficient because they don't need that kind of transition time between tasks.

其实她们更高效 是因为她们不需要不同工作之间的过渡时间

They compress things and they do things really efficiently—like actually the real definition of efficient.

她们会压缩任务 做起来非常高效——其实她们就是效率的代名词

Women also sometimes like to say – and I think sometimes we undersell ourselves—

有时候女性也喜欢说——我觉得有时候我们低估了自己——

They say "Oh, after parenthood I am much better at saying no to things."

她们会说"哦 当了妈妈以后 我更擅长拒绝东西了"

And that is true and that is valid.

这是真的 这也有价值

But I also ask the women who I speak to to turn that around as well:

但我也会让跟我说话的女性换个角度去看待这个问题:

So yes, you're better at saying no to things that don't matter,

没错 你更擅长拒绝那些无关紧要的事

that aren't going to ultimately benefit your company, benefit your life, help move you along in your career. Fine.

拒绝那些对公司 对你的生活无益 无法帮你发展事业的东西 很好

However, when a new working mom says yes to something—

但是 当一名新的工作妈妈答应某件事时——

whether it is going out with some colleagues for a networking drink after work or it is going for a big promotion or taking on a big new client—

不管是下班后跟同事去共饮一杯聊聊天 还是要搞大型促销活动或接见新的大客户——

when a new working mom says yes to something she has done that compromise already,

当一名新的工作妈妈答应某件事时 她早就已经做了妥协

that "compromise math" is what I call it in her head to figure out: "How am I going to make this work?

她的头脑中已经算过了那个"妥协数学题":"我要怎么才能做到?

What am I going to steal time away from so that I can say yes to this?"

我要从哪儿挤出点时间才能去做这件事?"

so that by the time she gets to yes it's an incredibly strong, incredibly real dedicated yes.

所以等她答应的时候 那一定是个非常强劲 非常坚定的答应

And I think that so much of the way we present ourselves coming back to work

我觉得我们让自己重新回来工作

requires an internalization and an understanding of our strengths and of what we can contribute to the workplace.

需要内化并理解我们的优点 以及我们能为公司做出的贡献