《经济学人》:欢迎来到人类纪
日期:2011-05-31 10:54
(单词翻译:单击)
The geology of the planet
地球的地质情况
Welcome to the Anthropocene
欢迎来到人类纪
Humans have changed the way the world works. Now they have to change the way they think about it, too
人类改变了世界运行方式,现在,人类不得不改变他们思考世界的方式
May 26th 2011 | from the print edition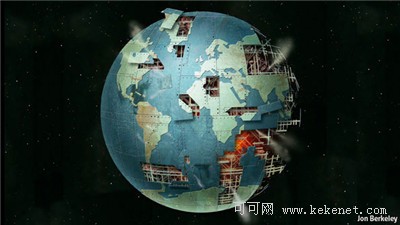 THE Earth is a big thing; if you divided it up evenly among its 7 billion inhabitants, they would get almost 1 trillion tonnes each. To think that the workings of so vast an entity could be lastingly changed by a species that has been scampering across its surface for less than 1% of 1% of its history seems, on the face of it, absurd. But it is not. Humans have become a force of nature reshaping the planet on a geological scale—but at a far-faster-than-geological speed.
地球是个庞然大物。如果你把它均分给其间的70亿居民,每个人能分到近1万亿吨。表面看来,一个渺小的物种,生命不及地球的万分之一,在其表面跑跑跳跳竟能永久性地改变如此巨大实体的运行机制,想一想都是荒谬之事。不过确有其事。人类已经成为重塑地球地质年表的自然力量,其速度比地质构造自然演化的过程快得多。
A single engineering project, the Syncrude mine in the Athabasca tar sands, involves moving 30 billion tonnes of earth—twice the amount of sediment that flows down all the rivers in the world in a year. That sediment flow itself, meanwhile, is shrinking; almost 50,000 large dams have over the past half- century cut the flow by nearly a fifth. That is one reason why the Earth's deltas, home to hundreds of millions of people, are eroding away faster than they can be replenished.
阿萨巴斯卡油砂的辛克鲁德矿是一个单一工程项目。该项目涉及移动300亿吨泥土——这一数字是地球上所有河流一年中流动的泥沙总量的两倍。与此同时,泥沙流本身也在逐渐消减。在过去半个世纪中,近50000个大型大坝截断近1/5的泥沙流。这也是为什么数以百万计人类的家园——三角洲地区泥沙补给速度不及侵蚀速度而呈现蚀退之势。
Geologists care about sediments, hammering away at them to uncover what they have to say about the past—especially the huge spans of time as the Earth passes from one geological period to another. In the same spirit they look at the distribution of fossils, at the traces of glaciers and sea-level rises, and at other tokens of the forces that have shaped the planet. Now a number of these scientists are arguing that future geologists observing this moment in the Earth's progress will conclude that something very odd was going on.
地质学家关心泥沙,潜心研究以揭示过去——尤其是当地球从一个地质时期到另外一个地质时期这种巨大跨度时,地球究竟发生了什么。基于相似的理念,他们把目光投向化石的分布、冰川的痕迹、海平面的上升以及其他一些使地球成型的外力标志。现在,相当数量的地质学家推测,未来地质学家在观察今天的地质演化时,也会发现一些奇怪的变化。
The carbon cycle (and the global warming debate) is part of this change. So too is the nitrogen cycle, which converts pure nitrogen from the air into useful chemicals, and which mankind has helped speed up by over 150%. They and a host of other previously natural processes have been interrupted, refashioned and, most of all, accelerated (see article). Scientists are increasingly using a new name for this new period. Rather than placing us still in the Holocene, a peculiarly stable era that began only around 10,000 years ago, the geologists say we are already living in the Anthropocene: the age of man.
碳循环(和全球变暖争论)是这种变化的一部分。氮循环也是如此,它将空气中纯粹的氮转化为有用的化学制品——人类在使氮循环加速超过150%。这两种循环和其他一些此前的自然进程被打断、被改变,而且最重要的是,被加速(看文章)。科学家们越来越多地为这种新时期使用一种新的名称。地质学家们称,我们已经生活在人类纪——人的时代,而不是仍将人类放在约1000年前开始的特别稳定的年代——全新世。
The new geology leaves all in doubt
新地质学一切没有定论
What geologists choose to call a period of history normally matters little to the rest of mankind; tussles at the International Commission on Stratigraphy over the boundaries of the Ordovician era do not normally capture headlines. The Anthropocene is different. It is one of those moments where a scientific realisation, like Copernicus grasping that the Earth goes round the sun, could fundamentally change people's view of things far beyond science. It means more than rewriting some textbooks. It means thinking afresh about the relationship between people and their world and acting accordingly.
地质学家选择称呼历史一个时期为什么名字通常与其他人关系不大。地层学国际研究组关于奥陶纪时代界限的争辩往往不能占领头条。人类纪就不一样了,像哥白尼掌握了地球围绕太阳运转那样,它是科学认识可以从根本上改变人们对远远超乎科学事物看法的时刻。它不仅仅意味着一些教科书的重写。它意味着对人与世界关系的重新审视并以此采取相应行动。
Thinking afresh is the easier bit. Too many natural scientists embrace the comforting assumption that nature can be studied, indeed should be studied, in isolation from the human world, with people as mere observers. Many environmentalists—especially those in the American tradition inspired by Henry David Thoreau—believe that "in wilderness is the preservation of the world". But the wilderness, for good or ill, is increasingly irrelevant.
重新审视相对比较容易。太多的自然科学家接受让人欣慰的假定,即研究自然可以(实际上应当)与人类世界分离,把人类当作纯粹的旁观者。许多环保主义者——尤其是受亨利·戴维·梭罗处受到启发的美国传统中的那些人认为,"世界存于荒野之中"。不过,在现实世界中,无论好坏,它们的关系渐行渐远。
Almost 90% of the world's plant activity, by some estimates, is to be found in ecosystems where humans play a significant role. Although farms have changed the world for millennia, the Anthropocene advent of fossil fuels, scientific breeding and, most of all, artificial nitrogen fertiliser has vastly increased agriculture's power. The relevance of wilderness to our world has shrunk in the face of this onslaught. The sheer amount of biomass now walking around the planet in the form of humans and livestock handily outweighs that of all other large animals. The world's ecosystems are dominated by an increasingly homogenous and limited suite of cosmopolitan crops, livestock and creatures that get on well in environments dominated by humans. Creatures less useful or adaptable get short shrift: the extinction rate is running far higher than during normal geological periods.
一些评估认为,全球90%的农业种植,在人类起重要作用的生态系统中进行。尽管农业改变世界已有千年历史,人类纪出现的化石燃料、科学繁殖以及最重要的人工氮肥极大地加大了农业的力量。在无孔不入的人力改造面前,我们与自然产生了疏离。以人类和牲畜形式在地球上行走的巨大生物量轻易地超过了其他大型动物。世界生态系统由同质的有限系列的世界性的庄稼、家畜以及与人类主导的环境相处不错的生物们支配。人们对不那么有用、适应性不那么强的生物漠不关心,与正常的地质时期相比,这些生物的死亡率要高出许多。
Recycling the planet
循环利用地球
How frightened should people be about this? It would be odd not to be worried. The planet's history contains many less stable and clement eras than the Holocene. Who is to say that human action might not tip the planet into new instability?
面对如此种种,人类该有多么担惊受怕?不担心才让人觉得奇怪。地球历史包含许多没有全新世稳定和温和的时期。谁敢说人类行为就不能将地球带到一种新的不稳定状态?
Some will want simply to put the clock back. But returning to the way things were is neither realistic nor morally tenable. A planet that could soon be supporting as many as 10 billion human beings has to work differently from the one that held 1 billion people, mostly peasants, 200 years ago. The challenge of the Anthropocene is to use human ingenuity to set things up so that the planet can accomplish its 21st-century task.
一些人只是简单地希望时光倒流。但种种回到本初的方式既不实际,在道义上也站不住脚。一个即将养活多达100亿人类的地球与200年前养活10亿人类(大多是农民)时期相比,运行方式不可同日而语。人类纪的挑战在于运用人类智慧让地球能够完成21世纪的任务。
Increasing the planet's resilience will probably involve a few dramatic changes and a lot of fiddling. An example of the former could be geoengineering. Today the copious carbon dioxide emitted to the atmosphere is left for nature to pick up, which it cannot do fast enough. Although the technologies are still nascent, the idea that humans might help remove carbon from the skies as well as put it there is a reasonable Anthropocene expectation; it wouldn't stop climate change any time soon, but it might shorten its lease, and reduce the changes in ocean chemistry that excess carbon brings about.
增加地球的恢复很可能包括一些剧烈的变化和细枝末节。地球工程就是一个先例。现在,大量的二氧化碳被排放至大气层,等待自然界的消化吸收。但自然界的速度有限。尽管技术尚不成熟,人类可能从天空去除碳,也能将碳放到天空这一想法可能是合理的人类纪展望。这种技术可能不能很快地阻止气候变化,但是,也许可以缩短气候变化的阶段,并且减少产生过多碳的海洋化学变化。
More often the answer will be fiddling—finding ways to apply human muscle with the grain of nature, rather than against it, and help it in its inbuilt tendency to recycle things. Human interference in the nitrogen cycle has made far more nitrogen available to plants and animals; it has done much less to help the planet deal with all that nitrogen when they have finished with it. Instead we suffer ever more coastal "dead zones" overrun by nitrogen-fed algal blooms. Quite small things, such as smarter farming and better sewage treatment, could help a lot.
通常情况下,答案是无足轻重的:找到将人类力量适用于自然的方式,而不是与自然进行抵触,协助自然用其内在趋势对事物进行再循环利用。人类对氮循环的干预使得地球和动物有了更多可以获取的氮,当人类对氮循环的干预完成后,却又没有设法帮助自然去处理所有的氮。相反,我们遭受由氮提供养分的赤潮肆虐造成的沿海"死区"。一些相当小的事情,如智能养殖、污水净化处理,都能有不少帮助。
For humans to be intimately involved in many interconnected processes at a planetary scale carries huge risks. But it is possible to add to the planet's resilience, often through simple and piecemeal actions, if they are well thought through. And one of the messages of the Anthropocene is that piecemeal actions can quickly add up to planetary change.
对人类而言,在全球范围密切参与如此之多相互联系的过程充满巨大风险。不过通常经过简单而零碎的行动——只要从头到尾认真思考过,对地球恢复都不无裨益。人类纪传达出的一个信息即是:人类的琐碎行为加起来就能很快使地球发生改变。